---
---
---
---
||

Cain Van Slæghthäus

||
---
---
Rest easy friend, you're one of us Wickeds now. Please, do relax, and allow me to show you inside.
---
---
|| Theme Songs ||
Normal||
Pompeii
, Bastille||
Fighting||
Dragon Force
, Yasuhara Takanashi||
---
---
|| Street Name ||
The Black Butler
(So skilled... X3)
|| Age ||
20 Years old.
|| Gender ||
Male.
|| Sexuality ||
Bisexual.
|| Role ||
Right Hand Man
|| Face Claim ||
Tyki Mikk, D. Grey-Man
---
---
---
---
|| Hair Color ||
A rich, shiny black. It's so dark it almost appears purple. His hair is thick, wavy, and soft. Perfect for running your hands through.
|| Eye Color ||
Dulled Amber, his eyes appear to be milky and dim, a side effect of blindness.
|| Skin Tone ||
Swarthy and smooth, a constant summery Tan.
|| Height ||
A bit tall, he stands at 5' 11"
|| Weight ||
Of good size, he's a bit thin, but the effect is handsome, not sickly. He weighs 164 lbs.
|| Appearance ||
The Oracle of the Wickeds, as well as the Doorman, the Keeper of Keys, the Black Butler, the Archivist, and the Right Hand of the Director, is somewhat of a surprise, after all, you'd expect those titles to be for different people. You wouldn't expect someone as important as Cain to look the way he does, although his suit is spot on. Though Cain dresses sharply, and somewhat befitting of his station, his appearance is odd to be certain. From the studs in his ears, to the odd color of his eyes, to the scars on his forehead, and the strange, slot-like holster on his hip, he almost looks like some kind of circus freak. This, however, is usually pretty common for the Wickeds, as most of them are pretty eccentric. He stands proudly, with perfect posture. Though he carries a cane to assist him in his blindness and with his limp, you would never expect anything less but perfection from him, and you would never ask if he needed help. He appears cultured, polite, well-mannered, and exceedingly efficient in all he does, all of which are true. As a result, Cain appears to be something like a robot, though I can assure you he's a living, breathing Wicked. This is exceptionally apparent in his voice. Cain speaks with a smooth, gentle cadence, employing perfect grammar and syntax. This only reinforces his appearance of the Wicked's butler.
Cain's actions and activities keep the Wickeds in the red. It is because of his powers and influence within the LAPD that the Wickeds are able to continue their mostly carefree lifestyles. This is because Cain runs all the numbers, pulls in all the funds via donations and otherwise, and runs interference with the local officials and police officers. Cain also does all the housekeeping, and even cooks for the motley gang of misfits, despite his blindness. Not only does he perform these jobs because he likes it, he preforms them all exceedingly well. Funnily enough, he was the one who started the nickname of Black Butler, though most just call him the Butler, and often jokes about his position within the Wickeds. Though some new recruits might mistake this cheerful servitude as inferiority within the ranks, Cain's word is second only to Morgan, the director. Despite all Cain's difficulties, he smiles often, and speaks softly, but you would never assume any weakness in him at all. Though his tone is gentle, it carries a surprising weight, as if compelling you to listen. Though they appear to gaze right through you, Cain's amber eyes see nothing at all, having given up what little sight he possessed for more power. His facial features are sharp, though not overly angular. He is very handsome, but one couldn't help thinking, if not for the scars on his forehead and neck that Cain would be dazzlingly attractive. Though his scars do take away from his natural grace, Cain wears them with pride. They symbolize his devotion to Morgan and the Wicked cause. He wouldn't trade them for anything. Otherwise, Cain's swarthy, smooth skin is unmarred. He always appears to be a delightful summery bronze, despite the recent weather or even how little time he spends in the sun.
---
---
---
---
|| Personality ||
Cain is pretty much the definition of a gentle giant. He smiles often, and means it every time. Though confident and polite, he is never arrogant or condescending. He always aims to please, and because of his gentle and nurturing personality, he often gets taken advantage of by the more aggressive and sarcastic members of the Wickeds. However, he need appears to get mad at anyone, and often takes jibes directed at him in stride, sometimes even turning them on his assailant and walking away with a smile on his face, only for everyone else to realize that he's actually said something mean for once. Regardless of his sense of humor and natural caretaker tendencies, Cain is a perfect gentleman, referring to everyone around him with the utmost respect at all times.
Though he hates to do so, Cain will do battle, albeit unwillingly, when the situation calls for it. Though most of the new recruits amongst the Wickeds believe this to be due to weakness or insecurity, the veterans and the Director know better. In battle, Cain's personality shifts entirely, and he becomes utterly ruthless. Despite his gentle appearance, Cain is a master tactician, and knows the limits of each of his familiars perfectly. He can come up with a winning strategy within a few short moments of analyzing the situation. Though many would find this side of Cain appealing and powerful, Cain hates it. He hates how he allows himself to become so engaged within the contest of battle, how the fury of combat enthralls him so completely. Though Cain will always try to solve problems diplomatically, when the situation calls for it, he drops all politeness and becomes a true demon.
Apart from his two-facedness in battle and at home, Cain is a steadfast friend, and stalwart companion. He has a cool and collected head on his shoulders, and is a repository of sage advice. He's intelligent, and wise beyond his years, often giving the impression of someone far older than he truly is. Although his tastes are simple, and he's just the littlest bit snarky, all Cain really wants is to continue doing what Morgan wants. Cain has thrown away every bit of ambition and dignity he might have had to follow Morgan, he would do anything for him. Lastly, though you wouldn't expect it from his humility and gentleness, Cain has a sharp wit and a sharper eye, and doesn't let much get by him unnoticed. Usually, however, he just lets anything not related to his work just slip by. All in all, Cain is a calming, and soothing individual, who is a pleasure to be around.
|| Likes ||
The Director | Eating, anything really | Cooking, for the same reason| His job, protecting people was the reason Cain joined the police force | Protecting the Director and the rest of the Wickeds | Relaxing | Being with his friends and peers | Chatting | Naps| Reading, though Braille does make it somewhat slower.
|| Dislikes ||
People who look down on others | People who devalue life for any reason | Arrogance | When the Director snores. It keeps him up at night, from three rooms over | Senseless violence | Enclosed spaces | Feeling Helpless.
|| Personal Weakness ||
~Blindness. Whoa... You mean he can't see?
~Physical Frailty. Though his body is more than strong enough to put up with the routine demands of daily living, he isn't a physical fighter by any sense of the words. Further, he needs his cane to walk, but he can stand unassisted.
~Naïveté. Because Cain expects the best from everyone, seeing as it's what he'd do himself, Cain is very gullible, and is always the first to believe someone has turned over a new leaf.
---
---
---
---
|| Abilities ||
His first ability is Precognition. This power takes the shape of visions that Cain receives while dreaming. These visions aren't very clear, as they're somewhat fractured, only showing him disjointed scenes as opposed to the whole event. The scenes he does catch, however, will occur over the course of the entire day they're set to happen on. Further, the events in his dreams aren't very distant, most occur roughly a few weeks ahead of the current timeline. Cain has no control over this ability. The visions present themselves when they're good and ready.
Psychometry, the ability to see where something has been by sensing its, "memories." Cain uses this power by placing his hands upon the object or person in question and concentrating on their name. With a good effort, Cain can divine a limited history of the object or person he is touching. This power, like his precognition, isn't very powerful, and can only be used to see two to three weeks into the past at most. Further, in order to see a person's past, he must gain consent from that person before he attempts to use Psychometry. Attempts made on a sentient being without that being's permission end in darkness, Cain can't see any details.
Cain's last ability is his most powerful, and the one he uses most. Cain is capable of summoning familiars to help him do battle. By drawing one of the thirteen tarot cards that Cain keeps in a holster on his hip, Cain can select which familiar he wants to use. When not in use, the holster locks, so as to prevent the cards from being stolen or lost. When not in use, the cards are always stored within the holster. The holster is set on a belt-like band that is semi-permanently bound to Cain. Though usually he puts it on his right thigh, the belt and holster are capable of being fixed to any part of Cain's body. He never takes it off for longer than a few seconds at a time. This holster is completely waterproof, fireproof, and mostly bullet proof, so as to protect the cards inside. Though the cards themselves are made out of a thin, durable ceramic, they are somewhat fragile and can't take much of a beating before being damaged. Cain will always know which card he will pick, as each card has a pattern of raised braille markings on the back, in the upper right corner. These bumps indicate the number of the card. Further, the cards are organized so the lowest number is in the front and the highest number is closest to Cain's body. The cards are actually rather beautiful. The back is a checkered pattern of teal and ivory with silver stripes separating the sections of color. Each card is also formulaic in nature. In the upper left corner, on the front side, is the card's number, written in black and portrayed in Roman Numerals. In the upper right hand corner of the card, also on the front side, is the card's symbol, also painted in black. The edges of the card have a scrawling
border
that looks like it was done by hand with a calligraphy pen. Finally, within the middle of the card, the familiar itself is
portrayed
, and it also appears to be hand painted. Finally, the cards have edges that are razor sharp, and could be used as a weapon if one were unaware of their true purpose.
Once Cain has selected which familiar to use, he activates the summoning by dripping some of his blood onto the card and calling out the card's title. For example, Cain would say, "Number three, the sign of Despair," and the card would activate, provided he gives a blood sacrifice. This sacrifice is necessary to the summoning, as the blood mystically bonds with the ink on the card, merging together to form a corporeal physical form for the spirit of the card. Cain usually does this by running one of the card's sharpened edges against his skin. Once the blood touches the card, the binding process will begin, merging the blood with the ink on the card. When the binding process is complete, taking only a second or so, the spirit of the card simply, "steps," out of the card and into the real world. Once summoned in this way, the familiar receives orders from Cain via a form of hive mind telepathy that exists solely between the familiar and its master, Cain. This connection allows him to perceive everything that his familiars perceive. All sensations except the physical are related back to him, so as to keep him aware of the battlefield, but not distract him with pain. These familiars will do their best to complete the orders given by Cain and will always obey him. When active, all familiars must maintain a maximum distance of 200 meters from Cain. If they leave that 200 meter radius, they will burst into purple flames and return to Cain's side.
The familiars themselves draw their power from Cain. The longer they are out of the card, the more energy they draw from him. If Cain runs out of energy to feed them, the familiar's body will burst into purple flames and the flames made this way fly back to Cain's side, taking the shortest possible route, and return to their holster. Cain developed this ability out of necessity, to keep them from being lost or stolen. Since utter exhaustion needs to be reached before this happens, the event of a card disappearing due to a lack of energy will also be followed by Cain passing out from exhaustion. The energy the familiars draw from Cain powers their physical forms and allows them to access supernatural abilities. If the card's familiar is defeated in battle, the card itself will regain it's physical form, only to burst into dark purple flames, and burn into nothingness, forever again unusable by Cain. If this happens, the only way that Cain can make a replacement is by performing a ritual which will seal another piece of his soul within a new card. This comes with a certain amount of risk. If the deck of cards is ever lost, or if the familiars are all defeated, Cain could die.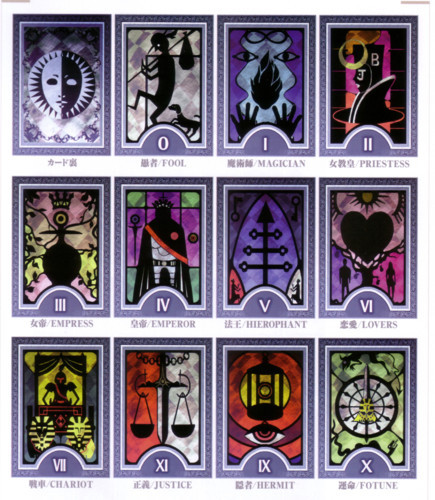 When the familiars are not inside their card, the card itself bursts into purple flames, forming a constantly burning image of the Roman numeral associated with the card's number as well as the card's symbol. The familiar's number is always parallel to Cain's hand. This phantom number hovers an inch above the familiar's symbol, which is also parallel to Cain's hand, and both are centered on the direct center of the back of Cain's palm. The familiar's symbol floats at a similar distance away from Cain's hand, hovering just an inch away from his skin. This flame is really just an illusion, a simple trick of the light, that hovers over the back of Cain's right hand for the duration of the summoning. It's not hot, nor is it even real fire. As such, getting it wet does nothing to either Cain or the summoned familiar. This ghostly purple flame serves to remind Cain's allies, (and himself before he lost his vision) the number of the Card, as well as how much time it has. The flame glows brightly upon the initial summoning, and grows dimmer over the duration of the summoning. When the flame finally goes out, the familiar will burst into purple flames, and the card will return to Cain's holster. This is a fail safe device that Cain programmed into the holster. It is also responsible for the familiars', "leash."
Below the list of cards Cain currently possess. The number of the card is not an indicator of strength, excepting the last card. While number 13 is the strongest card, the numbers of the cards mark the order in which Cain made them. The cards are symbolic in nature, and represent Cain himself. The first five cards are the things that Cain hated about himself, so he sealed those parts of his soul into the cards, so they would never bother him again. The next five cards are what Cain thinks are his best qualities. Because he loved those parts of himself the most, he recognized their power, and sealed them into the cards as well. The last three cards symbolize the things that Cain gave up during some point of his life, and sealed them away, forever stuck within the cards so he would never regret them. Though he recognizes the good those parts of him were capable of doing, he was too afraid to let them develop, and sealed them away from himself so he would never have to deal with them again. Cain is terrified of the last three cards, and will only use them if there is no other way around it.
---
---
||

What this game needs is a few... Thrills...

||
---
---
I. Pride
~ A Little Boy symbolizes pride. This familiar appears to be a younger version of Cain himself, appearing five years old and appropriately dressed for his age. Pride does, however, have all of Cain's natural grace, and is a very beautiful little boy. Though it looks physically weak, it has the ability of Psychokinesis, the ability to move things with his mind. Pride is only capable of moving things, he is incapable of other feats of psychokinesis, such as energy or matter manipulation. Though Pride is capable of exerting strong forces on physical objects, he cannot lift anything that is more than fifty feet away from himself and from Cain. While he could throw something outside of his range with his powers, he is unable of picking something up if it is more than fifty feet away from himself or from the real Cain. Further, Pride has a weight limit of one thousand pounds. It is incapable of lifting anything heavier than that. Since this is Pride's maximum weight, he will struggle to lift one thousand pounds of mass, but he can do it. He is much better suited to lifting small things, like throwing knives or baseballs, and then hurling them at his targets. As expected of Pride, the card's namesake, the familiar spirit is very vain and condescending, acting like a spoiled child. No amount of blood will make Pride more powerful. His abilities are set.

II. Fear
~ The Bogeyman. Even Cain doesn't know what it looks like, as this card's ability is to sense that which makes you the most afraid, and become the very thing you fear the most. Cain expects that, when stored within the card, or when completely alone, that Fear looks like nothing at all. Though somewhat eldritch, and strange, fear isn't very physically powerful. Instead of relying upon its own physical strength, or even the physical strength of what it transforms into, what fear relies upon is the very essence of fear itself. Fear is a master at using its opponent's worst nightmares to torment and cripple them psychologically, so that, preferably, when the killing blow is struck, fear barely has to work for it at all, it simply gobbles the weeping victim up. It doesn't speak or have any personality at all, for which, Cain is somewhat glad. He's sure that fear would have the worst potty-mouth. Fear appears to have no other emotions, or even physical feeling, only hunger and pain. What fear hungers for, is your fears, your delicious screams, and for your very soul. As mentioned previously, if allowed, Fear will eat it's victims, much to Cain's distaste, usually, Cain prevents Fear from feasting. No amount of blood will make Fear more powerful, his abilities are set.
III. Despair
~ A small, Chesire Cat like creature, the familiar of despair has the ability to phase through any matter whatsoever. Be warned, if the cat has its mouth open when it goes through something, the matter it passes through will vanish, as if eaten by the cat. Matter that vanishes this way isn't actually eaten, instead, it is disrupted, its molecules scattered to the winds. The cat claims he can taste the matter he disrupts, and often complains about the flavors. Matter that is disrupted in this way is dissolved into nothing and scattered. Though the cat cannot destroy matter, it disperse it by weakening the molecular bonds between the atoms of that which it passes through. The cat itself is very depressed, often talking about how futile everything is. If it senses that its opponent has realized how useless fighting it truly is, then the cat becomes fierce, and attacks rather viciously. The cat is only slightly larger than your average household pet, and loves to be petted. Unlike the other cards, there is no way to make the cat any stronger. Regardless of the amount of blood the cat is fed, it's size and power remain constant.
IV. Greed
~ The familiar of greed is a snake that is capable of speech. At maximum size, it's as thick around as the standard fire hydrant and over twenty feet long. It appears to be a mix between a viper and an anaconda, as it's head is diamond shaped, an indicator of venom sacs behind it's jaw muscles, however, the snake's body is powerfully muscled, and well suited to climbing and constriction. However, the larger the snake becomes, the more diluted, and less powerful the snake's venom becomes. The inverse is also true. If the snake is smaller, it's venom will become stronger. The snake, like other beast type cards, will become proportionately larger when fed more blood during it's summoning, but will usually leave the card somewhere between three and five feet long. Unlike other beast type cards, it can be given more blood after summoning, causing the snake to grow proportionately to the amount of blood given. The familiar of greed is always hungry for more blood, and constantly taunts and jibes Cain into feeding it more.
V. Wrath
~ The Kraken, the symbol of wrath and fury, is truly a monster of the deep and a force to be reckoned with. Though it doesn't show itself often to the surface, it is an apex predator with a rumbling hunger and terrifying prowess. The kraken is capable of feats all cephalopods are capable. It can squeeze itself into spaces that are merely a fraction of its size (For variations six hundred lbs or bigger, it can still fit through a space the size of a quarter.), it can release a cloud of pitch black inky with which to escape predators, can change its natural coloring to blend in with its surroundings, it has three hearts, and can regrow lost limbs very quickly. However, the most impressive thing about the Kraken, is its suckers, which are capable of producing negative pressures. This results from the creation of a powerful vacuum at the point of adhesion, rivaling the vacuum of space. While this in incapable of tearing limbs from bodies simply due to adhesion, the strength of the tentacles themselves are required for any real damage to be done. Used only for naval battles, the kraken, like other monstrous familiars, has no known personality, and is incapable of speech. While no amount of blood will make Wrath bigger, the amount of blood fed to it at summoning will determine the amount of tentacles that the kraken possesses. Wrath leaves the card similar similar in size to a standard pick-up truck, but must immediately make contact with a volume of water in which it is capable of total submersion. If this doesn't happen, Wrath will die within a few minutes of summoning via suffocation.
VI. Resilience
~ A giant lion turtle, is the symbol of resilience. While large, and rather physically imposing, the familiar of resilience carries no offensive abilities other than its wicked snapping jaws. Instead, like all turtles, the beast relies on it's durable shell, weathering all assaults until its opponent has become weary, and then snapping into action. Like the other monstrous familiars, its size is proportional to the amount of blood it is given during summoning, and it enters battle at roughly the size of a standard Hum-vee with the usual amount of blood. The larger the turtle is, the more durable it's hide becomes. The largest Cain has ever gotten the turtle was thirty feet wide at it's widest point, ten feet tall, and had legs that were bigger than Cain himself. The turtle is capable of both land and water combat, but is much better suited to the water, where it can move much more swiftly, unburdened by its large shell.
VII. Devotion
~ A pack of Timber wolves symbolize loyalty and devotion. This devotion is to any cause that Cain feels is worthy. In most cases, this devotion is to Morgan, the director, as well as the rest of the Wickeds. The wolves themselves are of the same size as normal wolves, being three to four feet tall at the shoulder, and weighing roughly one hundred pounds. While the wolves themselves are only as strong as the average wolf, the true strength of the familiar of devotion lies not in the individual, but in the pack as a whole. The familiar of devotion isn't just a single wolf, it's a pack of them. While there will always be at least two wolves at the instant of summoning, regardless of how much or how little blood is given during summoning, by giving extra blood, Cain can summon more wolves to fight. Unlike some familiars, more wolves can be made by feeding the card more blood as long as the card remains active, but the card has a hard lock of thirteen. No more wolves can be made after the thirteenth, any more would require fatal amounts of blood. Each wolf connected to each other and to Cain, as they all share a hive mind. The pack is a strong force, and is only as powerful as the weakest of the team. They focus on fighting single opponents with flawless teamwork; tripping, cornering, and finishing the opponent as one being.
VIII. Courage
~ The mighty Griffin symbolizes courage. Fierce, territorial, proud, and courageous, the griffin sports the forequarters and head of a giant eagle, and the hindquarters of a lion. Tawny, golden feathers and fur cover its entire body, only the front legs are different from the main body, clad with golden scales. The front legs have three claws facing forward and one facing back, while the hind legs are four fingered paws, with a fifth toe located higher up on the shin. The griffin's ferocity is evident in its steely gaze and and harsh temper. Though its body is as large as the average horse, its wingspan is massive, and each wings stretches at least twelve feet long. Capable of being mounted by two people at once, the griffin is a noble steed, capable of sustained, fast flight, and will carry its rider into any battle regardless of the danger. However, in order to first ride a griffin, one must prove his worth. Though Cain may come forward, and ride the griffin at any time, others will be required to bow, facing the griffin, and must maintain eye contact at all times. Blinking or shaking is seen as a sign of weakness, and the griffin will not allow weak-hearted cowards to ride it. The griffin, however, does not need to be ridden to perform admirably, and will hunt the desired prey as any bird of prey would, by diving at a great height, striking the prey with wicked talons and a sharp beak. The griffin may look like a bird, but it has all the ferocity, savagery, and honor of a lion. Though the griffin's size is not capable of being augmented by adding more blood during summoning, its speed is, and will become a faster, more agile flyer if given more blood during summoning.
IX. Guardian
~ The Eurymanthian Boar is a large, powerful beast of old. Despite the boar's unusually large size, it appears to be a normal boar. Its hide is thick, littered with the shattered swords and spears of warriors past. The vestigial weapons do no harm to the creature, adding only to the beast's fearsome appearance. Its tusks are barbed, sharp, and three long, each as deadly as an iron tipped spear. The tusks themselves are curved slightly upward, and protrude from the back of the beast's mouth, like that of an elephant instead of a boar. Its sports cloven, hooved, feet, a thick shaggy pelt colored a ruddy orange and brown. Its eyes are dark, sporting no pupils, only rage. The beast itself is as big as your standard rhino, if not bigger. The symbol of protection, it will guard anything with its life, often fighting larger and more powerful opponents beyond injury and into death. Like the other beasts, its size is dependent on the amount of blood offered during summoning; more blood, bigger, stronger boar. Further, if given more blood during summoning, the boar becomes shaggier, its tusks get longer, and more shattered weapons stick out of its back. Though it hates it, the boar is also capable of being ridden, but by no more than three, small riders at once, and it mustt be large enough to support that many riders.
X. Power
~ A dragon. This familiar symbolizes how Cain views his power. He loves how strong he feels when he uses his power for the right reasons. As such, the card of power is an European style dragon. The dragon is a strong flier, though it is no where near as fast and agile as the griffin. The dragon is incapable of performing feats of magic or even fiery breath like the stories of old say, but the dragon is very physically strong, and sports wicked claws, powerful jaws, and a strong tail. The dragon is somewhat haughty, and loves to make fun of Cain's infirm condition. Though he can be mean to Cain, he always has his best interests at heart. The dragon's size and power are set in stone, he cannot become bigger, stronger, or faster by being fed more blood during summoning. The dragon is the same size as the griffin, both being as large in body as the standard horse. This makes it eight feet tall, six feet at the shoulder, with a wingspan of twenty feet.
XI. Love
~ The Lantern Bearer symbolizes the love that Cain can never have, as he's devoted himself to Morgan, the Director, and the service of the Wickeds. By taking his position beside Morgan, Cain gave up on all romantic love. He, instead, devotes himself to the Wicked cause. The familiar of love itself takes the shape of a young, sweet, smiling blonde girl, who carries a large, ancient lantern in both hands. The girl appears to be no older than Pride, roughly five or six years old, and is very cute. Her eyes are green, her skin is smooth, and she wears a simple white dress and white dress shoes and socks. She speaks rarely, if ever, and has a tendency towards shyness, hiding behind Cain's back when summoned. The Lantern is old, slightly rusted, and made out of a deep, emerald green metal. The lantern is inscribed with Gaelic designs and twisted knots, and is carried by the top via a single, large, ring. Though the lantern appears very heavy, the little girl, whom Cain calls Esme, is capable of carrying it over her head, all by herself, with one hand. When Esme lifts the lantern over her head, the lantern gives off a strong, golden light that is warm and bright. This light forms a dome fifteen feet in radius around the little girl, and acts as a force field, shielding all inside from anything that might wish to harm the light's occupants. However, the shield can be broken if pressed hard enough. If Esme drops the lantern, or puts it down, the shield will similarly drop. The true power of the familiar of love lies not within the shielding properties of the light, but in its healing properties. The light, which is constantly cast by the lantern, removes all bodily impurities within seconds and bolsters the body's ability to heal itself, actively helping to heal injuries, making recovery times much shorter while bathed within the golden light of the lantern. The rate at which the light heals wounds is doubled when Esme holds the light over her head.
XII. Sight
~ His own Shadow symbolizes his lost sight, bubbling up from the card and merging with his physical shadow. Once the card's shadow has merged with his physical shadow, it stands, taking an eerie stance that makes the shadow look as if all it's limbs are broken. Though it has no facial features, and is incapable of speech, it always seems to know where everyone and everything is within a radius of eighty feet of itself. The shadow has the same body type as Cain, so it's easy to see that it's his shadow, it even sports a facsimile of hair, wispy shadowy tendrils that blow in an unseen wind. It doesn't carry a cane, as its master does, but the Shadow moves strangely, and somewhat sickeningly. After merging with Cain's shadow, it gains a physical form, capable of physically interacting with the world around it. It can use the shadows in the area to add mass and shape to its body, absorbing them into itself to make itself bigger as well as give itself melee weapons and extra appendages to hold them. Though the familiar of Sight is a strong user of shadow manipulation, stronger wielders can steal the shadows from Cain's familiar, or even bend him against Cain's will. Lastly, the shadow is capable of flooding the area 8 feet around him in darkness. Though the eyes will naturally adjust to the dark, if one goes from seeing perfect daylight to inky blackness, it will take some time for this to happen. In this darkness, the familiar of Sight becomes almost completely imperceptible, and slaughters any who would enter the dome of shadow. The shadows created in this way cannot be used to modify the original familiar's body. The dome of shadows created in this way has a time limit of five minutes, and cannot be used again after another five minutes are up. The shadow itself has a dark, wicked sense of humor, and a very creepy, dark personality, though it never says anything you can tell from the way it nods, or seems to become happy when things are about to die.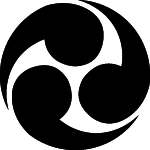 XIII. Ambition
~ The last, most powerful card, symbolizes the ambitions Cain gave up when he became the right hand man, general, and confidante of the Director of the Wickeds. Though the card portrays a simple mirror, what steps out of the card appears to be a reflection of Cain, though somewhat more sinister. The reflection is much stronger than Cain. It doesn't suffer from Blindness like Cain does, it has no limp in it's leg, and is slightly more physically powerful than Cain. Ambition benefits from Battlefield Adaptation, the ability to adapt to the battlefield and become a better fighter the longer it remains active. Though it is incapable of replication or the ability to perfectly counter anything it sees, it does learn from it at an accelerated rate, making it much harder to effectively use the same trick against it twice. Though the reflection steps out of the mirror as a blank slate, it will immediately begin to adapt to its surrounding world. The Mirror's reflection is a powerful, dangerous familiar and that power comes at a price. Eventually, it will realize that it is far more powerful than its creator, and will attempt to force Cain back into the card and take his place as the real Cain. If this happens, Cain will be stuck in the card forever, and the reverse Cain, who is his opposite in every way, will run amok, becoming more and more powerful the longer it exists.
|| Weakness ||
These are laid out within the description of each of Cain's powers. However, I will explain them all again.
The ability of precognition is horribly inconsistent, is unable to be consciously controlled, and only activates once every three months with no regular interval. The vision is only seen during sleep/dreams, and will only show fractured scenes of future events that will occur no more that three weeks into the future.
The ability of Psychometry is able to be consciously controlled, but can only see up to three weeks into the past of anything that Cain touches. Further, it the object in question is capable of sentient thought, then it must give Cain permission to view its past. Any unauthorized attempts to view the past with this ability that are made on a sentient being will reveal only darkness. Nothing an be seen.
Lastly, the ability of familiar summoning has several drawbacks, the first being a blood sacrifice. In order to draw the familiars out of the card, Cain must slide the razor shard edge of the card against his own body and allow his blood to drip onto the card. The more blood that is given this way will create a proportionate increase of power within the summoned familia, as specified by the card itself within the lower's description. Cain is only capable of summoning 5 familiars to battle in any one given day if he wants them to be worth anything in a fight, due to amount of blood he usually gives them. If more are attempted to be summoned, either unwillingly or otherwise, the familiar will not be summoned, and any existing familiars will burst into purple flames,returning back to their card. While a familiar is active, it drains Cain of his internal energy, or reishi. The amount of reishi Cain has, though substantial, is not indefinite. If any one familiar draws too much energy from Cain, or if Cain attempts to maintain multiple familiars at once, he will fatigue at an accelerated rate, and will tire much more quickly. If Cain reaches a point that he is too tired to keep his eyes open, then all active familiars will vanish, the cards will automatically return the holster, and Cain will pass out. If a card's familiar is defeated in battle, or if the card is away from Cain's side from too long, it will burst into purple flames and be unusable forevermore. If a card is lost in this way, or any other way, Cain will never be able to summon that familiar again. He will have to perform a new ritual to bind a new piece of his soul to a new card. If the deck is lost or if the familiars are all defeated Cain risks death, as the cards are each parts of his soul. Excessive damage to Cain's soul will result in death. Excessive blood loss via blood sacrifices will also cause health troubles for Cain, and could lead to death as well.
|| Biography ||
Cain was born into a loving, and caring household. His parents loved him, and doted on their only child. As Cain grew older, he began to recognize that some of his dreams were coming true. He'd heard of déjà vu before, but his dreams were different. Though the scenes were just as scattered, and vivid, the events of a whole day would play out just as he'd seen it happen. Thinking it was normal after talking to some friends at school, Cain decided he would keep it to himself. After all, he could be a superhero in his own mind. Elementary school and high school were a wonderful time for Cain. He made lots of friends, got good grades, and passed with honors, he was just moving out to college when his life turned around completely. His parents weren't poked but they weren't rich either. They struggled to pay for Cain's private schooling, as well as put food on the table for the growing boy. Despite their troubles, Cain never complained, and always did as they asked of him, even going out of his way to make life easier for them by doing chores, and taking a part time job in high school. However, after years of hard work, diligent study, and bussing tables to get by, Cain achieved perfect scores in high school. He had a perfect 4.0 GPA, a 36 on the ACT, and a 2340 on the SAT. Cain received a large grant from the government, letting him to to school for free. After testing out of several classes, Cain was nearly a senior in college after only a year and a half of courses. He graduated early, thanks to summer classes and sterling recommendations from all his teachers. Cain was only nineteen when he moved into his apartment and got a job working for the Police Chief of the LAPD, he was even being groomed to take over the position. Cain loved his work, he loved the thrill of getting something done right, and the joy of helping innocent people.
For the next six months, Cain's work only got harder, but it seemed his gifts weren't done developing. Cain developed Psychometry in college, but as a police officer, the ability truly shone. Cain turned in more cases than any other officer in his section, more than most rookies did in their first year on the job. As much praise and recognition that was showered down upon him, Cain never let it go to his head. He always made sure to credit the other officers in the bureau when they helped him, as well as the CSI's who proved his, "hunches," right. Finally, when his six months were all but up, Cain discovered his last ability, the summoning of familiars. It happened on accident at first. A drop of his blood from a paper cut spilled onto a picture of a knife. It fell out of the picture when Cain went to wipe up the mess. Intrigued, and slightly terrified, Cain experimented. He wanted to know just how far he could take the magic his blood could work. That was when Cain made the first two cards. He hated those things about himself, and performed a ritual that he researched at the library. After invoking that which he wanted to excise from his very soul, Cain bled onto a tile, engraved with the words he so detested. The pictures of the familiars formed once the ritual was complete, and Cain could summon powerful monsters to his side. Not wanting to jeopardize his position at the bureau, Cain kept his gift a secret. He could also keep it as an ace in his sleeve should something go sour. However, Cain didn't realize just how sour it would go.
One night, on his way home from work, Cain was mugged. His assailants had learned how important he was to the bureau's work, and figured if they put him down, the bureau would fall into chaos. What his assailants didn't expect was for Cain to fully take command of his familiars for the first time, flawlessly. He was shocked at how well it worked, and so were his attackers. Cain felt invincible. However, he knew such feelings were foolish. He hadn't yet bound pride to the a card in his pocket, but he knew it wasn't something he should let get to his head. However, word got around that some cop thrashed two members of the biggest gang on the west side of town. The price on Cain's head tripled. The next week Cain got jumped again, this time, by professional hitmen. Hitmen who were also monsters. The real kind he'd learned to fear, not the fake ones his father used to scare him with. They were Others, Mutants like him, consumed by hatred and violence. The beasts blinded him in one eye, and smashed his cards. His weapons gone, and his gun on the desk in his office, Cain was helpless. They beat him half to death, leaving him bloody and motionless in the street. They were going to finish him off, when who should happen upon Cain but the young Director of the Wickeds. Having tracked the things that attacked Cain, and intrigued by Cain's familiars and the purple flames brought on by their death, the young director fought off Cain's assailants, and brought him to a hospital, saving his life.
Due to the extensive beatings, Cain was blind in one eye and he would walk with a limp for the rest of his life. Even worse, Cain's face and neck would be forever marked with star shaped scars, the symbol of the gang he'd angered. Just as he was finishing his convalescence, the Director popped back in, offering Cain a job. Once Cain learned who the man was, and what he was aiming to do, Cain joined without a second thought. That very night he performed the ritual that would bind 13 pieces of his soul to the cards he kept in a modified holster at his hip. Cain has been working with the Director ever since. Though he isn't a professional cop anymore, Cain's word still holds strong within the bureau, keeping them off of the Wickeds who are just trying to help. Currently, Cain works as the Wicked's Jack of all Trades, running the books, cooking, cleaning, pulling in funds, covering their tracks, and doing any number of jobs that his Director might need done. All the while Cain smiles brightly, having at last found his true purpose.
||Why they joined/want to join the Wicked Ones||
As odd as it sounds, and though by looking at them you would never know it, Cain and the director are best friends. The director saved Cain's life, and Cain has been with him ever since. Though he often thinks about what he could have been if he hadn't joined the Wickeds, Cain doesn't regret his decision at all. Despite the director's crazed antics, Cain knows he's got everyone's best interests at heart at all times. Cain's devotion to the Director is so strong and so deep, that he will follow him wherever he goes, do whatever he is asked, and give up his life for the Director at a moment's notice.
---
---
||

That's all for now...

||
---
---
---
---
I suppose you're done then? Is there anything else I might get for you? A snack, a quiet place to nap, a new toy? Well, come right this way, I've got just the thing..."
---
---