---
---
"Please, just call me Joe."
---
|| Theme Songs ||
Normal||
Violent Bounce by I See Stars
||
Fighting||
Sleepwalking by Bring Me The Horizon
||
---
||Street Name||
Blitz
|| Age ||
21
|| Gender ||
Male
|| Sexuality ||
Heterosexual
|| Role ||
Veteran, Distraction, Self Proclaimed Moral Raiser
|| Face Claim ||
Ezreal, League of Legends
---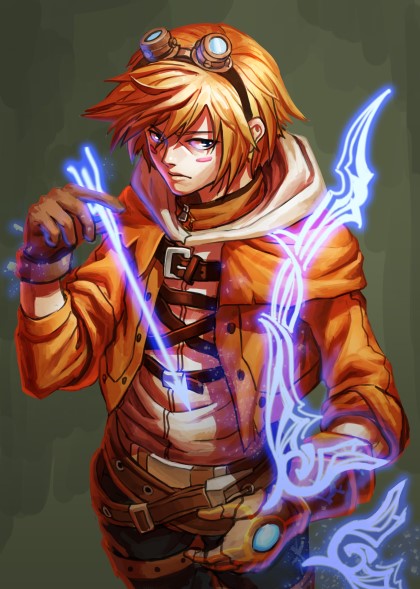 || Hair Color ||
Gold Blond
|| Eye Color ||
Lime Green
|| Skin Tone ||
Light Sun Tan
|| Height ||
5'9
|| Weight ||
152 lbs
|| Appearance ||
With shaggy gold locks and innocent looking lime green eyes, Joe looks to be at least in his mid teens. He even has the matching height of one. However his giveaway for his age would have to be the weird tattoo like symbols, or as he likes to call them, tribal markings on his face that no parent in their right mind would let their child dawn. Notable wear with any of his clothing would be the gloves that he keeps on his hands to hide scars he received when he was trying to retrieve something from a burning fire. Though not completely burned he doesn't enjoy the imperfection they show. He also has an OCD for wearing something on top of his head, whether it be a scarf, a hat, or earphones, though he is mostly seen wearing goggles. His usual clothing consist of a tee-shirt, a short sleeved jacket, and jeans. Dressing more for comfort than for style it is rare to see him wearing the latest fashion and you will find no luck getting him to wear a suit. In fact, the only jewelry he owns that might grab someones awe is the sapphire stone on one of his gloves.
His appearance is said to change. This has only been seen by a couple of people, not enough to be more than a rumor to this day, but the word is, his hair turns grey. It may have been hair dye, however, Joe has never dyed his hair. If you see a person that looks like him with grey hair then there is a chance it might be him.
---
---
|| Personality ||
The easiest way to describe Joe is simple. He is in a state of mind that may seem peculiar to some. Doctors have called that state Schizophrenia. However, the case of it is abstract to the usual definition. He doesn't see or hear voices or things. He doesn't black out and wake up in a different area than the place he was last conscious in. Nor does he make others think that. So why is he diagnosed with this disease? Not even he himself knows. He figured that his parents just wouldn't settle for him voluntarily acting the way that he does sometimes. He constantly thinks about it. Being hard to explain in detail it's best you know of his action, thoughts, and feelings from the worst to the best as rated by natural way of living.
Joe, or Seph, as he likes to call this curtain side of him, enjoys splurging on his power. He enjoys destroying things and watching things crumble. Although he takes so much joy in letting his abilities go out of control, when he is acting as Seph he doesn't smile. He displays on his face the feeling that he has inside. Emptiness. It's hard to explain, but no matter what he's doing, no matter how fun or enjoyable it is for him, he can't seem to get the satisfaction out of it. In truth, even though Seph is secretly the one who he is afraid to call, but wont deny is his real self, he try's to stay as far away from acting like the Seph side of him as possible. For he knows, he'll become an "Other" if he does. Sometimes, when he is Seph, he wonders if he isn't and "Other".
Joe is a creation of the boy as a whole. A limiter, so to speak. Joe is aware of everything he does as Seph, but unlike Seph try's to use his powers for something other than destroying. Joe acts just as innocent as he looks and even though the emptiness is still there in his heart, he smiles not for himself, but for those around him. For Joe believes that one day he himself can become happy by making others happy. It's this attitude that makes him come off as sometimes an overly friendly guy to some people and a best friend for others. He gives compliments of beauty to women and constantly tells the males around him how cool, or awesome they are. However, he doesn't give regard to himself at all and doesn't know how to just say "Thank you."when a compliment is sent his way. Instead he denies and blows it off with a laugh. Another trait Joseph has when he is Joe that is the same as when he is Seph, is that he prefers to be alone allot. However, as Joe he always ends up finding at least one person at a time to hang around.
Deep inside Joseph knows that both Joe and Seph are the same person. He knows that he needs to find a middle ground between the two, but for some reason, he hasn't succeeded yet. He laughs at the doctors excuse for it. A chemical imbalance? Yeah right. Maybe he just hasn't decided if he wants to be a bad person or a good person. One thing could be said for sure though. After becoming a Wicked One, Joe has been around much more than Seph has. However, when it comes to Joseph, Seph is a needed part of his life in some ways.
|| Likes ||
Fighting Sports
Using his powers (For what depends on who he is at the time)
Watching anything on T.V. as long as it's not a Documentary
Sleeping
Being apart of the Wicked Ones
|| Dislikes ||
Having to choose between what to do and what not to do.
Having a so called illness.
The burns on his hands.
His family.
|| Personal Weakness ||
Dual personality disorder(On paper.) Something close to it.(He believes.)- Along some path in his life he split himself into two different people. The flaw within this one flaw is that he did it intending to get rid of one of them, but doesn't fully understand that he needs to accept himself.
Emptiness- The feeling he has in his chest that always appears when he does something he would otherwise enjoy. It keeps him from truly being happy.
---
---
|| Abilities ||
Energy Manipulation:
Basically speaking, Joe has the ability to let loose balls of energy that smash into objects like a cannon ball. He's able to control these balls until he dissolves them or detonates them. That being the basics of the technique and his go to, he can also manipulate the shape of energy. For example, if he needed a ladder, he could make a short one out of energy. A more situational example would be making needles and flinging them at his targets.
Energy Guard
Joe also has the ability to create an invisible energy shield around the outline of his body. With it on, he can still interact like a normal human would in everyday situations such as grabbing a glass, or shaking someones hand. However it works as armor that protects him from outside sources. Like the rest of his energy, he can manipulate the shape and size of the shield, making it into a dome that surrounds not only him, but someone else who may be around him too.
|| Weakness ||
Energy Manipulation
The energy ability may seem strong, but it is only as strong as Joseph makes it. That being said, he can only make it as strong as the energy inside of his own body. To date he has only been capable of ten explosive shots. The explosions radius's have always been 15 by 15 meters. About the same as a grenade. However on one occasion, Seph had an idea to try using "The Big One". As you can tell by the name it is one shot that makes an explosion as big as a C4 charge. Enough to blow up a two story house.
That's where the limitations and consequences for them come from. The limit is above. Ten normal shots and one big shot. The consequences differ.
1.The ten normal shots cause heart chest pains should Joe go over the limit. Note: This is only for explosions.
2."The Big One" caused Joseph so much fatigue that when he went to sleep for the night, he didn't end up waking until 3 days later. Even when he did wake up he still felt exhausted. The heart pains lasted for a longer period of time then they do if he tries for eleven normal shots.
Conclusion: It seems that Joe may not go over the limit. However, should Seph try something like "The Big One"plus half, he may be facing either a comatose state, or even worse a heart attack. The end result in over using his power is a swift death of loosing consciousness, or a his heart exploding.
If he doesn't use detonations then usually he just feels fatigued if using his powers for too long. This depends on the size of whatever he creates with the energy and how long he has it materialized for.
Energy Guard:
As for the shield, the outlined one is pretty safe, besides from it cracking just from a mere bullet. However, something he had experienced in the past lets the man know that if he uses the dome and refuses to let what ever is hitting it break it, his heart might explode. Surviving from an actual heart attack from this happening, he has deemed the offensive safer than the defensive.
Lastly, Seph seems to be the only one who can explode his creations. Meaning, Joe's fighting ability is weaker than his counterpart.
|| Biography ||
As far back as Joseph can remember, he was always a somewhat rowdy kid. He would start fights and end them. Some fights of course were ended with a lose, but the result never mattered to him. To this day those past matters had no real meaning to them. He doesn't even remember why they happened. That's how insignificant they were. However, there was one fight he wish he could take back. It happened around the time he turned ten. A bigger kid at his new school started this fight. Joseph, just having been made to transfer schools because of his behavior actually made the decision to not be as aggressive and violent in this new one. He didn't want his single mother to have to worry about him. Little did he know that acting too nice, which was the way he acted to make friends instead of enemies, was also a way to become picked on. Of course, he was never the type of kid to let another person beat on him. He had to fight back right? Though it seemed like the right thing to do at the time, it also seemed like the right time for his powers to show up. He didn't know what the glowing around his fist meant. As he struck the boy, the blood followed. Behind each punch was a wall of energy that made his fist feel like stones. In the end there were two unconscious boys. One from energy failure and one from concussion. Luckily for him at the time, he was the only one who had to spend the night in the cities hospital with the IV.
After that, no matter how he would try to do right, something of the same occurrence happened again and again, each time his powers getting stronger, and each time his mother trying to hide her shame from him. No, she never told him, but he knew that she was shamed of him and his powers. The only thing she could do as a normal person was to send him to a psychiatrist and other doctors. Thinking back on it, maybe it was the idea of Schizophrenia that made him split himself into two halves. Over time he even learned to change his appearance depending on which one he was acting as at the time. It still didn't seem to matter though. Whether he split himself up or not, it just made his violent thirst more hungry as he tried to deny it from himself. It wasn't until one incident that the hunger suddenly stopped growing.
It was when Joseph moved to L.A. with his mom. They once again couldn't stay in the city they were living at before because of him and his mother went into a depression of her own. She still hid it from him. One day, coming home from the store, he found his new house was set ablaze. He could somehow tell his mother was still inside and ran inside the burning building to find her underneath some fallen wood. He pulled the burning logs off of her body and shielded her, unknowingly with his power as he escorted her out the house. Sadly, her injuries, mixed with the smoke in her lungs, caused her body to go into shock and she died not to long after the ambulance came to take her to the hospital. She did however leave him with one thing. It was a simple phrase that probably wouldn't have meant anything to anyone else if said to them. "See. Your power isn't only for destroying things." He didn't know how she could be so wrong. So Naive. He, the son who had ruined her life. He, the person who had destroyed his last remaining family after his good for nothing father ran out. How could he possibly have any type of ability that wasn't meant only for destruction. As these questions grew harder to answer, so did his want for giving the answer. He wanted to give an answer so big and so direct that the questions wouldn't have to be asked again. However, "The Big One" just wasn't as big as he guessed it would've been. Nothing was really destroyed. He was still alive. Life went on. It was empty. He walked as Seph, alone for a long time. That's when he met the Wicked Ones. He didn't know how they found him. Maybe by the "Big One". Maybe, just maybe. He was the one that found them. One thing was for certain. Upon meeting them, the emptiness filled a little. The hunger didn't grow. He was able to stay as Joe. He was able to stay as he had always wanted. To this day, that is where he has decided, he will stay.
||Why they joined/want to join the Wicked Ones||
He feels like being around others like him, or somewhat like him, takes fills the empty space in his chest. Basically, he believes that as a Wicked One he can be a better person.
---
---
"It doesn't matter what people call you. As long as you want to be a good person, then you are good."