---
---
Yo names Shadow how's it going?
---


Normal|| https://www.youtube.com/watch?v=QtEIsCK ... w&index=49 ||
Fighting|| https://www.youtube.com/watch?v=1XQgvF89aB4 ||

---

||Street Name|| The Silvershadow/The Speed King
|| Age || 18
|| Gender || Male
|| Sexuality || Bisexual to a certain point, he likes to mess around with guys and has no qualms in kissing a man but still prefers women better.
|| Role || New Recruit
|| Face Claim || Airgear- Flame King Spitfire

---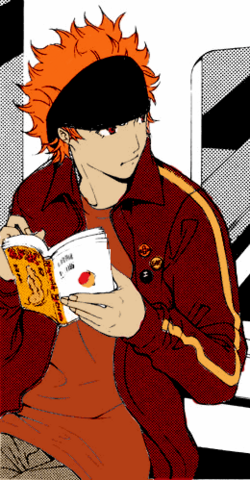 || Hair Color || Black with Red streaks
|| Eye Color || Red/Blue (He has Heterochromia)
|| Skin Tone || Light white
|| Height || 5'11 Feet
|| Weight || 135 Pounds
|| Appearance || To most he is a extremely beautiful person, most women and men especially would fall head over toes for him, due to Shadow having the complete body structure that is extremely similar to that of a woman. Having one red eye(left) another is blue(right), almost shoulder length black spiky hair with small reddish lines running across his hair, though being spiky his hair is well taken care of and somewhat silky. His body is also well maintained having a slightly muscled yet slender physique which is very feminine.
He wears a white T-shirt under a unzipped orange straight-jacket (the zipper being on the front not the back), it has a slightly long collar and a hoodie, the sleeves are usually rolled up to the beginning of his biceps. He also sports dark blue jeans that are ragged at the end of the sleeves, and wears boot-like shoes blue and red in colors. Also, he wears a hand knitted pink scarf with the design of many flowers on it wrapped on his neck. As for accessories he has a heart shaped locket with the photo of his deceased little sister and a golden ring worn on the chain of the locket. A small multi-color string made bracelet on his right wrist and a pair of white sunglasses that block out the sun completely usually worn on one of his jackets breast pockets. Though not noticeable because of the scarf he has a very large scar on his neck that he acquired from his attempt at suicide.

---
---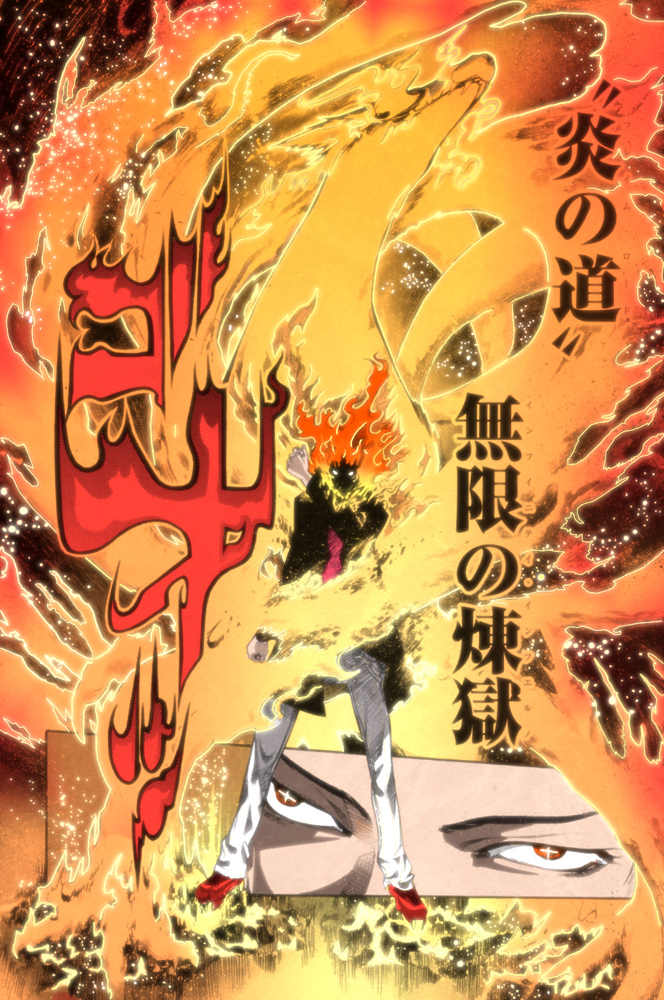 || Personality ||
Cool, calm and collected, he says what he feels like no matter the situation with little care of others. Though he is well educated, he greatly respects woman as his mother raised him as such, some would say he is a ladies man. Usually stubborn and somewhat careless, he loves to have a good time and party around. People might say he's spineless and weak this is due too laziness of some-sort and his education as he was taught to not resort to violence unless it was completely necessary. Though don't get him wrong he is the most dependable person you'll meet he has always keeps his word, he can also be a serious person when need arrives and it's quite the sight seeing Shadow act serious and not careless, taking everything into consideration and acting accordingly being conscious of every changing detail.
Another strong point for Shadow is that he detests using force on a woman don't get him wrong he will fight and maybe hit her a few times and try to overpower her but not to the extent of lethal injury, as it goes against his standards to fight a woman, even in sparring he wont go all out unless he is 100% sure that the woman will be fine. He loves children as if they where his own siblings as they remind him of his deceased little sister.

|| Likes ||
Drinking - Having fun - Laughing - Photography - Scenery - His Little sister - Children - Riding
|| Dislikes ||
Killing - Having to force himself - Studying - Not being able to do what he wants - Someone abusing women or children
|| Personal Weakness ||
-He will not engage in a serious fight with a woman, only if its his last resort and he will still be holding back and will try his best to not fatally injure her.-
- He is pretty stubborn. Also he will put himself in harms way to protect a friend or ally risking everything for them.-


---
---

|| Abilities ||

~Major ability~
- Manipulation of Air -
Shadow's ability is quite simple he has the simple ability control and manipulate air. He can create from a simple draft of air to hurricane like winds on a whim, to mini cyclones to large tornadoes and etc. His ability lets him manipulate the nearby air up to about a 15 feet radius, though this does not limit him to throw strong currents of wind past this limit and other wind based attacks. Though Shadow does not fully dominate his ability at times where he want to create a small breeze he will by accident produce a cyclone thankfully Shadow has not killed anyone but he has injured a few people due to this, so he tends to not use this ability near people he usually secludes himself to train his ability.

~Minor ability~
Enhanced Physical Performance - This ability enhances both his bodies physical performances and durability. He is faster, stronger and more agile than a normal human, as for his body he can sustain more damage than normal. His primary power is more concentrated at his lower body. He can easily punch a solid wall of concrete and leave a noticeable crack on it also risking fractures on his hand, but it's a different story when he's using his legs. He is at least twice as strong while fighting with his legs than when using his fists, he can put a hole into a wall of concrete using his legs with little damage on his legs. He is more agile and faster than a normal human, being able to move at high speeds while not being able to disappear he is still pretty fast.

|| Weakness ||
Manipulation of Air-
-He has little control over his ability and is currently in the process of training in it to gain more dominance over it.
-Rarely uses it while fighting due to fear of fatally injuring everyone around him.
-The only feats he can accomplish without the fear of losing control is a miniature cyclone(About 4 feet high and 5 feet wide) and strong gusts wind, anything more might cause him to accidentally create an unnecessary hurricane. This also depends of his physical condition, at his best he has no problem but when weakened the chances of going out of control are increased.
-When using this ability it will induce muscular pain, the bigger the attack the more it will hurt, prolonged usage will continue to hurt over time. If overused he will lose the ability to control the air for a few minutes.

Enhanced Physical Performances -
-While his physical performances are enhanced it still puts stress on his body and his stamina gets depleted quickly if he begins to do more strenuous activity for prolonged time, accumulated stress may cause side effects on his body such as prolonged fatigue, prolonged muscular pain, blurry vision upon others.


|| Biography ||
Shadow was born in the outskirts of Italy into the loving household of the Lovehearts he was the second born and first male born in the household, the first born being Silver only a year before Shadow. Years passed and when Shadow was only 6 years the second girl of the family Sonic was born, shortly after their father passed away due to a unknown illness. Shadow loved his little sister he kept her safe and away from harms way. All the while his mother Green was homeschooling him and educating him, Shadow grew a fear towards his mother as she harshly trained him and educated him, she also taught him how to defend himself. As Green was the leader of a well known gang at the time Shadow knew this and his mothers nick-name of the Green-haired Devil. Green trained Shadow in fighting arts such as Brawling, Street fighting and Boxing, Green being renowned for her incredible strength and stamina she was undefeated. Not once in his life Shadow was able to beat his mother.

Soon at the age of only 15 the eldest sister of Shadow, Silver moved out to further her studies in no less than a year she made her name well known as one of the brightest minds of the age her intellect bested scholars. Silver is also adept in fighting as being the first born in the Loveheart household she was taught how to fight from an early age, at 12 years she beat the Green-haired Devil who was renowned for her strength and stamina, without sustaining a single scratch.

Shadow was about 16 years old when the accident happened, the house in which he was living in suddenly exploded due to a leek of gas all the while Shadow was out buying groceries. When Shadow returned he saw the fireball that is consuming his house, shocked he ran inside ignoring the flames and heat trying to find his beloved family. He only found Sonic as his mother was already burnt to ashes being in the epicenter of the explosion, Sonic though was saved, Shadow quickly took her to a hospital for treatment, Sonic soon died a week later. Shadow was heart broken he had lost everything that he loved in this world, he struggled to survive, but one day he tried to commit suicide he took a knife and cut open his throat. Though he was found only moments later and rushed towards a hospital and treated, his wound was severe but with time it healed and was placed in a Mental Rehabilitation Center to prevent another accident. Months passed and Shadow was normal again though he still remembers the accident everyday. He broke out of the Mental Rehabilitation Center to travel honing his skills. Know even though he sometimes gets nightmares he ignores them and tries to live a happy life like when his family was alive. He is know quite adept in Taekwondo, one of his current goals is to find his elder sister Silver and tell her of what happened if she hasn't gotten news.

Along his travels Shadow noticed he could slightly control air he didn't fully know this at the time, but as time began to pass he began to steadily raise his ability to control air. Though one day his ability took a giant leap when one day while trying to create some breeze for some cool air he created a large tornado accidentally, at the time he was in a town for the day so it was torn to shreds. Shadow had panicked and tried to undo this but by the time he successfully undid it the town was a mess people were injured but there was no casualties thankfully. Shadow learned that his ability was good and terrible at the same time so he began to not use it near anyone so he could prevent another catastrophe from happening. He rarely uses his ability while fighting due to his lack of control.

||Why they joined/want to join the Wicked Ones||
He joined the Wicked Ones because he was feeling tired of always traveling around and being alone he needed companions, friends that had something in common with him, so with this in mind he applied for the Wicked ones and joined as a New Recruit. He is still learning the ropes to this, so he will be making a mistake here and there but he hopes to get better and maybe he can find his sister with their help.


---
---
"I'm not one to be noticing these things but...your fly is undone...."