ID Code: 139267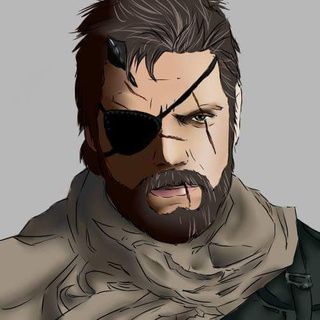 Full Name
: Harran Rager (
HAIR-un RAY-gur
)
Aliases
: Razor
Age
: 47
Gender
: Male
Rank
: Senior Hound -- Training Supervisor
Appearance
: Rager stands at 6'2" and clocks in at just over 200 pounds, the thick build of someone who adapted to life where a hardened frame made all the difference in the survival category. Probably once a fairly handsome young man, it is clear that years of age coupled by harsh conditions have weathered him. The "old man" persona isn't one of decrepid age, however, as his frame belies the strength beneath.
The most striking feature, no doubt, is the loss of Rager's right eye, covered by a black patch wrapping through course hair and an accompanying beard.
Skills:
Rager is proficient in just about all aspects of soldiering, his years of experience in the field having embued in him the necessary traits for coming back time and time again, often when others did not. Firearms training, physical conditioning, and combat tactics replaced much of the softer and more refined knowledge others gained during the same time.
Rager has developed into quite effective instructor despite his harsh and demanding methods.
Witch Mutation/s (If Character is a Witch):
N/A
Preferred Equipment:
Rager seldom rises for breakfast without a combat knife strapped against his outer leg and a large caliber pistol as a stand-off weapon. He takes great care in the handling, storing, and maintenance of Hound weaponry.
He's also been known to enjoy cigars whenever they are able to find them.
Weaknesses
: Rager is not a politically-adept individual and lacks the ability to smooth over situations or exercise social finess. Additionally, there is no question that he has lost a step after decades of fighting, physical punishment, and pain.
He lacks the technical skills to be anything more than barely-competent using computers or advanced technologies.
Persona:
Gruff, difficult, demanding. An untenable
ass
. There was a reason most of the Pups knew Harran Rager simply as "Razor" Rager. His tutelage was not a course undergone lightly, either physically or emotionally. With an outward-stated goal to drive out anyone seeking to become a Hound that wasn't truly ready to serve as war dog, Rager isn't exactly the most popular among those in training, but a grudging respect has been known to develop over time with those strong enough to stick it out, learning that Rager's methods made them survivors.
In the end, Rager takes his assignment very seriously and, although hidden by practiced loathing, cares deeply for the future of the Jagd and those willing to carry its banner as Hounds. The loss of those beneath him have created layer of psychological scars matching external ones, although far harded to analyze and heal.
Among his fellow Hounds, Rager's attitude is more than of a pragmatic realist. Never one to sugarcoat, Ragar asks questions others would often prefer to go unspoken. His lack of political skill have often prevented him from moving higher in the ranks when opportunities arose.
Actually possessing a decent sense of humor when not in "Razor" mode, his deep, crackling laugh can be contagious.
Known History:
Rager's history to most within the Jagd is that of a frontline Hound who continued to come back time and time again. He speaks little of this time prior to joining them and those who probably did know his history have either moved on or been around long enough to know better than to try prying it out of "the Razor."
His insitutional knowledge from decades of experience are regarding as a useful tool for those that know how to get it out of him.