Name:
Katie Dalla
Role:
Female Alpha of the East Moon Pack
Age:
18
Gender:
Female
Likes:
Midnight
Winter
Snow
Her lover
Music
Playing
Her pack
Dislikes:
Being yelled at
Sweating
Being bored
Being insulted
Her pack being hurt
Her mate being unfaithful
Personailty:
Katie is a very sweet and caring girl, not to mention a girl who's almost always in a hyper mood. Yet, she has a polite manner to her when with people she has yet to know. She's a very playful girl, always teasing her mate and just trying to have
fun
. She
hates
it when she's bored.
When Katie is bored though, you can be sure, she'll try and prank others. Though she can be serious, it always makes her end up with the giggles later. Usually, Katie is a very innocent girl, unless her pack is in danger, or her mate has done something to upset her. Katie though, isn't just innocent in personality, she's
innocent
.
She has yet to even have it with her mate, so that is a reasn she is worried about him being with another women one night. She wants to save it for a special occausion, one that they'll both enjoy. Normally though, Katie is just a fun ball of joy!
Human Appearance:
Katie is a stunning red-haired girl with her hair only going a inch past her shoulder. Weighing 111 Lbs and at a height of 5'6", she has beautiful pericing blue eyes mix in with a bit of gray as well. Because of how the place she lives in rarely gets sunlight, Katie is fairly pale. Her lips are a plump pink color, and she tends not to use make up to make them red or any other color.
She likes the all-nature look she has, and she tends to have a flower clip in her hair. Katie normally wears a white blouse with white jeans, and mainly red sneakers. She always has a red jacket with her as well to keep her warm. Her breasts are fairly large, looking as if they were C cups, she also has quite a bit of shape to her.
Wolf Appearance: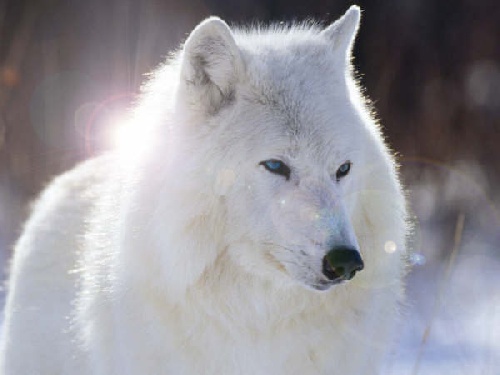 In her wolf form, Katie has lovely white fur, blending into the snow and sometimes relaying on that to be stealthy. She's not as big as other wolves in her pack, but uses it to a advantage. With her size, she is able to run quite fast, though she would like to have more along the lines of power. Her speed and color of her fur are great assets, yet Katie's bright blue eyes in wolf form, sometimes will give her away.
It may not be quite quickly, but she still may be detacted if not careful.
Relationship status:
Katie is very happy in her relationship with her lover. She finds him to be a lot of fun, yet feels like she isn't able to hold him to be faithful, and like she isn't giving him what he wants. This feeling scares her, and she's jelouse at the thought of another women being with him. She'll do anything to keep him with her, and would kill anyone who trys to harm him.
Even at the cost of her own life, she'll try and protect him. She would never cheat on him, she feels to strongly for him.
Enemies:
TBA
History:
Katie, had a normal life like everyone else could ever have, sad times and happy times. Yet, Katie still cannot get over a few of her 'sad times'. It was when her father cheated on her mother with another women, the women tried to win Katie's love when she came over the next day. Katie never could understand why the women, and her father had made Katie's mother's life horrible.
Months past and Katie's mom never smiled, she was broken. That's when, finally, Katie's mom snapped.
She commited sucide when Katie was fourteen.
Katie was then forced to stay with her father and his mentally abusive new 'wife'. Katie though, never let them borther her for most of her life. Untill they found out her sceret. Katie was turned into a werewolf at a young age, a sceret Katie's true mother kept hidden from her father.
Then, Katie's father sent her to a friends. He refused to let a 'monster' in his home, so Katie's friend let her in to take shelter. Katie loves her friend for this, yet the friend, Emily, has no idea about Katie and being a werewolf. Even after all these sad times, Katie never let it bother her to much.
To be honest, Katie could actually careless about her 'dad'. She's more happy with her friend now, then she was with her true family anyway. Katie plans to hide being a werewolf from Emily for as long as she can. She can only hope it doesn't bite her in the back someday.
Romance Tolerance:
I don't mind if we do it in PM.
Roleplay Example:
Katie sighed, looking over to Emily with a slight frown. Though the blonde paid no attetion to Katie at the moment, and was more focused on the TV show,
Person of Interest
. "I'm going out Emily." Katie said, a sudden peppiness ringing out in her voice. Before she could respond, Katie had her red jacket on, slipping on her red sneakers and was out the door in no time.
She giggled as she noticed it snowing, spinning around once she got to the park. "It's snowing! It's snowing!" Katie playfully yelled falling into the large hill of snow other people pilled before her. Katie turned to the side, laying her cheek in the snow in a peaceful manner. "I wonder where my lover is..." Katie mummbled, turning her attetion to the sky with a smile as the snow stopped.
Katie noticed the sky turning into a sunset color. Katie sighed getting up and dusting off the snow on her pants and jacket. Katie began to jog back home to Emily, hopeing to get warm once she got inside. Little did she know, Emily had gone out to the store with her parents.
Katie sighed, quietly turning on the fireplace and getting a pillow to lay on. Putting the pillow under her head, Katie fell asleep with the fire glowing on her face, hoping tomorrow would be more eventful then today.
Other:
She has a large scar on her leg from being hurt from someone at school, it's fairly recent. She hides it from her lover though, not wanting him to be a bit overly protective.
estrelas is alpha