Wilhelm-Friedrich Richter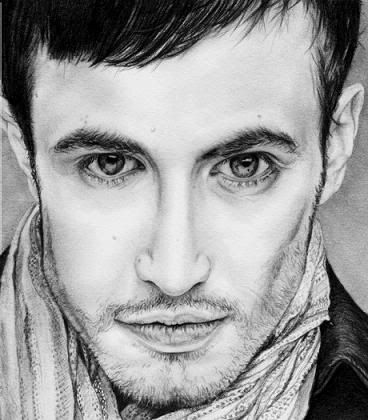 BASICS
Name:
Wilhelm-Friedrich Richter
Nickname:
None
Visual Age:
29
Actual Age:
126
Gender:
Male
Sexuality:
Heterosexual
Race:
Caucasoid
Nationality:
German
APPEARANCE
Eyes:
Brown
Hair:
Brown
Height:
1.88m
Weight:
72.5kg
Skin Tone:
Fair
Build:
Slim
Body Markings:
None
Voice:
Weary Tenor
Description:
Wilhelm was never one for calisthenics but would rather spend his time reading outdoors than getting dirty. His frame though stout and well formed was left unrealized. He could have been, as his father was, a boxer; all two hundred pounds of Teutonic muscle lean and spry. However he was more studious, cerebral. Though standing over six foot he weighs around one hundred and sixty pounds and most of that is skeletal frame. He used to care about his appearance. He shaved every day, he washed twice, a trip to the barber once a week but now; in his present condition it just doesn't seem pertinent.
MENTALITY
Quirks:
Pessimism, finding the color mauve "distrustful"
Fears:
Marionettes, Velveteen textures.
Likes:
Reading, idleness, floral notes.
Dislikes:
Promiscuity, infidelity, swearing in front of ladies.
Personality:
Wilhelm had been raised a gentleman. He was second Baron to a lesser noble house but his death stole the title from him. He enjoyed finery, without pretentiousness and treated everyone as if they were a guest. His relationship with women has been problematic due to the intense hatred of his mother but he did find himself married to a French girl, also of minor nobility and then the war happened. He has trust issues, but when a belief is there the man can be focused and singularly minded. He has been described as obstinate, morally ambiguous and unfeeling towards friends and family, but warm and even gracious to strangers.
EQUIPMENT
Casual Clothing:
Loose fitting field grey trousers and a button-down, white cotton shirt, knee high brown leather boots and a scarf of white and blue linen. A dark green linen vest under a 3/4 length seal skin overcoat.
Carried Items:
Folded slip of paper listing his personal information and date of death:
17 June 1918
. It is yellowed and mostly resides in a red leather bill-fold. A pewter flask of grain alcohol and silver pocket watch.
COMBATIVENESS
Skills:


Comprehension: Wilhelm has never found a topic in which he had trouble understanding. Languages, Mathematics, Geography, Mechanics all can be tackled with a general familiarity. It was this hunger for knowledge that lead him to lack focus when he was younger.
Sympathy: At seven he took a fox home after it was wounded by a hunter, he cared for it and when it got well it barked a high, innocent noise that made the boy smile. His father killed it with an axe later that afternoon and it was then any love for the man died in Wilhelm. However he felt pity for the servants digging a hole to bury the animal in and for the driver taking him to the doctor to check for hydrophobia. He felt a compassion for everyone and no one was above his comfort or condolences.
Weaknesses:


Shell-Shock: He has trouble sleeping and can be distant to those that would call him friend. He met a violent end and what would likely pass in time, the dreams tend to get more vivid as the decades progress. This leaves Wilhelm with a sense of woe and if paired with the by-product of "hearing a problem" the woe is manifested in painful headaches.
Non-combatant: He doesn't fight, he can influence valor and instil bravery in others but when the chips are down and you turn to him Wilhelm's hands will be firmly involved with his drink and cigarette. Sorry.
Powers: Sin Eater
He doesn't smile often but those around him do. The man is a joy to talk to and just being around him makes a person feel good. In conversation, Wilhelm offers insightful, poignant interjection that makes sadness and insecurity melt away. But if you have a true problem, something awful and heavy that is a cross to bear; he will hear your plight and take hold of your burden for you. In truth he takes the negative emotions that plague a person and stores them in himself gifting a sense of great emotional wealth to the recipient, and to Wilhelm, sustained youth though he will never find happiness.
HISTORY
Martial Status:
Widowed
History:
Wilhelm graduated from the University of Munich in 1911 with a degree in Archaeology. He was married that year to a woman named Veronique Lefebvre they lived in Nice where Wilhelm was writing a paper on the recent Neolithic domed structures found in Mongolia. In 1914 war broke out while he was in Germany on a speaking tour. He joined the
Kaiserliche Marine
and was assigned to the U-64 as junior bridge officer with the rank
Leutnant zur See
. He had a good career and received the Iron Cross Second Class for his involvement in the sinking of the Battleship
Danton
. He died along with the rest of his crew but five on June of 1918. He was 29 years old. Wilhelm remembered the deep thumps of the depth charges as he and the rest of the men prayed the British ship would simply give up. He recalled the crack and groan of the bulkhead giving way, the spray of water, the taste of salt and then blackness. The man woke up in Tunis sometime in August of that year with no knowledge of how he got there.