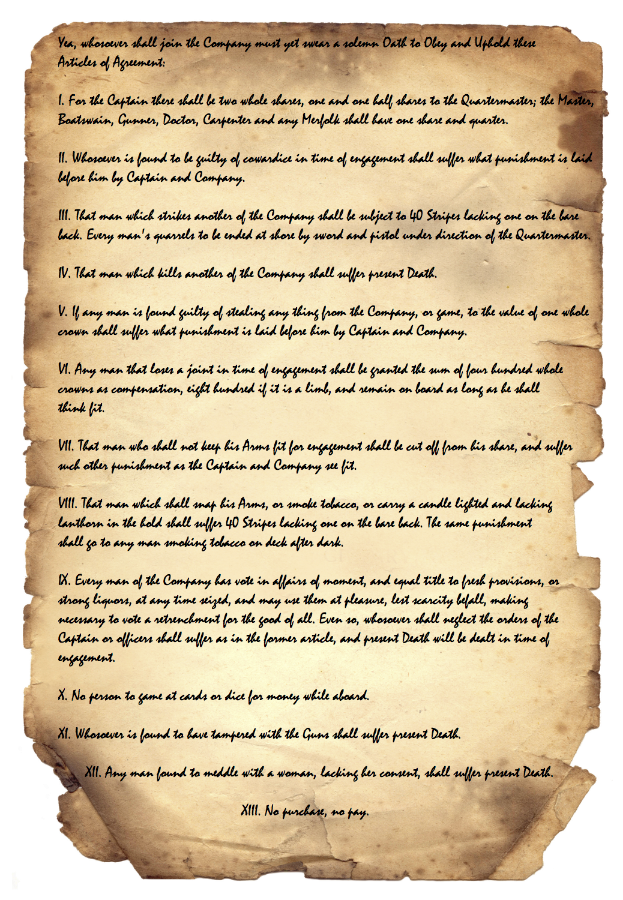 "O, ye colors wax and wane, as the go fe wind and rain." – old buccaneer's rime
It has been said that during the time of the ancient Archontia, whose shores spanned nearly all of Gliesa's fringes, there was not a trace of piracy in the eastern world. Baijat's vast fleets of coastal galleys, deep water carracks, and huge merchant armadas transformed the once ungoverned waters of Gliesa into a heavily regulated dominion – the so-called "Azure Province" of their empire. Piracy, once thriving, had been brutally exterminated through systematic and all-out warfare, and thus the "Baijarn Peace" extended well beyond their conquered lands and into the very oceans themselves. As should be expected, when the Archontia dissolved, so died the order their puissance had held intact. Within two short decades corsairs had reappeared in fervor upon the waves, harrying the fledgling Gliesan successors and thwarting early attempts at naval expansion. Later, even Valiesan pirates would migrate further south to reap the rewards gained by raiding the developing countries' shores, igniting fury in the hearts of the Gliesans towards such violent interlopers.
While the efforts of early titans like St. Daré's Empire certainly made conditions more favorable for coastal enterprises, it would ultimately fall to the Second Kingdom of United Ports to fashion a modern equivalent to Baijat's maritime regulation. The Ports, interested solely in defending their own merchants, built up a mighty navy and worked to suppress every pirate who dared to operate in Gliesa. The terror they posed registered so thoroughly that many pirates simply fled north, eager to escape the growing wrath of the Gliesan empires. While the frigid waters of Idara and indomitable Batheon held little love for their kind, it was certainly a more favorable arrangement than dying at the hands of Portish galleons, or being paraded to a hangman's noose.
Congregating around the abandoned Tarnish Palatinate of Hache Isle, they built up a micro-state of their own; a haven for piracy in the east. The last great bastion for privateers to call home. From this harbor sails a ship of moderate renown, the
Winter's Bounty
. Once in service with the Spears, it now roams the waters like the wooden mockery of a great glacial shark in search of prey to devour. For a day now it has stalked its next meal, a simple merchant vessel under the Kingdom of Tarn's flag carrying something of great value within its hold. Soon the
Bounty
's colors will hoist, and Essus will be paid a blood sacrament.
Winter's Bounty
The
Bounty
began her life as the sloop-of-war HIV (High Imperial Vessel)
Myrmidon's Mantle
in Batheon's navy. A smaller warship, she is built for speed and maneuverability, able to slip about larger vessels with ease. With a complement of roughly sixty able bodies, and a sizable hold, her versatility gave her a long life with the Spears. Following many proud years of service, she was finally declared of an obsolete design. Rather than scuttle her, she was sold to a nation in the north, yet still south of the Cradle. She changed hands yet again after arriving in her new home, eventually finding her way into the possession of a wealthy nobleman to be used as a private vessel. She was refitted with an icebreaker and a thicker hull to withstand the northerly conditions. Soon after being relaunched, she found herself yet again in the service of another master, but through much less cordial means. Taken for a prize by a pirate known as Old Marcos, she found a new calling as a ship of fortune, now called
Winter's Bounty
. For several years she ploughed the seas in search of riches, striking fear into the hearts of whomever came under the shadow of her new standard, and inspiring renown about a ship with blue sails that haunted the northern seas, preying upon any that caught her eye. In time, the man who rejuvenated her decided his time had come to an end, and decided to retire and live off of his amassed wealth. In his wake, a new captain was raised to her helm. A foreigner by the name of Lei Xing, who had come from far to the west.
Roles
Captain | The Adversary
Quartermaster | Imperial Waltz
Master | phoenixheart
Boatswain | TheCrimsonLady
Gunner | Open
Doctor | TheCrimsonLady & stealthpanther (both roles filled)
Carpenter | Imperial Waltz | stealthpanther
Merfolk | Open - ShaShaBoomStar | Imperial Waltz | The Adversary
General Crew | Open - Quakernuts | The Adversary | fading-into-eternity
A relatively simple brig, born into the life of a merchant vessel. Sleek and quick, with plenty of room in her hold. Bound from her native ports to a harbor in Batheon's northern tip, straddling the Cradle, laden with fare and goods to be sent ashore at her destination. As chance would dictate, this will likely be her final voyage, and neither crew nor passengers will see their goal. The
Bounty
shadows her, hungering for what she carries.
Races
Human - Humanity, like all species, was born of the gods' will. Unfortunately, the truth behind this fashioning has been lost to the ages. Furthermore, no god or gods have come forth to claim them as their creation. It has since fallen to scholars and priests to debate the theories postulated about how humankind was born. They are, through various means, by far the world's dominant species. Motivated by a stern will and a decent helping of greed, humanity has spread far beyond their traditional demesne. Even in lands where nothing had taken hold, humans colonized and made it livable.

Elf – Once a mighty race commanding a vast empire, fatally xenophobic leanings led to the dissolution of elven liberty in favor of human imperialism. Elves, in general, are slightly shorter than humans on average. While most can live from between fifty to even two hundred years longer than humans, they are physically weaker. They are most iconically set apart, of course, by their pointed ears and fair features. Sédalian elves are regarded as being the most similar to human, though set apart by their universally blue-white eyes. Due to their status as a client state and culture of Batheon, they are also the most fairly treated elven ethnicity on the planet. Most other elves face various forms of racism, up to and including slavery. Because of their frailer physicality, they are best suited to more servile tasks. Those elves yoked into hard physical labor experience dramatically shorter life spans. Because of this divide, Sédalian elves face persecution even from their own kind. Oddly enough, they are numerically the minority in their own homeland, but the largest by ethnic group. It is also worth noting the irony of their plight. Their ancestors had set out to eradicate humankind, but in the end they nearly suffered the end of their own race.

Mermaid – One day, a very long time ago, Essus, god of the sea, noticed a beautiful young woman wading through the shallows. Consumed by lust, he immediately stole her away for himself. The goddess of the earth, enraged by the theft of a being who dwelt in her sphere, sought to retrieve the girl. Thus, the gods of earth and sea battled over the mortal in contest to claim her. The conflict was so tumultuous that the world as mortal knew it was very nearly ended as a result. Deciding to put an end to the quarrel, the other deities intervened and mediated a compromise. The woman's time was to be divided between the land and the sea. For half of a year she would dwell on land, and for the duration of the other she would live within the sea. From this coupling came the race known as mermaids, ubiquitously beautiful sirens who live in tribes throughout all known waters across the world. However, unlike their ancient mother, they are not bound to return to dry land. Rather, it is a choice for them, and upon venturing from the water their tails transform to human legs. They ardently worship Essus above all other deities.
Here be the skeleton, for further information regarding the setting and lore- and a plainly written version of the Articles- feel free to check the OOC tabs.
Code: Select all

[b]Name[/b]:
[b]Nickname[/b]:
[b]Position[/b]:
[b]Gender[/b]:
[b]Sexual Orientation[/b]:

[b]Race[/b]:
[b]Age[/b]:
[b]Height[/b]:
[b]Description[/b]: [[Mandatory one paragraph at least.]]

[b]Nationality[/b]:
[b]Creed[/b]:
[b]Motivation[/b]:
[b]Likes[/b]:
[b]Dislikes[/b]:
[b]Strengths[/b]:
[b]Weaknesses[/b]:
[b]Personality[/b]: [[Mandatory one paragraph at least.]]

[b]Equipment[/b]:

[b]History[/b]: [[Mandatory one paragraph at least.]]

[b]Ship Currently Aboard[/b]: [[Winter's Bounty or the Wind In the Barley.]]

Let's not tarry here, these should be basic.

Thou shalt not godmod, lest thy wish to feel'th the wrath of.. well.. whatever I happen to pull out of my very fine hat at the time.

Thou shalt'th not be a dick, lest thou desire'th Imperial Waltz to gnaw upon thine ankle..th.

Thou shalt post as often as thou art able. Otherwise, let us know if you're going to be away for a while. Y'know.
Taking place in...
12 posts here • Page 1 of 1
12 posts here • Page 1 of 1
Arcs are bundles of posts that you can organize on your own. They're useful for telling a story that might span long periods of time or space.
There are no arcs in this roleplay.
There are no quests in this roleplay.
Here's the current leaderboard.
There are no groups in this roleplay!
Welcome home, Promethean. Here, you can manage your universe.
Arcs are bundles of posts from any location, allowing you to easily capture sub-plots which might be spread out across multiple locations.
You can create Quests with various rewards, encouraging your players to engage with specific plot lines.
Settings are the backdrop for the characters in your universe, giving meaning and context to their existence. By creating a number of well-written locations, you can organize your universe into areas and regions.
Navigation
While not required, locations can be organized onto a map. More information soon!
There are no groups in this roleplay!
By creating Collectibles, you can reward your players with unique items that accentuate their character sheets.
Once an Item has been created, it can be spawned in the IC using /spawn Item Name (case-sensitive, as usual) — this can be followed with /take Item Name to retrieve the item into the current character's inventory.
Give your Universe life by adding a Mob, which are auto-replenishing NPCs your players can interact with. Useful for some quick hack-and-slash fun!
Mobs can be automated spawns, like rats and bats, or full-on NPCs complete with conversation menus. Use them to enhance your player experience!
Current Mobs
No mobs have been created yet.
Locations where Mobs and Items might appear.
You can schedule events for your players to create notifications and schedule times for everyone to plan around.
Add and remove other people from your Universe.
The Forge
Use your INK to craft new artifacts in Winter's Bounty. Once created, Items cannot be changed, but they can be bought and sold in the marketplace.
Notable Items
No items have been created yet!
The Market
Buy, sell, and even craft your own items in this universe.
Market Data

Market conditions are unknown. Use caution when trading.

Quick Buy (Items Most Recently Listed for Sale)
None
Discussions
Topics

Replies
Views

Last post
Most recent OOC posts in Winter's Bounty
There have been no posts in the OOC topic for this roleplay!