Elijah Blakewood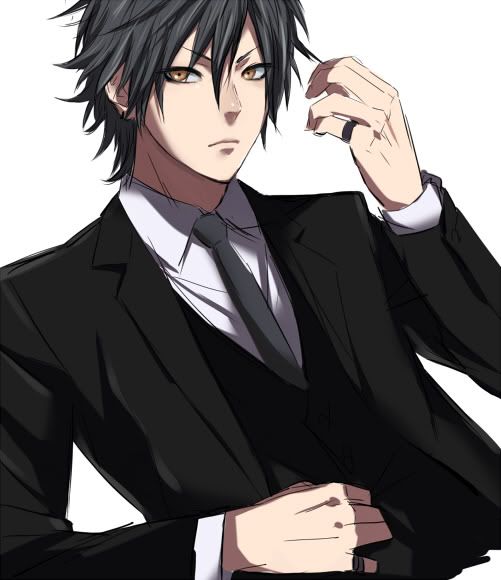 Just because you can doesn't mean that you should. Why is that so hard to understand lately?
---
---

Name:Elijah Blakewood
Nick-Name(s): Eli (Although this nickname annoys him)
Age: 21
Gender: Male♂
Height: 6'0"
Weight: -lbs
Role: Second member of the First Five- Voice Mimicker
Main Power: Voice Mimicry
Secondary Power: Sound Manipulation


---
---




Brief Overview: Mischievous, Hyper-active, Loud, Confident
Elijah can easily be described as someone who lacks fear, simply because he loves performing. No matter how big the audience, Elijah seems to have no second thoughts about stepping out onto the big stage. Being able to shift his voice to suit different characters that need to be portrayed not only by body language, but also spoken language, allows Elijah to be very confident when the time is needed. As a result, this has caused him to become immune to anyone's opinion about him. Good or bad, Elijah simply shrugs it off and continues to be himself, ignoring anything that could possibly alter the way he would act normally. Many people often quote about the extreme extent of his confidence, as he has no issue performing even the most embarrassing act in front of an audience, which tends to leave an effect on people as his confidence can influence those around him.

He loves his music, which is rather obvious since he is usually seen with earphones with him. Being inspired by many songs, Elijah tends to put on the voice of an artist and sing exactly in tune with the song that he may be listening/thinking about, this includes artists that tend to use auto-tune (and that's quite a few...). Because of his mastery of singing without much effort at all, he has caused a bit of attention as he has a habit of putting videos of himself singing onto the web. Now he isn't a smug person, but he certainly loves attention, however he knows his place and doesn't need reminding of it. Because of his love for music, Elijah is an exceptional listener. It takes a lot of listening to mimic a voice/sound effectively, and despite his love for talking, he can surprisingly keep quite for a while.

He tends to keep his emotions to himself, but usually the voice he puts on gives away his emotion, particularly when he's angry, in which case he puts on a deep intimidating voice. Tending to use his voice to his advantage, Elijah alters the way he speaks depending on the situation. For example, when in trouble, he'd put on a voice of a distressed child to gain sympathy. He is extremely mischievous and hardly ever uses his original voice.

Likes:
▲Music
▲An Audience
▲Being Heard
▲Acting
▲Singing
▲Creating mischief
Dislikes:
▼Ignorance
▼Opinions
▼Depressing people
▼Shyness
▼Silence
▼Wealth
♫♪♫♪Theme Song(s)♫♪♫♪
MitiS- Parting
Never fade (Eyes Remix)
Disclosure- Boiling


---
---



When he had awoken, Elijah had found himself within an adopted family. Now it's usually cliché for kids to find themselves adopted into a miserable house hold, filled with nothing but selfish parents whilst the victim is left to rot, barely experiencing life at all. But nothing was cliché about Elijah's family. In fact, he was rather fortunate. His adopted family was wealthy, only flawed by the fact that they weren't able to have children of their own, Elijah was the answer to problem in their lives. After a short while, they noticed that he disliked being spoiled as he only wanted to be seen as a typically everyday child. However, his gift only made that difficult for him.

The first sign of his gift being noticed was when he was with his 'mother', who was preparing dinner. She was singing her favourite song with such grace that it had only inspired Elijah to do the same. Now it would be particularly difficult for a male to impersonate a grown woman who was reaching her late 30's, but for some reason, Elijah was able to mimic her voice with the lack of effort. This raised suspicion. Not only for Elijah, but his so called parents as well. It's not exactly normal for anyone to be able to mimic a voice spot on, without many months of training...Elijah had a gift. He wasn't quiet about it either.

Matter of fact, he learned the voices of every single person he met, using them whenever he felt like just to mess with people's heads. He loved the fact that people were noticing him because of his gift, and he wanted express it more. That's where performing arts came into his life. This sparked a whole new life for him, being unique enough to take on more than one role in a single performance and having the voice which could compare to any artist...Literally. With all this, a lot of attention was being drawn towards him, and with that came the media. Something he didn't want. Despite all the attempts to buy Elijah for his numerous talents, he could only refuse as he simply hate the thought of money.

As life went on, Elijah began to realise that he had something abnormal about him. Being able to alter his voice is one thing, but being able to copy any sound was another. From beat-boxing all the way to the extremes of dubstep, Elijah was able to project sounds that no normal human could possibly make. When suffering from a migraine, the constant ringing of a car alarm was seriously causing suffering for him, but there wasn't anything he could do about it a part from yell "Oh will you shut up" in much frustration. What overwhelmed him is that the volume that was being projected from the car, went from the loudest thing that he could hear, to something he could be compared to utter silence.

Elijah currently lives alone, ignoring his lust for attention as a war threatens the well being of himself and those around him.


---



None.