---
---
"There will be a day where the tame bloods will realize that living in the shadows is really what will kill us."
---
☀ Who I Am ☀
---
Full Name:
Alesander
Name Meaning:
To defend, Help. Man.
Nicknames:
Alec, Danny, Andy
Age:
19 Years
Birthday:
January 23rd
Pack:
Lunar Pack
Role:
Guardian
---
☀ Appearances Can Be Deceiving ☀
---
Hair Color:
Dark Brown
Eye Color:
Black-Brown
Wolf Fur Color:
Black with Brown Shades
Race/Ethnicity:
Brazilian - Hispanic
Distinguishing Marks:
There is a black sun tattoo on the back of his neck right above his shoulders.
Detailed Description:
Alesander is a tall hispanic man who always has messy hair that falls into his dark eyes. He is the epiphany of 'tall, dark, and handsome' although he isn't really very dark on the inside. His ebony skin and muscular build attract a lot of attention, especially living where he does but he doesn't mind the attention as he walks confidently and stands tall. His height is at 5 feet 11 inches and he weighs 192lbs. He is a muscular man and can be very intimidating even if he's generally kind at first. He has bushy eyebrows that perfect his scowl and a grisly beard that he rarely trims unless he has the time.
---
☀ What's Inside Really Counts ☀
---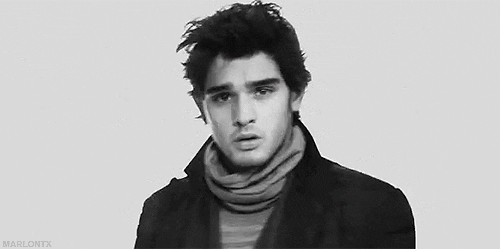 Personality:
Protective | Warm | Confident | Quick Tempered | Easily Stressed
Alesander, better known as Danny or Alex when his beta isn't around, is a big teddy bear. At least to his pack mates. He loves to cuddle and play around with his mates and genuinely enjoys spending time with them. Even if they annoy him he could never stay mad forever. Therefore, it makes sense that he is obsessively protective over them. When danger comes he is ready to stand against it and he would be the person to take a bullet for the pack. Alesander counts every member of the pack as part of his family.
His looks reflect his confidence in himself openly. He doesn't slouch or look away from other's gazes. He meets them head-on. However, the only exception is to his alpha who he gives the greatest respect. Alex may look like an equal to his Alpha but that is not the case and Alex knows it. This is because Alex stresses out easier than most wolf bloods. He can't handle his temper an often gets himself into trouble by shifting at the worst times. He can't help it because it's usually when the pack is in danger that he ends up shifting without meaning to.
Alex sometimes likes to go running to release his stress and he works out frequently to keep in shape. Some would even call him a muscle head but Alex doe have a sharp intellect and is very observant / aware of the things going on around him. He isn't afraid to speak his mind on those things and can be brutal to others who aren't his pack. Due to this, he has gotten blamed for a lot of bad deeds that weren't his doing.
Alex absolutely hates the tame wolf bloods and wouldn't waste even one chance to teach them a lesson they would never forget. He makes it clear in the way he behaves towards them and heaven forbid he come across them when they don't have any protection or someone to stop him. Although, he is slightly more lenient on the females because for some reason he feels bothered by the idea of hurting them. But that doesn't mean he won't make a game of snapping his jaws at their heels. Also, one thing Alex hates even more than tame wolf bloods are humans. Everything about them he hates.
---
☀ What I'm Good At. Or Not. ☀
Skills
Hunting
Protecting
Running
Fighting
Flaws
Climbing
Aggressive
Tracking
Human Interaction
---
☀ What I Hate and What I Love ☀
Likes
Sleeping
Playing Around
Eating Meat
Running with Pack
Dislikes
Humans
Tame Bloods
Coffee
Fruit
---
☀ My Past Won't Be Forgotten ☀
Home Town:
Redbrook
Detailed History:
Alesander was born and raised in Redbrook. His father raised him singlehandedly as Alex's mother died while hunting. An elk managed to land a kick to her neck and snapped it. She was dead right then and there. So, for Alex, he never had the luxury of being loved by his mom but that didn't stop his dad who was a strict man and a loner at that from trying his best to raise his only son. Alesander had a tough time getting along with his dad because he was much gentler than his dad was but he understood that his dad just wanted him to be strong enough to protect himself.
Alex has never left the forest and was born into the Lunar Pack. He had seen the struggle between the Solar pack and the Lunar pack since he was young and his hatred for the other pack isn't just adopted from his parents. His father was a guardian and often had to fight to protect his pack. Alex still remembers patrolling the forest morning, noon, and night with his father. He remembers the cold winters where they would go side by side in wolf form, sniffing the air quietly as they struggled through the snow which froze their pads. Alex distinctly remembers one particular night though.
Alex had been patrolling with his father and while they were out they caught the scent of Solar pack and decided to follow the trail. The first thing they came across was a human with a camera and Alex who was alarmed at the sight of the creature grew increasingly aggressive. His father warned him back and watched the human as it scoured the landscape searching for something. Another human walked up followed by a Solar wolf blood and that was the breaking point for Alex. He lost control on his anger and leapt out charging the human. He mauled the human but his father surged forward and managed to push him off and guide him away. His father found out later that the human police were sending out a search party to look for the 'wild and feral dogs'. Alex and his father decided to lay low after talking it out with the pack but one night while out hunting, his father was shot in the chest as a human father decided to take revenge into his own hands. Alex attacked the human man and chased him out of the forest before dragging his father's body somewhere to be buried.
It wasn't until months later that the stories about wild dogs in the forest calmed down but it was too late for the humans. Alex hated them with a burning passion by that point and will continue to desire revenge. However, he is happy with his pack and has decided to
try
and move on since it's the wolf way. Death happens sometimes and nature moves on.