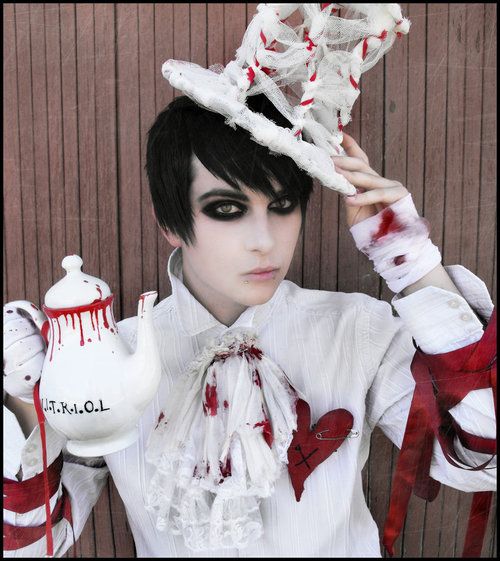 Basic Information;
"Welcome to my shop. How may I help..youuu?"
Name:
Valentine Vitriol
Age:
Unknown, has always been around
Race:
Vampire
Ethnicity:
Romanian
Orientation:
Bisexual
Relationship Status:
Single
Role:
The Trader of Wonderland and the Real world
Faction:
Any side, they both make great business
---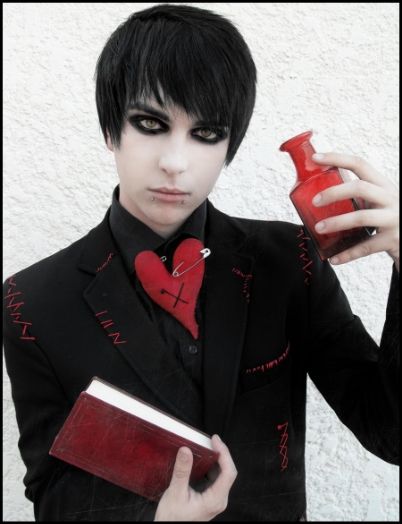 Abilities:
Vampire Abilities:
Improved Strength, Speed, Senses
Heightened Endurance and Resistance
Mesmerization with Eyes
Mind-Rolling / Mind Reading
Shapeshifting - Bat
Blood Manipulation
Best Feature:
This store of his Delly Ara. It has anything and everything, you name it, it has. Also his eyes, always seem to capture people, even without him doing anything.
Appearance;
The palest of all, he has every signs of being a Vampire. Perfect figure, looks and style. His hair is as black as a raven's feathers. Eyes a bright hazel green color. He stands as tall as 6 feet or so and has a deep romanian accent. There isn't a thing out of place for this man. He is as perfect as his shop. Even his Victorian style of clothes are interesting. He always stands or sits tall and proper, you will never catch him looking bad.
Personality;
He comes across as charming and gentle, that is unless you catch him at a bad time. His accent makes him sound a bit creepy, but that is only natural for what he is. He dresses his shop from how he acts. Proper and never misleading. It has everything just like he does. Even though he always knows what you are thinking, he ever says or shows it. He always acts composed, if you hate him he will only enjoy you more. If you find him scary or mysterious, he will only tease you. But if he likes you and wants you, he will take you.
Likes;
Trading
Quietness
Older items
Reading / Writing
Tea
The indoors
Dislikes;
Outdoors
Cheap Traders
Money
Real World
Animals
Hobbies;
Trading
Pottery
Collecting
Artist
Tailoring
History
Well what is there really to say about him? He was born into the vampire life. So he never got to experience what it is like to be human. Over the years he had man jobs, but he only really stuck with one, being a Trader. It is what he is good and and what he enjoys. His shop is named Delly Ara of all Trades. It's a business between both wonderland and the real world. He is able to trade from anyone, but don't offer him money or a mad trade. He wont like it very much, or you. You might just end up one of his meals if you try it.
Animals don't really like him, so he never really liked them either. They find him a threat, because of what he is, infact, no one really likes him, they fear him, but trade with him when they have too.
He isn't really a bad man, he just comes across as, creepy or a bit...'mad'. His life has been long lived, so he hardly cares to remember his family or anything of them. He loves to live alone and be left alone. Which is why his business is always moving around Wonderland, most of the time, it is hard to locate. He has a Trading shop for each and every section of wonderland, ever town crook and nanny.
Other:
Was Prince of Diamonds Butler.