Paradise
"Congratulations on finding paradise."
With little more then a word and the signing of a simple of paper you are admitted into the lowest level of the bar, shown your direction by the Bartender pointing you towards a dark corner. To your surprise the corner does not end but opens into a steep staircase heading down into a small corridor that encases a singular door frame.

This door has nothing but a thin strip of black light above and below that right on the frame itself, words burned into the oak frame.."Welcome to Paradise" The door gives easily as you enter and like the bar above your senses are assaulted once more but this time with something very unaccustomed to you. A sweet smell of spice and unknown electricity is in the air which does not allow for a single moment of static peace in your mind as you walk through.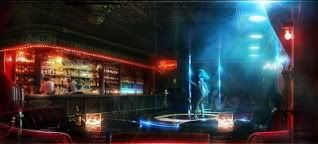 This place before you is in full swing as you enter soft and turgid music is playing from a sound system jutting from the corners of the large room and in the center a heightened platform sits. Currently there is a beauty of unimaginable quality strutting and twisting on the stage before you, she twist with each dip of the beat and turns with each oscillation of sound. However being aware of her is far and away what she notices, going about her dance as if you didn't even enter.

The patrons here do notice you however and some are still staring in your direction it comes to your attention that these people are different from the ones above and in fact some are not people at all. Scales, fangs, and odd patches of hair can be seen sticking out along with strange articles of clothing as your vision moves around to keep track of the others around. The deep maroon paint on the walls with the dark leather of the seats and black tables give the room an intensely bewildering atmosphere.

Here there is a bar as well, however you would hesitate to call this fabrication a bar seeing as no drinks or even bottles of any kind are in sight. There is however a figure standing with some other patrons in attendance, giving you a beckoning finger as you catch full notice of them. As you walk closer the figure comes more into focus and it is far easier to tell that this dark clothed figure is a rather small figured woman. Her features obscured by the heavy cloth and small assortment of buckles stand to make discerning her real figure almost impossible and even her face is covered.

A mask made of a singular piece of darkly smoked glass covers her face while a transparent veil covers the rest of her head. But there behind the mask two small bright pin point pupils can be seen dancing over your form as she eyes you up before speak...

"Congratulations on finding paradise.. and enjoy the show."
0 posts here • Page 1 of 1