Age:
Physically: 17 Actually: Centuries older
Sexuality:
Heterosexual
Height:
5'0
Weight:
110 lbs
---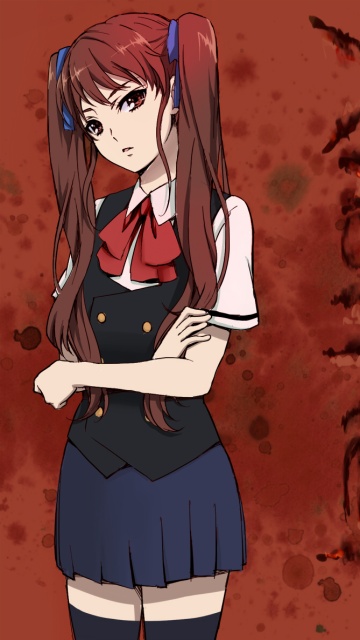 Personality:
Katherine is hurt easily though too prideful to show as much. She also doesn't trust as easily as she is hurt but those she does trust, she'd give her life for. Katherine is fiercely loyal and would even kill to protect those she loves. She hates to kill others, seeing no need for it and avoids confrontation if it's not necessary but she isn't afraid to fight for both her life and the lives of her family. Katherine is also cynical and holds very little trust in others due to the deaths of her parents.
Talents:
Singing
Dancing
Piano playing
Creating music
Likes:
- Pizza
- Ice cream
- Chocolate
- Singing
- Animals
- Dancing
- Writing songs
- Composing music
- The color red
Dislikes:
- Lies
- Talking about her past
- Killing
- Biting humans
- Fighting for the throne
- Disloyalty
- Being seen as vulnerable
- Being seen as weak because she's the youngest sibling
Abilities:
-Telekinesis- She is able to move things with her mind.
-Super speed- Katherine is faster than humans and regular vampires but slower than werewolves.
-Super strength- She is stronger than werewolves, humans, and regular vampires.
-Pain inducement- Katherine can inflict painful illusions upon others.
-Compulsion- Just like with other vampires, Katherine can compel others to do as she pleases through contact but due to her status as a royal and a pure-blood, she is able to compel other vampires and supernaturals as well.
Flaws:
-She's hurt easily but refuses to show it
-She isn't good when it comes to expressing her emotions
-Katherine doesn't trust others easily
-She feels stuck in her siblings' shadows.
-Her inability to trust.
-Her memories of the past haunt her.
---
History:
Katherine is the last child born to vampire royals Victoria and James Vidali. Her birth brought joy throughout the household but that joy would only last a short while. James had begun to crack under the weight of being one of the rulers of vampires everywhere and having yet another heir that could take his place. He had began an affair with a witch, uncaring if his wife or his people knew. Katherine grew up loving music and books like her mother but she felt like an outcast among her siblings. Even so her strength and her abilities were made known at an unusually young age, meaning she could fight on an equal level as her siblings. As time went on, James became fearful of Katherine's power, believing she was a sign that at any moment any of his children could overthrow him. He had begun to neglect his people along with his family leaving him and his family open to attack. A group of supernatural beings, thirsty for power and control over the vampire race had struck against the Vidali's.
They had orchestrated an assault on the royal palace, invading the Vidali's home. Once inside the palace and both rulers and their youngest daughter were trapped by enemy forces, it was revealed that the king's mistress had been the ringleader of all this. When they could no longer fight back and had obviously been outmatched, James had sacrificed himself to protect his wife and child. Victoria escaped grabbing a young Katherine, and made sure the rest of her children had been well hidden. Katherine, only a young child at the time, had been placed in a closet, forced to remain silent as the battle raged on. Victoria hadn't been as lucky as her children was unable to hide within enough time before the witch found her. Katherine was forced to witness as her mother was viciously slaughtered. Katherine, fearful and unsure of how to cope with what she just witnessed, lost control and her powers killed everyone in the room. This display of power had been the distraction the royal guards needed to regain control of the situation. In the end, the royal family won that battle but lost so much in the process. Katherine blames herself for her mother's death and her father's incompetence. She currently has no plans to take the throne her parents once sat upon as it's caused so much pain already.
Other:
She wants to be able to trust again. Katherine does not wish to rule over the supernatural creatures and she wants to find someone to love and to have someone that loves her but she is afraid of love and knows one day she may be forced to marry a noble vampire that she does not love just like the rest of her siblings.
Thoughts and relationships to other characters:
TBA