Name: John M. Hammerfield
Age: 32
Physical Description: John stands at five foot seven, has shaggy light brown hair. He keeps a scruffy beard going since it's extra effort to take care of. He has no tattoo's or piercings and doesn't wear jewelry. He has a variety of scars ranging from nicks and gashes mainly on his hands but he does have a few good ones elsewhere. Mostly year round he has a pretty good tan going now a days.
Occupation: Janitor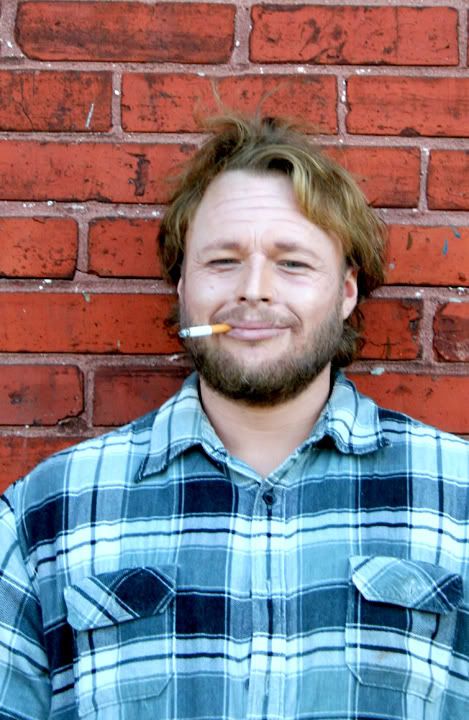 Equipment: Fire-Ax, Handgun, Basic Claw Hammer, Rugged Hiker's backpack, Two packs of Newports and a pack of camels. Three bic's and a half used pack of matches. A few varying non-perishable snacks. Slick black Mp3 Player with matching ear-buds.
History:
John spent a small amount of time as a police officer in his hometown before being let go due to allegations against him for being a dirty cop. It had never mattered that they weren't true. The stain of doubt had already be cast. The charges were eventually dropped due to lack of evidence but the looks and gossip never did. He ended up quitting to prevent further harassment. After some time of going job to job, he was recommended to a custodial job.
When the incident started he was standing in a hallway in his hometown school buffing the floor. When he heard one scream, then another. They were coming from one of the rooms used for after-school activities. He popped his ear-buds out and quickly hit the off switch on the machine listening once more as he started towards the room. At first it was silent and when the screaming started again he picked up speed. Arriving at the door he could see a bunch of the kids huddled together attacking someone.
Flinging the door open charging in to stop the fight, he quickly realized that was a bad idea. At the sound of the door being thrown open the group turned to him. He could see a bleeding body on the floor, it's insides strewn around. The kids were covered in blood and had wild looks in their eyes. One started to move towards him, and the rest followed quickly stumbling over one another. Panic took over and any bravery he had mustered was gone. Fleeing into the school, he barely escaped outside only to realize something had gone terribly wrong in the world.
He spent the next four months learning just how bad it had become, as he moved from one place to the next avoiding as much contact with anyone as he could. Life in this new world wasn't easy and he'd often think of movies and books that had used this situation as nothing more then a way to make money and play at our imaginations. Never did he really think that Max Brooks actually knew what he was talking about. Occasionally he would try to approach others he'd see while traveling but only to try and get information and trading out of them. He had a few close calls with people not really wanting to trade and just trying to take his stuff. Eventually he would hear about Dallas and make his way there.