Name: Bijou Sinclair
Nickname: Bea or Joujou (Only called that by her closest friends)
Gender: Female
Age: 24
Ranking: Captain
Nationality: German
Loyalty: The West
Dinosaur: A male Quetzalcoatlus named Breyburn. She treats him more like a pet than a ruthless killing machine and she has nicknamed him "Cookie".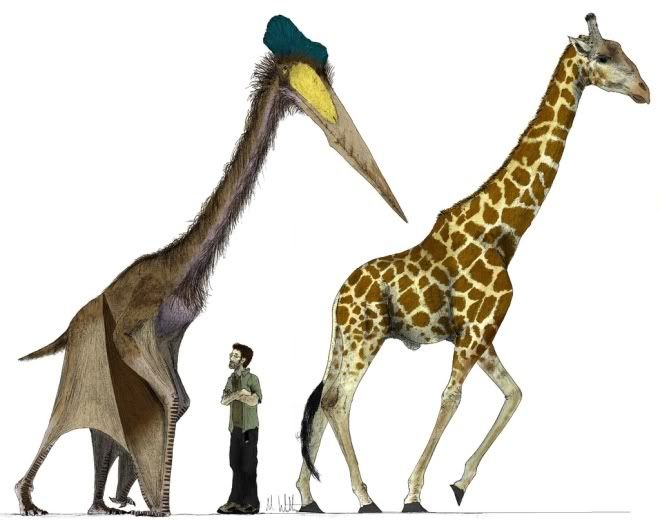 Just a relative size chart
Personality: Commander Sinclair is a very happy, amicable person so long as she gets her way. She was chosen to train all of the new recruits because her positive disposition makes war seem like a children's game and all the recruits that train under her are more likely to stay in the army and more importantly, they are more likely to survive. Anyone can tell that she truly enjoys her job and is very enthusiastic about it. Rumor has it that she always carries at least three guns somewhere on her wherever she goes but she have neither confirmed nor denied this. She sees Cookie as her 16 foot tall puppy and they are fiercely protective of each other. She is very childish for her age although her height and physique say otherwise and she sees the battlefield as a playground. This can be dangerous for both her enemies and her allies. Her erratic behavior makes her a difficult target to predict but it also makes her an unreliable leader. When Bijou does not get her way she turns into the most stubborn person on the planet. When she gets upset she does not yell or scream or turn into a bitch she simply ignores whomever dared to tell her no. She does not communicate, cooperate or associate with the person until they give in to her demands. So long as Joujou is kept happy, which isn't that hard to do, she is a pleasant, bubbly, helpful asset to the West.
Skills: Commander Sinclair is an excellent marksman with mastery of many different types of guns. She is especially fond of machine guns and assault rifles. So much so that she has two closets. One for her clothes and another for her guns. She has exceptional aim and is usually employed as sniper for the military. However her irrational nature usually means that once she has dispatched her target she will continue to kill any of the enemy that she sees fit. Her preferred form of attack is to ride Cookie into battle and shoot from above. This way is easier for her to injure, maim, or even kill as many of the enemy as possible while maintaining a safe distance. Any shots fired at her can easily be seen and avoided. Her unpredictability makes her an excellent strategist. The enemy never know how, when, or where the attack is going to come from, sometimes it doesn't come at all but her style of attack is always shifting and changing, constantly keeping them on their toes.
History: Despite her upbeat attitude Bijou has a very tragic past. She never got to meet her mother due to the fact that she died during childbirth and her father disappeared before she was even born. She lived in an orphanage and everyone believed that she was sure to be adopted because of her bright personality. This never happened though; when she was only three the orphanage caught fire and she was the only survivor. To this day she still has scars from the burns on her lower back and feet. When the orphanage burned down she decided to live on her own rather than go to another orphanage somewhere else. She lived on the streets for most of her youth, using her charm and cunning to steal whatever she needed, clothes, food, blankets, anything. When she was fifteen she saw a gun for the first time in her life. She was walking through a department store, casing the place when a masked man ran in and robbed the entire place at gunpoint. She had never seen a gun before and she was enamored at how effective it was at getting people to do your bidding. From that day on she begged, stole, and saved every penny she could spare to buy her first gun. It was a simple revolver but it worked fabulously the first time she used it to rob somewhere. After that she kept stealing from bigger and bigger places and used the money to buy more and more guns. When she turned eighteen she decided to put her skills to some use and she enlisted in the army. When they saw her shooting skills they immediately took her in and even allowed her to train the rest of the recruits in gun-slinging. She, like all the other recruits, chose her dinosaur after her fist two months of basic training. She raised Breyburn like he was her child, taking him everywhere she went and making sure his every need and want were met. Breyburn sees her as both a mother and an ally and the two are almost inseparable. She doesn't sleep in her room in the baracks she has her own rooftop apartment in the city where she lives with Breyburn. Bijou never knew her parents and she has never seen the need for parents but she subconsciously treats both Breyburn and every new recruit like a child of her own. She is gentle but firm with the recruits and when they misbehave she scolds them. It's actually quite amusing to watch since most of the recruits are taller than her and some are even older. It makes no difference, to her they are all her little flock.