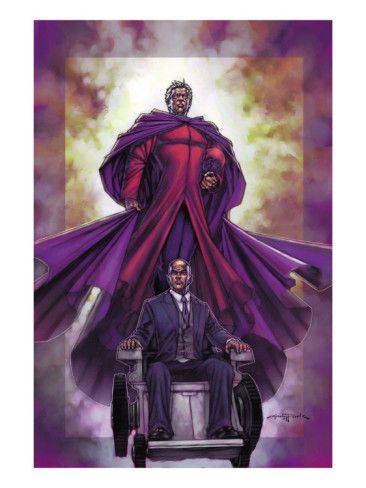 After years of feuding and disagreement, Charles Xavier (Professor X) and Erik Lehnsherr (Magneto) saw eye to eye and settled their differences. Erik agreed to stand by Charles' side and to nurture young mutants at the Xavier School for gifted students. Prior to Magneto's and Charles' truce the two were captured by Bolivar Trask and were experimented on. Trask was trying to create a Mutant child that harvested the strengths of two of the world's strongest mutants. Trask succeeded in creating the mutant child, however soon afterward Charles, Magneto, and the child were rescued by the X-men and members of Magneto's brotherhood.
Charles and Magneto considered the boy to be their son and raised him as such. His name was Vincent Lehnsherr Xavier. The boy grew pretty quickly and exhibited great talents. Trask and the government want Vincent back and will stop at nothing to reclaim their test subject. However, information about the government project leaked out and sent the mutant community into a rage. Hate crimes from both humans and mutants increased. With malicious mutants, and a corrupt government abound, Magneto and Professor X will have their hands full trying to simply keep hope alive for a bright future.
Notes:
Since X-men RP's often get caught up in introductions/ meet and greets among new students. I will ask that all Students although, maybe, new to the school have been there for a little bit. (Maybe a month at least.) This way, you are still learning things about teachers and other students but you don't have to waist story time on settling into rooms and basic boarding school drama stuff.
Secondly, you must choose between being a student, a Teacher/ staff, Villain other character. Teachers and Villains have full use of their abilities as they most likely have been honing them for a while. Students on the other hand should not be so perfect with the use of their abilities. So they will make more mistakes, and frequently. So just don't forget that your student character is still learning when roleplaying. If I think you are having a student use their powers too efficiently all the time I will ask you to watch how they use their abilities in the future. After a certain point students will begin to use their powers without as many frequent mistakes and become similar to the teacher characters, however I'll let everyone know when it's safe to cross that bridge.
I will start off with a set number of teachers. Please post in the OOC to reserve a Teacher spot. Villains, and students don't need reservations. Reservations hold for 24 hours once posted in the OOC. I will remove you if you fail to post a CS after that point. So let me know if it's taking you longer than expected and I'll give you another day of extension. We won't be spending much time in the classroom but the titles are simply for determining the amount of teachers needed. Other adults would have to be staff. All teachers will at one point help with danger room training and honing the skills of students.
Math Teacher:
Music Teacher: Cara Black (Shadowdancer) / Reserved by Turtlesoup
Science Teacher:
Social Science Teacher: Vincent Xavier (Psionic)/ Reserved by Masato22
PE teacher:
Art teacher:
Literature teacher: Abe Fuyumi (Shadow)/ Reserved by Masato22
English teacher:
Modern Technology teacher: Aaiyah Ippolita (A.I) *WIP*/ Reserved by LADY INALI
School Technician: Aaiyah Ippolita (A.I) *WIP*/ Reserved by LADY INALI
School Nurse: Lady Vila Star played by Lady Inali
Character Sheet info
Name: (code name)
Civilian name:
Age:
Occupation: (Student, teacher, Other staff etc.)
Alliance: (Good/ X-men,\; Villain/ex. The Hellfire Club/ Government; other)
Appearance: (I prefer an image. You can do both image and description. Also the uniform could be the standard x-men uniform or something special you found. Just be sure to supply and image or give a good description of that as well.)
Personality: (At least a paragraph, provide personality up's and downs.)
Mutant Classification: (Alpha, Beta, Gamma, Delta, Eplison, Omega; Please indicate which classification your character falls under after looking through the Lore page posted in the OOC. note Omega mutant status is rarely approved due to basically being an instant God mod.)
Powers and Abilities: (Please no more than Five. And try to make them cohesive and not random things that don't really make any sense together. Be sure to include weaknesses. This keeps you from looking like a Mary Sue.)
History: (At least a paragraph.)
Other information:
Please No god moding , and no Mary Sue characters WHATSOEVER! If I suspect a Mary Sue is in our mist, I will warn you once about the areas that need correction and if they are not fixed after that then I'll have to insist you leave
You can have more than one character if you like. I don't mind at all, I actually encourage it. Just make sure you submit your character sheets for each. Also I don't mind Anime or images of real people. I prefer real images but if you'd like to use an anime please feel free to.
Stick to the character sheet layout when creating characters.
I prefer original characters, however Cannon Characters are fine to use as well.
No killing a player character without permission of the player first.
No one line posts please. One liner's don't really advance the story at all.
If things get out of control, I'll implement a post limit. I've been in X-men RP's before and sometimes there are some people who tend to rapid fire post. This is admirable however it can become too difficult for those to keep up with the story if we jump 2 or 3 pages in a day and others can check the site as frequently.
Be respectful. If you find yourself having trouble with another player and the two of you can't seem to resolve the issue peacefully, please let me know via PM. I would like both parties to do so explaining their perspective of the issue. The two parties should try to keep interactions between them to a minimum.
Romance is welcome, just keep bedroom business behind a closed door/ PM.
Language should remain generally mild. You can swear but don't overboard. This is an example of an Unacceptable level of cursing. "I am going to kick your motherf***ing, S*** faced, C*** a**." So just don't pull one of those numbers okay.
Taking place in...
Arcs are bundles of posts that you can organize on your own. They're useful for telling a story that might span long periods of time or space.
There are no arcs in this roleplay.
There are no quests in this roleplay.
Here's the current leaderboard.
There are no groups in this roleplay!
Welcome home, Promethean. Here, you can manage your universe.
Arcs are bundles of posts from any location, allowing you to easily capture sub-plots which might be spread out across multiple locations.
You can create Quests with various rewards, encouraging your players to engage with specific plot lines.
Settings are the backdrop for the characters in your universe, giving meaning and context to their existence. By creating a number of well-written locations, you can organize your universe into areas and regions.
Navigation
While not required, locations can be organized onto a map. More information soon!
There are no groups in this roleplay!
By creating Collectibles, you can reward your players with unique items that accentuate their character sheets.
Once an Item has been created, it can be spawned in the IC using /spawn Item Name (case-sensitive, as usual) — this can be followed with /take Item Name to retrieve the item into the current character's inventory.
Give your Universe life by adding a Mob, which are auto-replenishing NPCs your players can interact with. Useful for some quick hack-and-slash fun!
Mobs can be automated spawns, like rats and bats, or full-on NPCs complete with conversation menus. Use them to enhance your player experience!
Current Mobs
No mobs have been created yet.
Locations where Mobs and Items might appear.
You can schedule events for your players to create notifications and schedule times for everyone to plan around.
Add and remove other people from your Universe.
Orphanage
By marking a character as abandoned, you can offer them to your players as pre-made character sheets.
"im sorry i cant hear you"
The Forge
Use your INK to craft new artifacts in X-men: Xavier and Magneto Unite. Once created, Items cannot be changed, but they can be bought and sold in the marketplace.
Notable Items
No items have been created yet!
The Market
Buy, sell, and even craft your own items in this universe.
Market Data

Market conditions are unknown. Use caution when trading.

Quick Buy (Items Most Recently Listed for Sale)
None
Discussions
Topics

Replies
Views

Last post
Most recent OOC posts in X-men: Xavier and Magneto Unite
There have been no posts in the OOC topic for this roleplay!