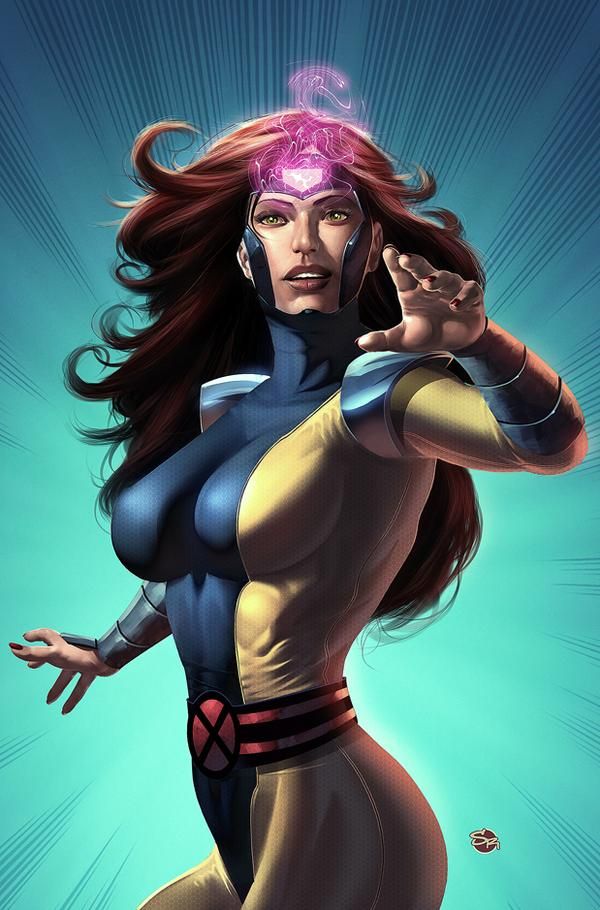 Name:

Marvel Girl (Former); Phoenix or Dark Phoenix (Occasionally)

Civilian name:

Jean Grey

Age:

31

Occupation:

Teacher, Other staff, Adventurer

Alliance:

Good/ X-men; when under the Dark Phoenix persona she was a Villain; once affiliated with The Hellfire Club

Appearance: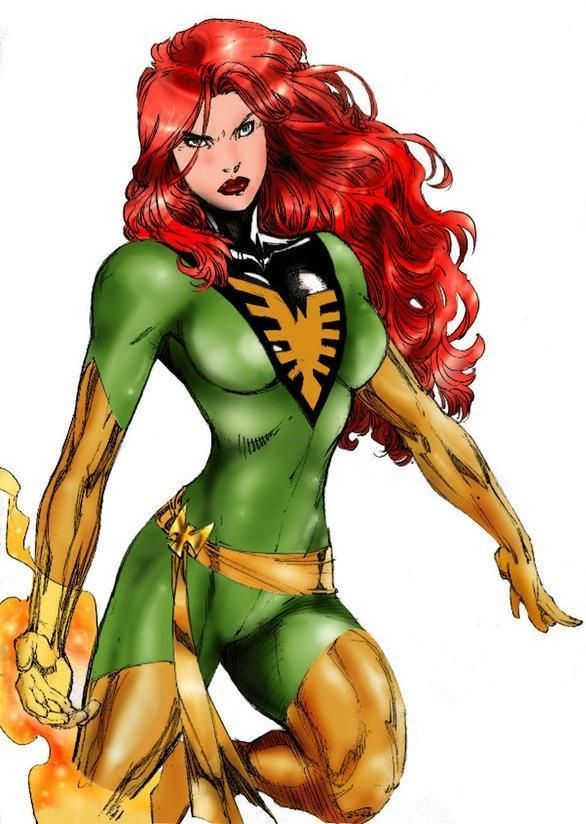 Personality:

Jean is calculating and smart. She likes to think things through before acting. She'll do anything to help her fellow x-men. Jean is pretty calm and can sometimes be perceived as uptight to those who are usually classified as wildcards. Jean is one who likes to play things by the book. She does have a spontaneous side but it is not often displayed and kept in check for fear of tempting the Phoenix persona.

As the Phoenix she is dark malevolent and malicious. She is adamant about pursuing pleasure no matter how morally wrong or right it is. She is seductive and cunning and will do whatever it takes to achieve personal satisfaction. Jean tends to hold back from using her full power so that the phoenix persona does not awaken again.
Powers and Abilities:
Jean Grey is an Omega-level mutant, and at her highest and strongest potential is transformed into the Phoenix Force.

Telepathy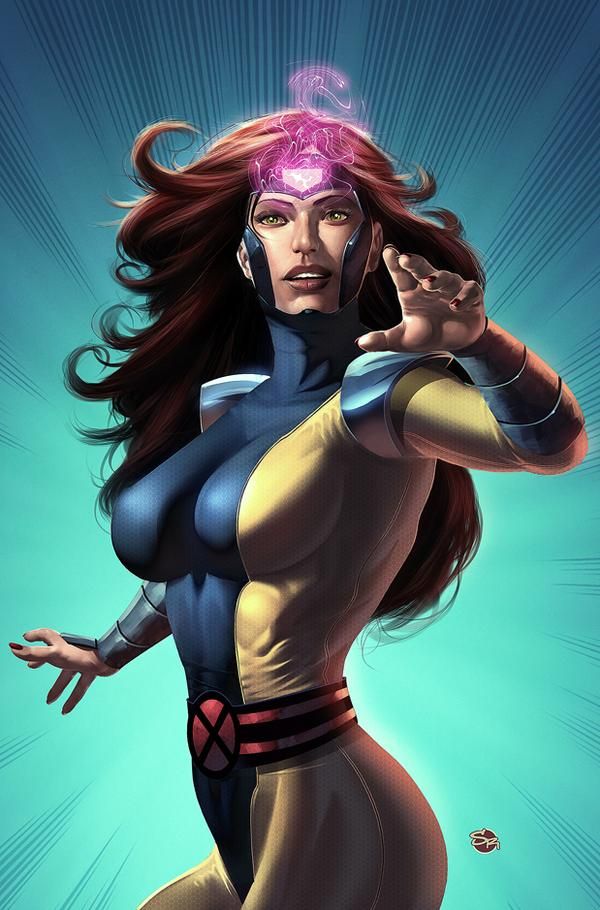 When her powers first manifest, Jean is unable to cope with her telepathy, forcing Professor X to suppress her access to it altogether. Instead, he chooses to train her in the use of her telekinesis while allowing her telepathy to grow at its natural rate before reintroducing it. When the Professor hides to prepare for the Z'Nox, he reopens Jean's telepathic abilities.


Jean's telepathy allows her to read, influence, control, and communicate with the minds of others, project her mind into the astral plane, and generate telepathic force blasts that can stun or kill others. Jean is one of the few telepaths skilled enough to communicate with animals (animals with high intelligence, such as dolphins, dogs, and ravens). She can also telepathically take away or control people's natural bodily functions and senses, such as sight, hearing, smell, taste, or even mutant powers. A side effect of her telepathy is that she is gifted with an eidetic memory. Jean was able, through telepathic therapy with the comatose Jessica Jones, to grant Jessica immunity to the Purple Man's mind control abilities, despite his powers being chemical in nature rather than psychic. When Jean absorbs Psylocke's specialized telepathic powers, her own telepathy is increased to the point that she can physically manifest her telepathy as a psionic firebird whose claws can inflict both physical and mental damage. Phoenix discovers that she can telepathically enhance the powers of other mutants. She briefly develops a psychic shadow form like Psylocke's, with a gold Phoenix emblem over her eye instead of the Crimson Dawn mark possessed by Psylocke, Jean briefly lost her telekinesis to Psylocke during this exchange, but her telekinetic abilities later came back in full at a far stronger level than before.

Telekinesis
Her telekinetic strength and skill are both of a supremely high power-level, capable of grasping objects in Earth orbit and manipulating hundreds of components in mid-air in complex patterns. She uses her telekinesis to often lift herself and others giving her the ability of levitation and flight. She uses her telekinesis to create durable shields and energy blasts. She later manifests a "telekinetic sensitivity" (called "the Manifestation of the Phoenix") to objects in her immediate environment that lets her feel the texture of objects, their molecular patterns, feel when other objects come into contact with them, and probe them at a molecular or subatomic level.

Phoenix Force
When transformed into Phoenix, Jean's powers escalate to an incalculable level, allowing her to rearrange or disintegrate matter at a subatomic level, fly unaided through space, survive in any atmosphere, and manipulate electromagnetic and cosmic energies for various effects and atmospheric disturbances. She can create stargates that can transport her anywhere in the universe instantaneously. At this level, she is powerful enough to easily defeat a herald of Galactus.

Jean, while acting as a Phoenix Force avatar, can create 'cosmic' flames, even in seemingly impossible situations such as the vacuum of space or underwater. Typically they manifest as a raptor or part of a raptor such as a claw or wings. Jean has perfect control over these flames, and they only consume what she wills, and these flames do not require oxygen to burn, and burn so intensely that matter is consumed without by-products such as ash. It is unclear whether these flames are an extension of her telekinesis and telepathy or a more general property of the Phoenix Force. The cosmic flames are a literal punctuation to the Phoenix's purpose to "burn away what doesn't work", as well as being described as "burning through lies" and deception.

As the Phoenix, Jean is able to resurrect after death. The Phoenix Force allows Jean to revive, absorb, rechannel, and preserve the life-force of any kind of life-form, meaning that she can take life energy from one person and give it to others, heal herself with the same life energy, or even resurrect the dead, since the Phoenix is the sum of all life and death.

Education

Jean Grey is a college graduate from Metro College with a select education in psychology. Years later she finished her masters in Columbia University.

History:
The younger daughter of history professor John Grey and his wife Elaine, Jean Grey was 10 years old when her mutant telepathic powers first manifested after experiencing the emotions of a dying friend. Her parents took her to be treated by Professor Charles Xavier. While Xavier treated Jean he also used her to fine tune his Cerebro machine. When Xavier introduced young Jean to the astral plane a part of her mind manifested as a Phoenix raptor and touched the mind of Scott Summers in the orphanage. Later, Xavier erected psychic shields in Jean's mind to prevent her from using her telepathic powers until she was mature enough to control them. Eventually, using her telekinetic powers, Jean was a founding member of Xavier's team of mutant trainees the X-Men as Marvel Girl. Upon a mission in outer space Jean was noticed by the Phoenix Force which took note of her unlimited potential. At this moment Jean had a vision of becoming the Phoenix but the vision faded from her memory as it ended. She soon fell in love with fellow student Scott Summers, and later would develop a strong attraction towards one of the team's new recruits, the feral Wolverine.

After Jean and the X-Men defeated scientist Stephen Lang and his robotic Sentinels on his space station, the heroes escaped back to Earth in a shuttle through a lethal solar radiation storm. Dying from radiation poisoning, Jean was saved by the cosmic entity known as the Phoenix Force who created a duplicate body complete with memories and personality, absorbed a portion of her consciousness and cast her into suspended animation in a strange cocoon at the bottom of Jamaica Bay.

For months the Phoenix believed itself to be the real Jean and saved the universe by healing the M'Kraan Crystal. Mental manipulation by Mastermind caused Phoenix to go insane and become Dark Phoenix. Ultimately, the portion of Jean's consciousness within Phoenix resurfaced, causing it to commit suicide. This portion of Jean Grey's consciousness then journeyed to the afterlife to meet a manifestation of Death. Death explained the Phoenix Force to Jean, who now wore a White Phoenix costume, before this portion of her consciousness and residual Phoenix energy was sent to Jean's original body in the cocoon, where it was rejected, and then to her clone, Madelyne Pryor. Eventually, Jean was rescued from her stasis and, with the other original X-Men, formed a new team, X-Factor. Madelyne Pryor later died in a confrontation with Jean Grey in which Jean absorbed Madelyne's and Phoenix's personalities and memories and a spark of the Phoenix energy. While in battle with a Celestial on an alien world, Jean expelled this spark of energy and the personalities she had absorbed but kept faint impressions of their memories.

Scott and Jean married upon Jean's return and eventually she and Scott headed to Muir Island to gain the help of Moira McTaggard. Jean needed help with subduing the phoenix force within her and Moira was able to help Jean through intense therapy. Jean urged Scott to return to the X-men without her and to continue to help then since he was much needed. She promised that she'd return when she was ready. Now's the time.

Other information:

Jean has returned to the X-men but she has opted to take on more of a supporting role rather than a frontline role like before. She seems to have resolved her feelings for Logan. Logan has since gotten better at keeping his feelings for her in check. He seems almost indifferent towards her. But everyone knows that hasn't come about without much effort.