Name: Nightmare
Civilian name: Jonathan Moore (Though his sister calls him J)
Age: 24
Occupation: Student
Alliance: Good (X-men)
Appearance:
Jonathan is an athletic and somewhat adventurous 24 year old standing at an impressive, and sometimes intimidating, 6' 6". Being only 184lbs in weight, and with his toned figure, Jonathan is quite the athlete. His soft brown hair and his intimidating height are from his father, while his down to earth, no nonsense nature is from his mother. His eyes are a calming hazel brown, he has sun-kissed skin and a smile than can light up a room. There is a scar on his right palm, a diagonal line from the bottom of his index finger to the bottom of his hand on the left, from when he was attacked by a group of teens whom he used to go to high school with when a rumour started that he was a mutant. Also, there is one last scar on his left shoulder that he received being pushed from a first floor window. Like his half-sister, Jonathan has a tattoo in Japanese but on the inside of his right arm (the side the palm is on) halfway between the wrist and elbow. It is the word Nightmare, as in his code name.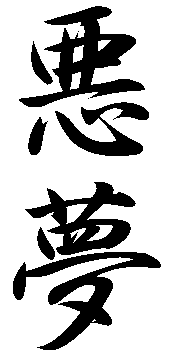 Personality: Being a Leo, Jonathan is known for speaking his mind, which has landed him in trouble more than once. Although Leo's are natural leaders, Jonathan sees himself as more of a teacher. He will guide people to their full potential. Also, he is usually left with the bulk of the information gathering and tends to remember information that others do not. If he knows he is right about something then he will not back down easily, showing how stubborn he can be. This, plus his sarcasm and occasional criticism, tends to push some people away, leaving them with the impression that he is a little pompous or self righteous.
If things are not going the way they are meant to then Jonathan can get quite bossy and he will enter into things if they are not fair on one side or he thinks that he will help, making some think him quite interfering. He tries his best to keep things fair and see everything from both perspectives, which is aided with his quick mind for making connections. It is difficult to finally gain his full trust, but when someone has it, it is almost impossible to break. He is actually a little too trusting and always makes excuses for people who treat him badly without even realising, however there is only so much that he can take. He is creative and can be rather bold when the situation calls for it. Although he puts up a persona of cool and calculating, there is a gentleness hidden within that he only shares with those that he holds closest to his heart.
Despite his impressive height and build, Jonathan can move quite quietly and has a tendency to not talk when he enters a room or someone else enters a room he is in, leading to him being unnoticed. When he does announce himself, everyone thinks he has just appeared out of nowhere which earned him the nickname Spooks in high school but he hasn't been called Spooks in years.
Not many would realise but Jonathan is quite the artist. He is a skilled painter and will sometimes stay up for days working on a piece. He is also a great author but he doesn't often let people see his stories.
Mutant Classification: Beta - While Jonathan appears fully human, if one were to look closer they would see some things slightly different about him, though only when he uses his powers and if you are
really
paying attention, the main one being when he uses his nightmare touch his eyes seem to darken slightly and take on a slightly purple-ish hue. The real reason that he is classed as a Beta mutant is that - for now - he has no control over his nightmare touch ability. If anyone touches his skin they will be sent straight into the nightmare and there is nothing he can do to stop it yet, though he is trying.
Powers and Abilities: Jonathan's powers are to do with dreams and everything that comes within them: hopes, fears, memories - good or bad, desires etc. The main weaknesses of Jonathan's abilities is that he requires, at this stage, skin or eyes contact to perform them or to be asleep in the case of his dream walking ability. Also, for an undetermined time into the future Jonathan will not be able to touch anyone else's skin except his sister.
1: Dream Inducement - Can send his foes into a deep sleep (coma-like state). At Jonathan's current stage, however, he has very little control over his power and will send anyone who makes skin contact with him will be sent into a "dream". In actual fact, this "dream" is more of nightmare (where he received his codename) as it torments you with your worst fears and memories but tenfold until, within five hours and a few days, you have a fear induced heart attack. For this reason, he always wears clothing that covers as much skin as possible, including gloves.
So far only Memory has ever survived it due to her own ability, though Jonathan has a theory that cannot yet be proven. If someone, for whatever reason, survives a full blast of his ability (coma) and survive it then they become completely immune to this power.
2. Fear/Hope sensing - Jonathan can sense the hopes, dreams and desires of another so long as they are in his range and he is concentrating, at least for now. At first he has to be looking into their eyes and concentrating, the closer the better but this will grow along with his other abilities.
3. Fear Manipulation - Varies in degree of fear, intensity of terror. His very presences can sometimes intimidate those around him if they are weak willed. With concentration and lock eyes he can plague someone with their greatest fears, buying them some time to escape by overloading their mind, or remove all feelings of fear from their mind temporarily making them utterly fearless, reckless, irresponsible and dangerous.
4. Desire/Hope Manipulation - Similar to fear manipulation, but different in that this power creates an almost fantasy world within the person's mind where their greatest hopes and dreams come true. It can only continue for now while Jonathan has eye contact with another.
5. Dream Sensing/Jumping - Jonathan can see into, send himself into another's mind while they are dreaming (though he doesn't always have control over that) and influence another's dream. This is his true place as he is quite skilled here even after little practice. He can influence another's dream as if it were his own (altering the landscape of s dream and such but not the people within - besides killing them or something to this effect).The second he enters their mind however, the dream instantly becomes a nightmare at this stage in his training, very much similar to his first ability, except that people can wake up and there is no immunity created from this ability.
6. Oneiric Reality Manipulation - A sub-power of reality manipulation based on dreams. With this ability Jonathan can manipulate reality around him, bringing things into existence and even affecting the lives and physical health of those around him, using his dreams. The full extent of this power is yet unknown, though in theory he could created almost anything. However, if he were to create a living being it would be a mere puppet, breathing and moving but with no mind of it's own bound to the commands of its creator. This particular fact tends to make Jonathan use this ability as little as possible, sometimes to the point where he denies its existence. Because of this, it is the ability he lacks skill with the most.
History: Jonathan Moore, son to David Urquhart and Olivia Moore. He is brother to Abigail Moore and the half-brother of Memory Ashcroft. Jonathan was very protective of his twin Abby, as can be expected, and was very close to her. They were practically inseparable actually. Whenever their parents tried to move them more than three or four meters apart from each other they would both start to cry until the siblings were placed together again. Tragedy struck however when Jonathan was only around three years old. Abigail was killed by an allergic reaction to a bee sting while they were at the park with their parents and it ripped the family apart. His mother and father started to fight a lot and argue to the point where they just couldn't handle it any more. It turns out that Olivia, his mother, had an affair at around that time which brought his half sister Memory - at the time Minerva though he didn't know about her - into the world and ended the relationship between David and Olivia. Olivia left to live on her own with her child while Jonathan was raised by his father.
It was when Jonathan turned 14 that his powers first awakened. Jonathan was a very different person in his younger years. He was childish, immature and generally a douche. The death of his best on his 14th friend changed this. They had decided to go exploring their own special place in the small town which Jonathan lived in (an abandoned hospital) but it didn't go as they had planned. The two had explored the same place so many times before and come out unharmed but this time their luck just didn't hold out. The balcony on which Jonathan's friend was standing collapsed and nearly dropped Andrew, his friend, to his death. It would have been the lesser of two evils. Jonathan managed to grab him by the clothes lift him up but his hand brush against the boys arm and his power kicked in, awakened from the fear of his friend dying (it was pretty damn close). Andrew died the next day of a heart attack at age 14 in hospital and the memory has haunted Jonathan ever since as it was by his hands that the brother he never had died.
Then he learned of his mother's death two years later. He honestly wanted his life to end right there but thankfully there was something good that came from it. He gained a sister. She has been by his side ever since, after the awkward brother-sister bonding stage of course.
He was glad when they found the Xavier Institute because he could finally act like himself and not be judged for what he was, but at the same time hated having to leave university to come there as he was hoping to go to law school. Since moving to the school however, teaching has started to appeal very much to him.
Other information: Jonathan has a major fear of clowns and porcelain dolls (particularly of clowns) after he was locked in a closet full of his sister's dolls.
Jonathan has AB negative blood which is very rare.