Name: None, as of yet
Civilian name: Sam Cooper
Age: 17
Occupation: Works in Starbucks, soon to join the X-men
Alliance: Good
Appearance: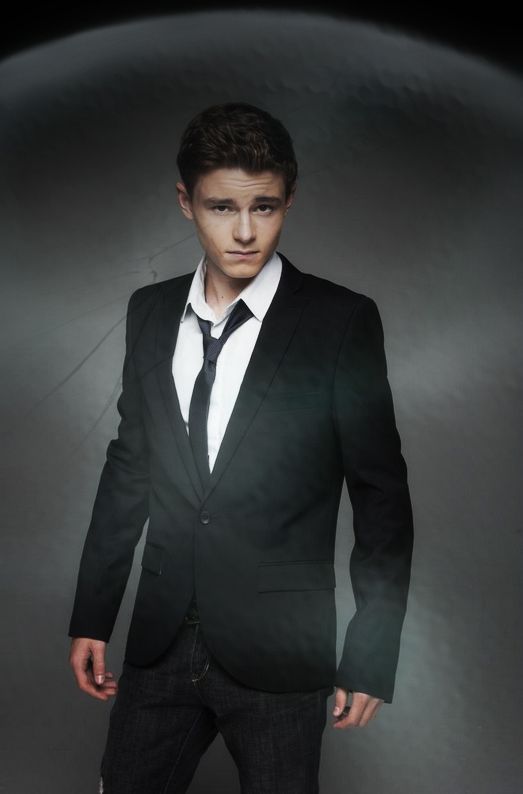 Sam stands at 5' 9", weighing around 179 lb, and has brown hair that he always has spiked up. His eyes are brown and, despite being only months from his 18th birthday, people have been known to say he is still a little baby faced, but his looks have been maturing recently. While he has some decent muscle to him, it doesn't show through his clothes all that well. His skin is tanned and his regular expression is mostly neutral, with small hints towards worried, maybe even pained. Despite this however, he tends to keep a smile on his face as often as he can (except in his moods) to keep others around him happy. Marking his skin, from bullying and abuse, are some scars and a few burn scars (his mom occasionally liked to use him as an ashtray). He has a small scar on his left elbow, two others on his right arm, a line of a scar down half of his back (though this was from an accident when he was experimenting with his powers), a couple of burn scars on his upper left arm and a few other ordinary things from any childhood. He knows he got off lucky. Many other people were put through so much worse.
Personality: While playful, fun and generally just happy go lucky with his friends - and he attempts to be the same to a lesser degree with others he doesn't know - he can sometimes become completely detached from everyone around him. The sudden mood shift can be a very slow thing, or within a second. Fortunately, it doesn't last for more than a day at the very most in regular circumstances. Despite having been around the world, Sam still knows very little about the world and can be somewhat naive at times, but his heart is always in the right place. Especially when he is fighting for something he believes in, or protecting those he cares about. Which he does more than he should. His ability to block pain, both mentally and physically, can sometimes make him aloof and a little numb to people. Generally however, he tries to get along with everyone he can.
Being abused and bullied as a child, he has a certain sympathy for those who are in similar situation. He particularly is concerned with mutant rights, though he tries to act as if he is indifferent to the cause. Sam is also very brave, often to a fault and is constantly trying to find ways to prove his worth to people, prove his isn't worthless and beneath people like his mother used to drum into his brain. Because of this way of being raised, he doubts his abilities and power. Narcissism has never been a reason for his acts of heroism. Despite his courage and wish to show the world he is better than he has been told, another main motivation of his is just to have a good time while he is still able to have it. He has matured enough for his age, but is still enough of a teenager to appreciate that he has to have some fun.
Mutant Classification: Beta - Can pass for human, but, while it is controllable, he cannot turn off his shield which can make it difficult in life as the shield dulls his sense of touch, his ability to taste and his sense of smell.
Powers and Abilities: His only abilities are his forcefield and his high resistance.
Shatter Shield (his name for it): He has a permanent shield around his body that protects him from both physical and mental attacks. He has the ability to project it in a dome from his body to defend several people or a specific area. The reason it has its name is that as it weakens under attack, cracks form along the barrier until it literally shatters like glass when destroyed which causes extreme, debilitating pain in his head.
A limitation of this ability is that it changes molecular state when it is being projected. The solid state it has becomes weaker and has the stopping ability of a thick liquid that becomes weaker the further away it goes from him, even to the point where it has the defending ability of a gas, but when he stops moving it and focuses it can return to a solid shape, though weaker the further it is from his body. Also, the shield works on both sides so attacks from inside cannot leave the shield. Due to these, a weakness is that if someone manages to get inside his shield and he attempts to bring it back to him, he will end up dragging his attacker closer to him as it strengthens the closer it gets. He is however currently working on the way he expends his shield (i.e. expending it without weakening it), lowering his shield, directing energy (to strength on area more than another on the dome shield and body shield) and allowing attacks from the inside to reach outside.
All mental attacks are blocked from his shield and no pain is felt from physical attacks. However, if a crack forms on the shield mental attacks and abilities that can get through such as heat and gasses will be able to reach him. His shield also does not protect against light. Also, while no pain is felt, if the shield is only around his body (or close) he can be stumbled and knocked back from strong strikes and attacks, and all attacks against his shield does harm to him in the form of headaches that progresses into a migraine the more he has to defend against. Nose bleeds are also a common thing with over usage.
The shield is entirely invisible around his body until cracks form along it. However, when projected, it has a slight shimmering effect in the air distorting the images a little through it on both sides. The further from him it is, the more it shimmers and distorts.
While his shield is around his body, his sense of touch and taste can be lessened slightly. The only way around it is to allow something inside his shield, but he can only do that by extending his shield which still affects furniture and other objects around him.
High Resistance: His body is more resistant to damage, drugs and poisons, but only slightly more than a normal human. For example, he could be shot in the stomach and the bullet would only go in half the distance of a regular human. Or, he could take pain killers and have the pain return within around half the time in normal situations.
Mental Resistance: Due to his shield and high body resistance, his mind is a lot harder to break into, influence and just generally break through natural means, such as mental trauma from an accident.
While his abilities are defensively strong and diverse, he has almost no offensive capabilities. The few attacks with his powers revolve around him either attacking physically with his body, using his shield to both do more damage and prevent damage to himself, or expanding the shatter shield into a dome and driving enemies and objects back, but this also leaves him with a weaker defense himself.
History: Sam Cooper, the only child of Chris and Amanda (nee. Stockard) Cooper, was born in Boston, Massachusetts. His father worked for a small company at the time and his mother was a school teacher. During his birth there was a few complications that kept him in hospital for longer than usual, but he recovered quickly. Their family was very popular where they lived and when his father received a better job offer in New York when Sam was two, everyone was sad to see them go. The three of them left friends, family and their old life behind them when they left. Upon reaching New York, the opportunity his dad had received did not come to much and their company went under before Sam's fourth birthday. While his dad searched for work, his mom kept the family going on a low income from her new job as a teacher at the nearby school. For several months, they lived with little money after paying up their bills and debts.
Over half a year had went by before his father had even found something worth pursuing. He managed to get a job that paid less than his last, but gave the high possibility of moving up the ranks thanks to his previous business experience. His father quickly worked his way higher and higher, taking any opportunity to increase his place in the company he could. With each promotion his father brought more and more money into their family and continued to make their lives better. They moved into a better house and made friends with the right people. His mother continued to work at the school,Sam had good friends that he could rely on and was doing good in his classes. Soon, Chris was getting sent all over the world for the growing company to expend their business. Sam always looked forwards to going with his dad across the world, even if the trips were only a week or two long at a time.
It wasn't until Sam was 11 that the next big thing in his life happened. As the money coming into the family increased steadily, his mother started to meet the wrong kind of people and indulge in alcohol. His dad was away for most of the year by this point, almost entirely living in wherever his work placed him, the only way to keep the job and his family with money, so he didn't have a clue. It didn't take long for her to become addicted. While drunk she became a completely different person. Sam tried to stay out of her way as much as possible, but she always seemed to get angry at him for something. It wasn't until he was 12 that she started abusing him. If he pissed her off he would get a slap. Any sign of retaliation or threat to tell his dad would get him a few more. Sam had a habit of running his mouth without overly thinking about what the consequences could be which made it even worse for him when she was in one of those moods. In time, she added cheating and drugs to her growing list of offences. People began talking and gossiping about Amanda, and Sam started getting bullied for her behaviour, causing him to withdraw from a lot of people. Whenever his dad called she would always be there, stopping him from saying anything bad against her. When he visited, she tried her hardest to make it seem like nothing was happening.
Chris did find out however after he finally saw her hitting Sam when he was 14. He threatened to take Sam and all the money he was giving her for her booze and drugs away if she ever touched their son again. He stayed as long as he could, making sure she started seeing people about getting help. But when he left, she went straight back to her old ways, though she never hit Sam again for over a year. This was when Sam awakened to his abilities. After the man she was seeing behind her husband's back left her when they had a huge fight she tried to drown it out with alcohol and drugs. When Sam got home from a friend's house, one of the few who didn't make fun of him, she was lying on their living room floor. He rushed to help her, but she lashed out. He missed the first slap, but the second one hit. Before he could try and get away, she swung the vodka bottle she had been drinking from. It hit, and he should have at least been knocked unconscious, but his powers had saved him. He backed away on the ground. She came after him again, but fear drove his power further. His shield extended out, pushing all of the furniture around him away in a dome, which also pushed her back and over onto the coffee table. He told her, like he had in the past, that he would tell his dad about everything if she ever hit him again. When she woke up the next morning, she barely remembered anything, but she never did hit him again.
Everyday he experimented with his powers and grew strong, and got better. Though, one thing he could never do was turn the shield off, unless he somehow managed to break it, but that caused extreme pain. The best he could do was extended it so far from his body that it became as useful as air for keeping things away from him. In his relatively small group of friends, he was the only mutant. When he showed them, they treated him with a new respect. The group experimented with the ability, finding out the weaknesses and breaking strength of it. When word got out that he had mutant powers, the bullying he had received because of his mother doubled ten-fold. Now even the teachers treated him differently. His senior year years were supposed to be his best, but soon became his worst. He would regularly have things put in his locker to wreck his things, people would steal the gifts his dad sent form the countries he visited (which he would end up getting back about a week later, broken in some way, which is why he never took them to school again after that).
As soon as he was old enough, he moved out of his house and started living with a friend. He still got money from his dad and got a job to help pay the rent and such things, while still having plenty to have fun, despite the people who discriminated against him. When reports of the HMR kidnapping mutants surfaced, his friends tried to convince him to join them. It didn't take long. His heart is in the right place for wanting to help these people, but he brain is still catching up concerning the consequences of these actions.