Name:
Evan Daniels

Age:
17

Species:
Mutant

Gender:
Male

Alias:
Spyke, which he insists everyone calls him all the time.

Nicknames:
Porcupine, Armadillo- He does not enjoy being called these...

Power(s):
Bone Manipulation- He can manipulate his bones to create a wide range of effects. These effects are: Bone Spikes, Self-Repairing Exoskeleton/Bone Armor, Wallcrawling, Enhanced Strength, Possible Healing Factor


---
---
Appearance:
When not using his powers, Spyke looks like a normal guy. He stands at about
6'1", and being interested in basketball, his height came to his advantage. He
has dark skin which, due to his ability to heal, does not have any scars even
though you would think his ability would leave him quite marked up. His hair,
which once was a bright blonde, has been dyed dark brown.

Spyke is pretty muscular although he certainly is no body builder. He would
never take off his shirt because, due to an accidental acceleration of his
mutation, he has armadillo-like bone plates across his chest.

Most Humans would probably freak out if they were to see Spyke in full power.
When his bones project outward, forming his spikes, they usually cover his back,
arms, and occasionally face, but can come out really wherever he wishes them
to. Since he can not control his power, he is one of the Mutants unlucky
enough to look different. He usually has to go to the store at least once a
week to buy new clothes, because when he isn't prepared to spike
yet does, his clothes are often torn.

Personality:
Spyke is what most would call a class clown. He is very funny and can be
hilarious without effort. He has the spirit of a child and is often called immature,
although he really could not care less. He can be mature if he wishes to, but
the problem is that he really never knows when to say when, often trying to
be funny at the wrong time. Spyke also is blind to other people's emotions at
time and can be selfish without intending to. He often skips classes, and when
in them can't pay attention. He is loathed by his teachers for this and his
classmates can get a bit bitter about his attention span because his slacking
can effect them.

Although it is most unlikely Spyke would choose it, he can be serious if he
forces himself to be, but can't stay serious for long.
Likes:
Joking Around and Not Being Serious
Food of (Almost) Any Kind. He Can't
Tolerate Seafood.
Animals- His Favorite are Porcupines Since
he Can Relate to Them.
People. He's a People-Person
Skateboarding
Storms- Lightning Fascinates Him
Drawing. He's Horrible at It, But Enjoys It
None the Less.
Dislikes:
Class. Even if he Bothers to Show Up, He
Has the Inability to Stay Awake.
Old People- They Never Get his Jokes!
Bugs(!!!!!!)
Hotels- Staying in a Public Bedroom
Isn't Appealing to him.
Hot Days
Sports Beside Skateboarding
Going Swimming- The Pannels
On his Chest Aren't For Showing
Off.
Skills:
-He's quite flexible due to his ability.
-He is very good at getting people to laugh.
-He can inhale food like a vacume... unless
it's seafood.
Weaknesses:
-Because his bones can bend to his will, they
often are sore and give him much pain. He
has to drink a lot of milk because of this, but
milk can't completely solve this problem.
-Spyke is allergic to nuts and has severe
allergic reactions if he eats them.
-Seafood makes him sick.
---
---
Biography:
Evan Daniels lived in New York all of this life. He was just like any other kid: he had the hopes and dreams, fears and flaws. He went to Bayville Highschool, a huge school in New York. He joined the basketball team as a freshman, but was never very good at it. He was devoted though and came to every practice and always gave a good effort. One night, the coach put him in, his parents and his Aunt Ororo (Yes, Storm....) watched proudly from the stands. The game was almost over and Evan had the ball to take the winning shot. In nervousness, spike-like bones shot out from all over his body. Everyone feared him and left the court in a panic. Evan was immediately homeschooled, but his Aunt Ororo knew her nephew was a Mutant. She, Cyclops, and Jean Gray approached him, asking him to come to Charles Xavier's School for the Gifted. He hastily refused, saying he didn't want to join any freak show. His Aunt agreed to this, but would drop subtle hints at times when he was being teased and bullied or watching scared people avoid him. He earned the name "Porcupine". Skateboarding, which he was extremely good at, became his best hobby.
One night he was snacking on some walnuts when he suddenly felt horribly sick and began to change. He found he had an allergy to nuts that furthered his Mutation giving him hard flesh plates across his upper torso (stomach and chest). What was left of the few human friends he had said it was okay, but Evan quickly noted that the only way that he was ever going to live a life without worrying about fitting in would be if he went to Xavier's School for Gifted Youngsters. The day after deciding, his Aunt took him with her to Washington D.C. and he joined the school. Wanting no special treatment for being the nephew of an X-Man, he decided to go by his nickname Spyke so he could make his own identity for himself.
---
---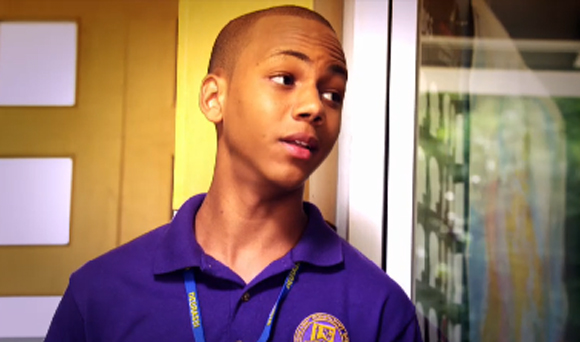 ---
---