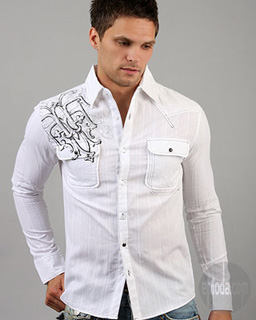 Name:
Morgan Easton
Codename:
Flicker
Age:
26
Gender:
Male
Place of Birth:
Cincinnati, Ohio
Equipment:
Leather Trench Coat along with a lengthy hunting knife.
Powers:
Can create Portals and send shards of unknown composition towards targets.
Backstory:
Well, I didn't really believe in these "heroes". My father always told me that those were dreams that I would never see come true and only exist in comic books... Until I started to make portals in my room. I began to ask my father why and he convinced that it was a gift from God. Nah, I didn't believe in that lie. I persisted that he would tell me. The persisting went on for three years and he finally gave in saying that I had these powers thanks to my mother. I never got to see my mother often... in fact I don't usually see her at all. My father didn't know what to do with me and shut me out from then I guess.
I'm mute. I had been ever since I was born I had always been mute. It was just something I learned to grow into. I have the ability to create up to four pairs of portals, like my mother apparently did. But, unlike my mother, I developed a sense of a defense mechanism and can throw shards towards my enemies.
The appearance of Flicker's Portals.
I didn't know where to go at my first year of college. I was intelligent like everyone else and looked like everyone else. But
everyone else
called me a weirdo, a waste of anatomy, and a freak I got tired of all the ridicule. It frustrated me that not anyone, not even my old friends from high school would even look my way. So, I decided to leave that and find another form of education. A form of education meant for my... specialty. I saw a flyer at a post office that stated, "Xavier's School for Gifted Young People" and I knew that that school was the one for me. I came knocking on their door and they embraced me with open arms. I hadn't gotten that in a long time. They considered my form of communication a setback and had every teacher that I went to know signing. Of course, after a couple years they caught onto all of the signs I gave them. I hadn't given a name to myself in quite sometime and Morgon just didn't seem... super enough. So I decided to come up with Flicker after the effect that my portals have around the edges. Xavier liked it. Storm liked it. And Wolverine.... well, he was my history teacher.
The world is a different place now though. It's broken, corrupt. It has people in the high seats that shouldn't be. But for now... The remaining X-men still out there need to stay hidden. Stay out of sight. Because Humanity will not forgive what We have forgotten. Things will never be the same from here on out.
Theme Song:
https://www.youtube.com/watch?v=jwvXM1jnUUM
--- Thought I'd put this here.