---
Fighting is just another form of dancing.
---
---
We are all weird; some just show our strangeness more than others.
---
---
★ Name ☆
Chigusa Seagusa
★ Age ☆
15
★ Role ☆
Mad Dog Leader
★Gender ☆
Female
★ Grade ☆
Sophomore
★ Signature Weapon ☆
Parasol with Hidden Blade
★ Gang ☆
Mad Dog
★ Face Claim ☆
Nui Harime
---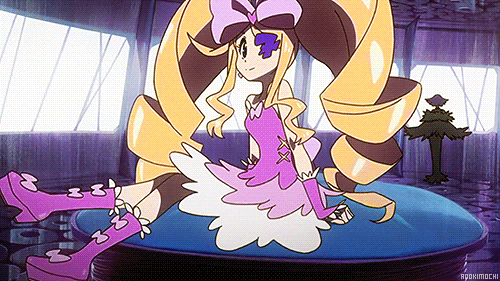 ★ Theme Song ☆
|| Stupid Intruders- The Vincent Black Shadow ||
★ Personality ☆
Artistic | | Cruel | | Jolly | | Ruthless
Chigusa Seagusa is an artist and musician, she spent most of her life around art. She's has many talents and hobbies, and enjoys doing many things. She's very intelligent. However there is a dark side to her creativity, and that comes in the form of her brutality. Chigusa is extremely violent and harsh. She has this inner need to do unusual and cruel things. She's unpredictable, and that is what makes her kind of scary to be around. Chigusa is a very happy person. She's always smiling, rarely, if ever, gets mad or sad. She always seems to be having a good time, rather she's playing music or setting cats on fire. Chigusa is also very ruthless and stubborn. She will go after what ever she wants with all determination. She'll do whatever she feels necessary. And once she get an idea in her head, it's nearly impossible for her to change it.
★ Bio ☆
Chigusa Seagusa is a child prodigy. She's has been writing and performing music since the age of 5. And even played piano and sang in a major concert hall in Tokyo at the age of 10. She was even signed to record an album at 12 as a young pop artist, but her life took then took tragic turn. One day, after a day of recording, Chigusa and her father were driving home, when they were hit by drunk driver. Chigusa's father died, and glass shard hit Chigusa in the eye causing her to lose her left eye. Chigusa's father was a huge inspiration to her music, and losing him caused her to quiet writing music, but she continues to play and learn new instruments. Chigusa expressed her sadness in drawing and painting. At first she only drew scenery, but as she got older, she started to draw gruesome acts of violence. Her history of violence predates the loss of her father. She always had a problem with hurting her pets and small animals. But the violence was amplified after the loss of her father. At 14 years old, Chigusa started a rock band with a few of her friends. They played covers, usually of American and English rock and punk bands, and Chigusa sang and played bass. One day, after having a jam session with her band, Chigusa got an idea. What if they walked out into the streets and just find someone to beat up. And they did that. That night they took to the streets, found some poor fella and beat him in an ally with baseball bats and other blunt objects just for fun. They did this every week for 6 months. Too this day, nobody actually knows about this but Chigusa and her former band mates. To the knowledge of the people who sent her to this school, there was only one attack, which was probably the most severe one. There was this girl in school, she was a peppy little princess. She always acted all high and mighty. She did nothing personal to Chigusa Seagusa, they were just classmates and they rarely talked. Chigusa found her annoying however, and beating her off her high horse seemed funny to her. One day after school, Chigusa followed the girl home, and when found the right opportunity attacked her. Chigusa beat nearly to death, before somebody saw them and called the police. Chigusa was arrested and then sent to Yarinaoshi Highschool.
★ Talents And Skills ☆
☆ Singing and Playing music instruments
☆ Drawing/painting
☆ Brawling
☆ Intimidating
☆ Great memory
---
---
★ Ideas Of Gang ☆
Chigusa barely runs the Mad Dog, she lets them do whatever they want. She only takes charge whenever they something big going on. But she built herself up to be this embodiment of Anarchy, which is why all the Mad Dogs love her. She cares not for the other gangs, as long as they don't mess with her personally.
★Likes ☆
☆ Music (especially classical, blues, and jazz)
☆ Street Fighting
☆ Killing animals
☆ Western and Samurai Movies
☆ Clothes
☆ Art
★ Dislikes ☆
☆ People who don't appreciate music and art
☆ Animals
☆ Silence
☆ Authority
☆ Being betrayed
☆ Frowning Friends
---
---