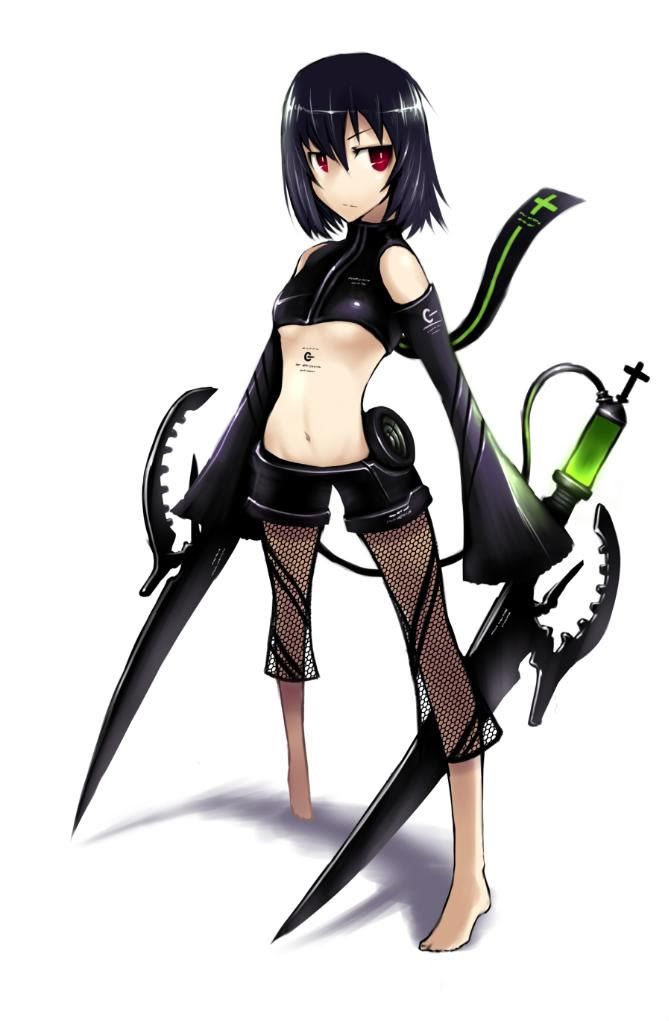 Ariel's outer skin is scantily clad in various custom-made armor-based clothing, the most important of which is a Teflon-wrapped chest covering of smart alloy, which anticipates incoming projectiles and shifts it's texture and shape to deflect it. This item is to protect the already steel-encased main power core located in her chest, a small fusion-fission generator powered by the air she intakes into the condensing chambers located on either side of the power core. The main power core is, for all intents and purposes, indestructible, as in accordance with the War Laws of 2104 to prevent large-scale nuclear explosions. This clothing item also extends out to her arms, where it forms stiff shields on her sleeves.
Also aiding in her function is a set of reactive nanofiber shorts with heat grills extending from the ends, which aid in the dispersal of excess heat when she runs at her top speed of 50 mph. The shorts also feature a reloading port for the acid used in her weapons, drawing from a small, gallon-sized storage sac located within her stomach area.
These clothing items are all colored pitch black, the official color of the UNAE, to distinguish her from enemy bots on the battlefield.
Ariel's weapons are sharpened punch-outs from a sheet of ThetaPlastic, which has been found to be indestructible and eternally razor-edged once sharpened, not to mention cheap. It's not used in robotics due to it's inflexibility, but it's use as a blade is prevalent from common kitchen knifes to the immense weapons Ariel wields.
The core of the blades contains a small, thin hole to the capsule of hydrofluoric acid on the back of the blade, which creeps to the tip through capillary action. Additional structures serve to catch a human head at the neck, stabbing into the windpipe, then directing upwards into the brain while twisting, cracking the neck. The form of the curve and spike involved in this allow this quick, nearly painless method to be done with ease and silence, without having to put one's weapon down.
Also beneath this armor is a system of hydraulic pumps, which give her enormous lifting power. Her legs are moved by a motor-powered gyroscopic system suspended in lubricant, giving her extreme grace and speed. Her legs were based upon those of professional human runners, then modified and given substitute materials to make them lighter and more durable. The internal skeletal system in her legs is comprised of an aluminum alloy with smart-matter muscles, as opposed to the steel-titanium skeleton and hydraulic muscles in the rest of her body.
Ariel's face and form were based on the fact that, despite the equal rights of women nearly throughout the globe, most armies are still composed of men. Men and robots, anymore. The most minimal amounts of extraneous cover were given to show off her skin, smooth and perfect by design, her beautiful face a rare feature of war robots, which tend to resemble walking tanks. Her beauty is however, quite literally, skin deep. Her entire body is protected by a subcutaneous 1/2 inch of bulletproof material, with another 1/2 inch of another form of smart alloy below this, which hardens and relaxes accordingly to provide maximum protection from incoming danger. The mesmerizing red irises of her eyes are actually a shown portion of protective covering within her ocular devices, which help to back up the weak points caused by the pits in the CPU casing that they need to function. Her CPU casing is an inch of solid steel inside her head portion, within which her motherboards float suspended in an impact-cushioning coolant, impregnated with nanobots for quick repair. Her glossy black bangs cover an access port to the CPU on the back of her skull, which is used for coolant changes and the occasional repair.
Ariel's model has no sexual organs.