Willowcrock Manor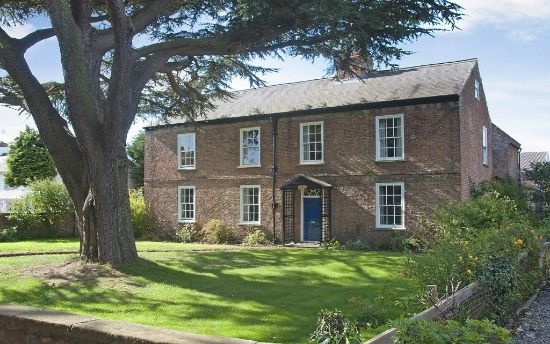 Not the most stately manor in Melbourneshire, or the most well known but the Linford family is well known for it's lavish dinner parties, and upstanding service to their neighbors. One would never expect to visit Willowcrock and not stay for dinner, a trip to the opera, supper and a game of cards. A family that prides themselves, in being generous, perhaps a bit too generous. That combined with Mr. Linford's bad luck at card games, has nearly put the family in debtors prison. However they have managed to keep this fact from the community for now, but people are starting to gossip about how the Linfords have cut down their staff to the bare essentials.

With no son's to carry on the families progeny, it is left to the Linfords to marry off their lovely daughters... without the suitors knowing that they have little to no dowry. They have managed to marry off their eldest Eliza to a wealthy tradesman before their financial troubles became too great, however that still leaves her two younger sisters Esther and Rowena. Plans are made to send out invitations to young men in the land that would make suitable husbands for the girls. To have a lovely ball, and hope for the best. Esther is not happy about this arrangement one bit, because she wants to marry for love and not money. As for Rowena, she only cares as long as she's able to get whatever she likes.

Something must be done soon or the girls might find themselves living on the streets, if their parents find themselves in trouble with the debt collectors. If not used to pay the debts themselves...
---
---
Characters
Esther Linford
FC: Anne Hathaway

-Played by Princess Silkiesoft-

Rowena Linford
FC: Holliday Grainger


-Played by girlwt-


Peter Ambrose Shaw
FC: Chris Hemsworth


-Played by CyberGlowfly-

William Nash
FC: Ben Barnes


-Played by Dynamite-

Ephraim Davies
FC: John Grimes


-Played by Quelle-

Ernest Davies
FC: Edward Grimes


-Played by Quelle-

Leonard Corvus
FC: James Campbell Bower


-Played by RurouniBishi-

Rebecca Upton
FC: Alexandra Daddario


-Played by DictionaryHeart-

Rosalynn M. Ann
FC: Scarlett Johanson


-Played by NaturesSecret-

Mr. Linford
FC: Sean Bean


-Open FC can be changed-

Mrs. Linford
FC: Sandra Bullock


-Reserved by Dumisa-

Eiliza Linford Bellview
FC: Blake Lively


-reserved by aurban16-
Married oldest sister

Mr Bellview
FC: Daniel Radcliffe


-Open, FC can be changed-
Eliza's husband

Female Town Gossip
FC: Amanda Seyfried


-Reserved by KOKIA-


*Will add more if needed.
---
---
What we want to know?
1. [b]The characters name: Take into consideration the time period when choosing a name for your character. The Regency period was approximately 1811 to 1820, so look for something that would be popular during those times.

2. Age and sex: This is pretty self explanatory and there is a list of needed characters with certain genders. The sisters and the female competition for the sisters should be between the ages of 18-21 this can also include the Town Gossip if it is chosen for her to be competition as well. he males suitors good and bad, should be between the ages of 21 to 30, this also goes for the Debt Collector if it is decided that he should be a suitor. If anyone chooses the part of the girls parents, their sister, or her husband. PM me and I'll give you and idea of what age I think they should be I'll leave them up in the air cause Im not sure any of them would be taken anyway.

3. Image: There should be some sort of image of your character, the image should be real life. I am not going to force anyone to find a picture for a character in period clothing. I know that would be difficult, but if you manage to find a character image you like that is, by all means go ahead and use it, Im not going to limit you to that though.

4. Character description: Now you have an image, what can be added or is unseen in the image or images.

5. Like and Dislikes: I would like to see at least three of each. Also keep in mind that this is the Regency Period, there for one of your characters likes is not going to be 'Texting or Listening to music on their iPhone" Now Im sure you are all smart enough to figure that out. But you'd be surprised what I've seen someone put down.

6. Personality: This is a staple for your character sheet, what makes your character tick. Are they nice... or not so nice, if you have noticed in the introduction, I have elaborated a little bit on the fact that Rowena is a little selfish. You can take that however far you like, you will also notice in the character roles section that I have described the suitors as either 'Good or Unsavory' now this can go either way. A suitor can be good but not necessarily what the Linford girls parents are looking for their daughters financially, also the unsavory suitor could be very wealthy but not the nicest person in the world. These sorts of things are open for your own interpretation of things. The same goes for the young women who are going to be competition for the affections of the suitors, these girls could be nice or not. It's all up to you, try to make this section at least a paragraph, we want a little more detail than one or two sentences can give.

7. History: Tell us about the characters past, family, or just about anything that has happened to your character to make them what they are. Once again try to be descriptive about this and make it at least a paragraph, I would prefer to see two to three paragraphs. However I know some people like to have a little mystery about their characters.

8. Anything Extra?: If there is anything you want to add to your characters sheet like, extra pictures, theme songs, maybe even a gentleman's trusty steed. Anything that you might think will add to the depth of your character go for it.

9. Sexuality: This can be optional, by all means if you want your character to be homosexual do so, but take one thing into consideration this the 1800's. I am positive there were all different kinds of sexuality in the 1800's, just like there are today, however it was something that would not be common knowledge. If you were a homosexual man you were, forced to be something you were not. You were still expected to continue your family name, therefore you would probably get married to a woman and have children.

But who's to say what you can and can't do in secret. If you are uncomfortable with this, and feel that you wouldn't like that your character is forced to be something they are not, then maybe this isn't the RP for you. I am an adamant believer in everyone's right to love whoever they like, but with this RP being loosely based on a historical time period. I have to consider that as well, you can just as easily leave this part out of you character sheet and not worry about it. But I don't want anyone to feel like they would be left out if they had to be something they didn't want to be.

I am not gonna give you a skeleton that you have to fill in, you can make your sheet however you like. My only requirement is you try to get all of the info I have listed onto your sheet. Make it as elaborate or simple as you like I just want to see well thought out characters. However if any of you would like some sort of skeleton, let me know and I will post one in the OOC.
---
---
Rules
1. Have Fun!

2. Reservations last 48 hours after it is posted in the OOC. After that the character will be reopened, however if you let me know whats going on, or get in a WIP I will gladly allow more time. Just try to get things done in a timely manner.

3. I'm pretty easy going if you have a question about anything let me know, PM, IM me I don't mind. I'll work with you to make this RP fun for everyone.

4. Respect each other. This is simple enough, I think everyone naturally does this typically. However if you have a problem with a fellow RP'er send me a PM and I will work with you both to try to figure something out. Don't fight among yourselves in the OOC that's just childish.
Taking place in...
17 posts here • Page 1 of 1
17 posts here • Page 1 of 1
Arcs are bundles of posts that you can organize on your own. They're useful for telling a story that might span long periods of time or space.
There are no arcs in this roleplay.
There are no quests in this roleplay.
Here's the current leaderboard.
There are no groups in this roleplay!
Welcome home, Promethean. Here, you can manage your universe.
Arcs are bundles of posts from any location, allowing you to easily capture sub-plots which might be spread out across multiple locations.
You can create Quests with various rewards, encouraging your players to engage with specific plot lines.
Settings are the backdrop for the characters in your universe, giving meaning and context to their existence. By creating a number of well-written locations, you can organize your universe into areas and regions.
Navigation
While not required, locations can be organized onto a map. More information soon!
There are no groups in this roleplay!
By creating Collectibles, you can reward your players with unique items that accentuate their character sheets.
Once an Item has been created, it can be spawned in the IC using /spawn Item Name (case-sensitive, as usual) — this can be followed with /take Item Name to retrieve the item into the current character's inventory.
Give your Universe life by adding a Mob, which are auto-replenishing NPCs your players can interact with. Useful for some quick hack-and-slash fun!
Mobs can be automated spawns, like rats and bats, or full-on NPCs complete with conversation menus. Use them to enhance your player experience!
Current Mobs
No mobs have been created yet.
Locations where Mobs and Items might appear.
You can schedule events for your players to create notifications and schedule times for everyone to plan around.
Add and remove other people from your Universe.
Orphanage
By marking a character as abandoned, you can offer them to your players as pre-made character sheets.
"Not even as a child was I so naive as to embrace the endings of a children's tale for truth. The world is hard and cold and cruel, and the sooner one accepts that, the better."
The Forge
Use your INK to craft new artifacts in You Are Cordially Invited. Once created, Items cannot be changed, but they can be bought and sold in the marketplace.
Notable Items
No items have been created yet!
The Market
Buy, sell, and even craft your own items in this universe.
Market Data

Market conditions are unknown. Use caution when trading.

Quick Buy (Items Most Recently Listed for Sale)
Discussions
Topics

Replies
Views

Last post
Most recent OOC posts in You Are Cordially Invited
There have been no posts in the OOC topic for this roleplay!