Astrid
Name:
Astrid Catharine Leona Molyneux
Nickname(s):
Astree, Leo
Age:
22
Gender:
Female
Orientation:
Straight, most of the time.
Ethnicity:
French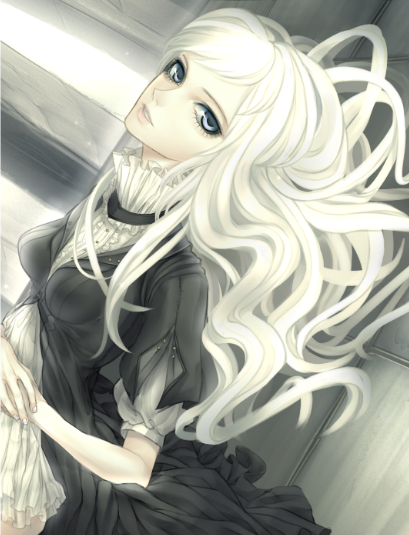 Appearance:
No french couture here. No real funds to wear something trendy. Astrid will mostly be seen in the hand-me-down skirts and dresses from her mother. Her mother was quite the slim beauty in them. She was petite and stood like some kind of fragile column: a body like Audrey Hepburn. Her daughter inherited the female figure from her father's side; stacked like
Sophia Lauren.
It causes envy in her similar sex passersby and lust in those of the opposite sex (sometimes the same, it usually depends on where she's set up). Often times, Astrid will make sure to wear long coats with not much shape. Her livelihood depends on people not seeing her, but seeing her product. Also, she isn't one to flaunt what her papa gave her. This body shape, however; with legs for days, rounded hips, a curving bosom into a long, graceful neck, require much altering in her mother's clothes. (Good thing Astrid is a quick learner.) Her favorite shoes are a pair of knee high boots without much sole to them. Astrid is incredibly tall and wearing heels makes her almost foreboding to speak with. These boots have been with her through thick and thin and they shows obvious signs of needing tossed. But for some reason, Astrid can't bring herself to get rid of them.
As for Astrid's face, it's certainly hard to miss. Thankfully her mother was the one to pass on her genes. Her nose is long and slightly curved at the tip, giving her smile an always mischievous curl. Her lips are full and always pink, ready to spat out tasteless words or poetic hymns; count on the tastelessness more than anything, though. Most of the time, there is a wild and waving mop of shining platinum hair on top of her head. Fringes contrast against her black-lined eyes and can even sometimes appear to melt against her skin. Upon close examination, and if you really want to go there, Astrid's silver-blue eyes are the most intriguing part of her. Her lashes are thick, curling up toward her thin and prominent eyebrows. They frame her eyes like an old, prestigious and often sought out painting. Seeing past the sensual curves, the unruliness of her smile, the intimidating height and strength in her bones, one can see the terrible weakness she's fighting to hide. The weakness she strongly and determinedly calls a mortal sin. Her wish, and prayer, for death.
Personality:
Please, do not be fooled by the way she looks. Her doll like features, tinged with daring. Or her sexual body screaming out for someone to touch it (all on its own, mind you). Judging this book by its cover is one mistake you will regret. Then again, you may just find yourself very, very happy you were wrong. It all depends on how much of a risk taker you think you are. Ever felt like jumping in? No looking; just going right for it, headlong, no inhibitions? If you're looking for a partner in crime, search no further. Astrid is your go-to lady. Not only does she love a good adventure but if it involves the possibility of her death, she's gung-ho. After having met her, most people deem her absolutely insane. This twenty-two year old actually acts like she has a death wish. She will drink anything, eat anything, inject anything,
do
anything just to say she's done it. Or at least, that's what she tells everyone else. The smile on her face, the psychotic wink in her eye, all signs that she may really be looking for a way out.
This young lady has a wide circle of contacts and is known in various parts of the city. Astrid has a small business that she runs in all the different street markets of the city. Most of the time she can be found with her table set-up in the main market of the city. She was able to obtain a permanent spot there because she had a little dirt on a gang member's woman. Since then, all has been forgotten and she just kind of gets away with her presence. Astrid's smile is intoxicating and very hard to refuse. On her table are a variety of beautiful jewelry. Most is pewter on thick strands of leather. It sells well most days and even better around holidays. On the side, under the table, and in dark alleys, is where Astrid sells what makes her real money. Tomatoes, flowers of deep reds and blues, medallions of turquoise stone and she even got her slim little fingers on a ruby. That got her through an entire month without having to sell anything else. Because she's so easy to deal with, and most of the time pretty reasonable, she does as well as she can.
But these are not the only sides to Astrid (also known as "Leo" to many of her daredevil buddies). In fact, she does enjoy a few normal things like music, artwork, and she even loves gardening. A gentle task for an ungentle woman. In fact, it's the only time she can find some semblance of serenity, when she's gardening or painting. Music, any kind, may appear to calm her, but it really just numbs her. The way it touches her, moves her body, makes her feel like the world is hopeless and that she has missed her mark. The faint smile that shows up on her lips while listening isn't one of pleasure but one of a total broken heart. Losing him turned all music into a reminder that in order to ever see him again she must die.
Which brings up another part of this very three dimensional being. Within her inhibitions; within her need to laugh death in the face, lies a truer purpose. A more depressing, yet very real, need to die. Astrid is convinced that in death she will see him again. Oliver swore to her that when he went there, he would come back and tell her all about it. They'd been young, naïve, so involved in each other, that she believed him. Now, Astrid knows he cannot come back to her but she'll be damned if she doesn't join him soon. And she can only die when God tells her it is time.
Family:
Her mother and father both passed away in a car accident two years ago. Astrid is unsure how to grieve properly, so perhaps the weight of this loss has added itself to the loss of Oliver. She is no psychologist, so she continues on with her life as if its all okay.
Astrid also has two siblings. Her sister, Marie, hasn't spoken with her since she left some four years ago. Her bitterness against leaving without a goodbye, a reason, and for purely selfish reasons has left quite the rift between them. Marie still resides in France.
Étienne, the youngest of all three, is a trouble young boy and only became so when their parents were lost in the accident. He had been seventeen and seemed lost without them. With his eldest sibling across the world, and the other sister disowning her as a member of their family, Étienne felt he had no one to turn to. It was Oliver's grandmother that tried to take him under her wing and he will always appreciate her for it. She explained a lot about the relationship between Astrid and Oliver and he made it his mission to help Astrid. Because of this, he moved to America and is there for her whenever he can be. But he's entered college and taken a path that might keep him from his dear sister. His choices are becoming harder and harder to make.
Residence:
A studio apartment on the third floor of an old office building. Its old, ragged, and brimming with individuality. Astrid has become quite the handyman as far as fixing holes, unclogging pipes, and even replacing window panes. Her landlord is hardly, if ever seen (she's convinced he's a pimp and drug dealer, but he won't fess up to her). It's small, with her refrigerator standing next to her rusting claw-foot bathtub. In front of her worn out French doors, is a sunken in and fluff losing mattress atop an old set of box springs and frame. On the other side of the French doors is a tiny little balcony littered with makeshifts pots and wildly growing green and colorful flowers. The richest of colors flood the shingled floor like a miniature jungle. Tomatoes (a fruit banned because of its color) are well hidden behind the little wall of her balcony. (Astrid sells them for a good price on occasion. Usually only when its safe.)
Significant object:
A charm. Glass with a small, red, flower pressed within to preserve its color. It is held by a short strap of black fabric and has never left Astrid's neck. The color of her death. A prayer stuck inside a prison.
Story behind object:
"Stupid, stupid, stupid... How stupid, you idiot!" The liquid, dark, colorless, shadowy... It drips so slowly, pumping out of that wide open wound. "...a mortal sin, you dumby!"
I can't go on... Without Oliver... What can I do?
"This isn't you, Astree." Mother's face, tear stained, shocked, sad.
But without him...
Hospitals stink. They stink so bad. Makes people vomit.
"...lost a lot of blood..." Mother's sobbing. Dad is quiet.
Just please, understand... Oliver is everything...
"...managed to keep her stable... suggest an evaluation..." Dad shakes his head. Everything blurs for a minute.
"Her best friend died."
No! No! You're lying! He's not dead! I can't live without him!
Everything is melting together.
"Astree, you have to pray, sweetie. The saints... they will hear you, my love." Dad is crying so hard. He's holding his face in his hands. That corner of the room seems darker than usual. Something is hovering over him. Mom has something in her hands. The necklace. The red. The dripping flower stuck inside the glass oval.
"You will see him again. If you kill yourself, you'll never see him." Mother tries to keep her tears back. "He wanted you to keep this for him. Don't lose it. You'll have to give it back to him when you see him again."
"Soon?" Mom lowers her head and looks away. She starts to sob but shakes her head.
"No! No! You have to live your life, Astrid!"
But I don't want to without him.
Fears\Phobias:
Never seeing Oliver again.
Dislikes:
The way fire burns.
Order.
Calm.
Dogs.
Technology.
Complications.
Likes:
Fish.
Sky diving.
Experimental drugs of any nature (though she is not addicted to any).
Parties that last days.
Flowers.
Fast cars.
Hobbies:
Making jewelry. Gardening. She thoroughly enjoys selling things of red on the Black Market (or at least, her ghetto version of the Black Market.) It's quite the rush and lately she's been really pushing her luck. Perhaps the new American Government will find her out and beat her into oblivion?
Talents:
Her ability to do the most outrageous things and yet still be alive.
Romantic interest:
With a mind preoccupied on finding more ways to brush with death, Astrid doesn't have much time to think about love. Besides, her heart belongs to one person and one person only. Though many men have tried, all to no avail.
History:
Her childhood was priceless. Sunflowers, daisies, evergreen trees and birds' nest full of babies. Soft hands, yet to callous from hard work, holding each other on the bus to school. The fingers of a young boy braiding her long, silvery hair. Astrid was always happy. She was always whole because Oliver was around. They did more than finish each other's sentences. They imagined quietly together. They dreamed together. It wasn't anything romantic, they were too young for romance. Oliver and Astrid just were. Their families saw it and nurtured it. It made them happy that their children were happy.
But when they had both turned 16, things turned rotten. A wound sliced over them and began to fester and smell. Astrid's parents didn't know how to help, and Oliver's grandmother was too busy with doctors, nurses, insurance… All Oliver and Astrid could do was try their best to ignore the darkness. They still held each other's hands, but Astrid couldn't ignore how bony they'd become. At the end, his hands, that used to encompass hers with his strong fingers, were tiny, like a dying child.
He
was
a dying child. Oliver was gone. Her soul mate, kindred spirit, her everything. Just... gone.
She attempted suicide, but didn't give herself enough time to die. After that, she hid herself in her Catholicism. Her mother prayed every hour for her daughter's soul, and Astrid prayed for a release. At eighteen, she moved to the U.S. It was there that she could do anything and everything. It was in the Americas that Astrid tried to answer her prayers. It was wrong, she knew, to wish for her own death. But wish she did. Everyday she prayed for her soul, and every day she still does. Committing suicide would send her to purgatory, away from Oliver for all eternity. No, she couldn't risk that. Astrid knew she couldn't risk spending an eternity without him.
Instead, she skydives, wondering if that one time her parachute won't open. She goes white water rafting, hoping that her body is thrown over, sent to drown. Or maybe that one hit of heroine is the wrong one and she drifts into a painless death.
Her last few years in America, Astrid has been a part of every life threatening thing you could think of. She drives too fast, she smokes too much, and she eats like a horse. Astrid's path has taken her through many downs and very few ups. She's crossed paths with gangs, pimps, psychopaths, and even more. There's too many to name. If you want something dramatic, something interesting, than just sit down with her, see if she can remember. Most of the time she won't. Too many drugs, alcohol, and sleep.
In that case, you're better off making your own memory with her. She's up for anything, you name it.
Character inspired by Alibi by 30 Seconds to Mars.