---
---
"Listen to your elders, because I have a story to tell."
---
---
[url=link to theme song]Theme | Artist[/url]
---
---
---
---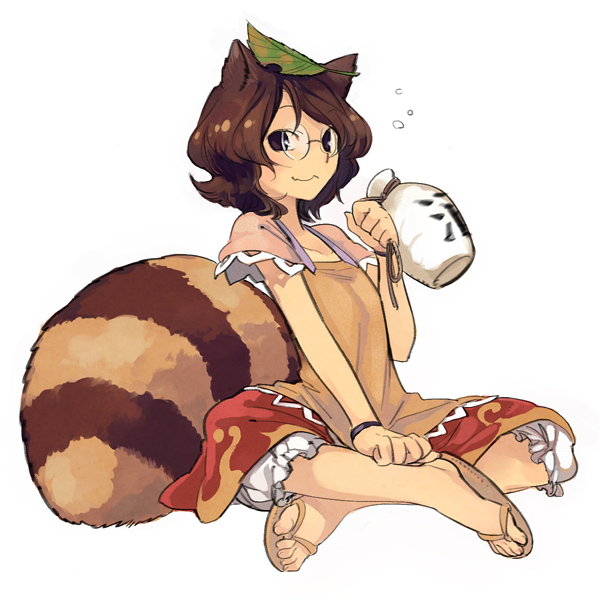 FULL NAME
TITLE
The Resident Tanuki, or Old Lady. Her official title would be Lady Futatsuiwa, but she doesn't care much for it. She doesn't mind the nickname Chi-Chi. Her pen name is Yakumo.
AGE
Although she might hyperbolize her age—even taking on the mannerisms of an old lady—her most closely guarded secret is that she's only around 500 years old.
GENDER
Female, but she changes it at will
SPECIES
ETHNICITY
Japanese, from Sado Island.
SEXUALITY
Pansexual. Apparently she finds Tsukumogami especially cute.
OCCUPATION
---
---
---
---
APPEARANCE
Because of her powers, Chiyoko is able to change her appearance at will into just about anything she pleases. She could be the computer or cell phone you're reading this on. Still, she does keep some consistency in her appearances so that she's easily identifiable to her peers. Typically, all of her casual humanoid forms have brown eyes and light brown hair, the same color as her fur in her tanuki form. Unless she's disguised as a human, she'll have rather obvious tanuki ears and a big, bushy tail.

Typical clothing choices also easily distinguish her. She likes wearing earthy colors, usually browns and greens, and colors that compliment those. In the summer, she wears very thin, light and casual clothing, but she varies up her appearance and clothing a lot throughout the year, in varying levels of formality. Of course, some articles on her are also meant to make her highly identifiable. She'll usually have a sake jar on her, and typically wears a hat as well. She may have a notepad on her, which she carries around for business purposes, mainly to write up promissary notes. She may also have leafs on her, as leafs are what she uses to power her transformations.
KNOWN FORMS
Tanuki Form - Her natural form, of course. Sometimes natural is best.
Human Form - She looks like this when she is amongst humans.
Young Form - It feels good to be young again, young and mischevious.
ABILITIES
Shape-shifting - The primary aspect of Bake-Danuki like Chiyoko is the ability to change their form at will, using leafs. There is almost no limit to this ability, as on a dime, Chiyoko can transform into whatever sort of form she pleases, be it a Tanuki, a human, a man, a child, a stone, a pine needle, or whatever she can imagine. The only limiting factor is probably the amount of leafs she needs to prepare for transformations, so, she can't really turn into a mountain unless she's got a mountain of leafs to use.
Smoke Manipulation - Chiyoko smokes a lot, which she puts to her advantage sometimes. Although Chiyoko doesn't have any actual powers that allow her to control smoke, she has a variety of substances that she can put into her pipe to have a variety of effects, similar to enchanted incense. Substances Chiyoko has at her disposal includes repellents, tranquilizers, hallucinogenics, irritants, toxins and even thick smokescreens. Most of these substances don't hurt Youkai all that badly (the toxins at most would put one in bed for a day) they are particularly potent against humans. Most require a greater saturation of smoke in the air to have any effects, meaning they are almost harmless when diluted in the air, but incredibly potent when blown directly into a person's face. Chiyoko mainly uses smoke for self-defense (if shape-shifting isn't a viable option) and doesn't typically keep a lot of harmful substances on her person.
---
---
---
---
PERSONALITY
Chiyoko is that nice old lady that everybody knows. She's friendly, personable, and almost always can be seen with a nice smile. Those that know her know that she's reliable, is willing to help you out when you're in trouble, and is a great conversation partner. Despite her mannerisms, however, she knows how to have fun and seems to keep in touch with her youthful side all too easily.

In truth, Chiyoko is an actor. She takes on many personas on a whim and can become an entirely different person when she feels like it, which is taken quite literally as her shapeshifting skills allow her to become different people entirely. By morning, she's a nice old lady, by afternoon she's a charming young man, and by evening, she's a party animal.

Chiyoko is sometimes known to be quite mischievous, as many tanuki are. Sometimes, she's really honest, and at others, she's very deceptive, and it's sometimes difficult to tell if she's being honest or deceptive at the moment. She makes it a point to be as honest as possible when it comes to business, but she becomes quite the trickster in her own time, often so she can prove that she won't be outdone by other Youkai (especially foxes).

Despite how honest and kind-spirited Chiyoko can be to her fellow Youkai, however, she seems like she has her own agenda. She holds somewhat of a distaste for authority figures and politicians, who she feels have no true concern or understanding of what Youkai truly are, being diverse, chaotic, and free. Indeed, she's a bit of a rebellious teenager. Still, she often wishes to prove a point, and does so by gaining her own influence and power in ways that she believes are much more effective than the 'artificial' political means, through simply being a charismatic and friendly person. Then, whenever she feels it's necessary, she uses her power and influence to simply pull pranks, pranks that are intended to send messages, usually to demonstrate that the power of the sages is not absolute and that no matter what they do, there's always going to be that element of chaos in the shadows that they can't account for, that element that is simply the very nature of Youkai themselves.

Quite simply put, Chiyoko is a person of the Youkai, and only wishes to defend the interests of the Youkai, the Youkai that make up her community that she truly cares about. Where the humans fit in her interests, she's not sure yet.
OPINION OF HUMANS
Chiyoko is no stranger to humans. In fact, she's even lived among humans on more than one occasion, just by simple whims. She likes to believe that she knows humans better than any other, and indeed is very interested in human culture, such as literature. She holds no specific malice towards humans as individual beings, and would treat one almost no differently than she'd treat a Youkai, friend or enemy. Still, she has a more pro-Youkai stance and would honestly prefer if the humans left Youkai alone. She is well aware of the many possible risks that could occur when (not if) the rest of humankind discovers their community and their very being (discover being an ill-fitting word, because clearly humans 'discovered' Youkai before) and would rather like to avoid them in any way possible. Her biggest fear second to extermination, however, is introduction to the westernized world will allow Youkai to lose their identity, both as a diverse culture and as beings themselves. They'd become a minority in an uncaring amalgamation of a society, assuming they weren't divided just to suit human convenience (what counts as a non-human? Are kitsune and tanuki animals? Can tsukumogami own property or receive healthcare?) or whatever else the humans would do to them.

Whatever Chiyoko's opinion is, however, may just change the very nature of Youkai-human relations entirely.
LIKES
DISLIKES
✦ Her Youkai Kin
Authority ✦
✦ Mischief
Being outclassed ✦
✦ Freedom
Kitsune ✦
---
---
---
---
FAMILY
Father: Danzaburou-Danuki. Deified as Futatsuiwa Daimyoujin, he was the supreme commander of the Tanuki on Sado Island. Known greatly for his mischief, the humans have recorded many stories of his many tricks, but he was also known to be caring and honest at times. He'd lend money to merchants in need and was known to repay debts in full exactly when he says he will. Chiyoko follows in her father's legacy.
HISTORY
For over a century, Chiyoko has been a resident of the abandoned street where a community of Youkai reside, although nobody really knew who she was before then besides the tales that she tells of her youthful days. She was simply a merchant's wife at the time (although very few people have actually seen them together) and she's been a welcome member of the community ever since.

As a merchant's wife, Chiyoko spent much of her time writing literature, such as poetry and fables, but she's written opinion pieces before as well, such as political novels, but she's written entertaining things as well, such as comedic Kyogen plays, and romantic novels. Of course, she did it all under the pen name 'Yakumo', which comes from Lafcadio Hearn's Japanese name, Koizumi Yakumo. Almost all the Youkai who area acquaintances with her know it's her pen name. Still, it's not hard to tell that Yakumo doesn't hold authoritative figures in high regard, and would rather laugh at them.

One time, however, a certain Youkai of some influence didn't quite appreciate how Yakumo described his beard as 'not unlike a bundle of cobwebs scooped up from a dirt spider's nest', and moved to censor her works. Chiyoko wasn't mad, she was just disappointed, but she decided to enact a little revenge, with the assistance of those who were sympathetic to the poor lady. Tsukumogami would hide in plain sight and yell out the line to pedestrians, Ashi-magari traps were made to wrap around the faces of policy-makers, a large amount of spiders came into town and made cobwebs everywhere, and the unknown amount of Youkai just enjoyed causing general chaos, not even caring about the original intention of the protest, not even the mastermind herself. Eventually, the censors were lifted and Yakumo became a figurehead of sorts, a symbol of freedom among Youkai, especially when Yakumo's next book preached about the values of chaos in Youkai society.

Ever since then, Yakumo, or rather, Chiyoko, has sort of been a kind of mastermind for the underworld of Youkai, a very loose underworld, but nonetheless, one that was not restrained by any rules, one that was willing to act up whenever the oppressors pressed too hard, the agents of chaos themselves. Chiyoko doesn't have supreme control herself, nobody can truly control the chaotic unknown, yet due to her charisma she has gained some of the most influence, influence she keeps not by a stranglehold like some mob boss, but by working in other Youkai's interests. Chiyoko doesn't exercise her power too often, but when she does, there is very little that can be done to stop her. She's used her power many times since the censoring incident in order to keep the higher powers on their toes, usually to prove a point that no matter what they do, there is going to be a chaotic element that they have no real control over.

So, Chiyoko is the nice old lady by day, and queen of the shadows by night.
---
---
---
---