|Theme Songs|
https://www.youtube.com/watch?v=uCi8x4HQDEg
https://www.youtube.com/watch?v=u9NStVkSCuk
https://www.youtube.com/watch?v=hhSA9H9Iaqw
---



Name:


Miyako Mormoril


"I'm Miyako Mormoril. And who are you?"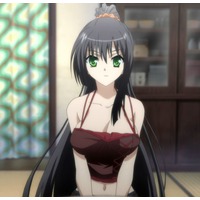 Nicknames:


Miya - Her most common nickname around the village.
Miki - What a lot of the male patrons in her bar call her.
Miss Mori - Only by the Yōsei sisters that work for her.
Kumiko - On the rare occasion that she lets a human live this is usually what they know her by.
Mormoril - Other's of her kind call her this as it was her original name.


"Well people in town call me Miya or Miki but others of my kind call me Mormoril. Oh and when I go out of town I usually go by the name of Kumiko."





Gender:


Female


"All my forms are female. I'm sure I could shift into a male but I hope there never comes a time when I need to."





Age:


Between 7 and 8 thousand years old||Physically 18-22


"How fucking rude. You don't ask a lady her age."





Sexuality:


Bi-Sexual


"On the occasion I take a sexual partner they are usually male but there have been a few females within the bunch."





Species:


Youkai
Jorōgumo - A spider, usually female, that has lived for a thousand years and has become a demon. They gain the magical abilities including the ability to shapeshift into a human form and usually have hypnotic properties to help them trap their prey.




Thoughts on Humans:




"Humans? Occasionally they are amusing toys but usually they are just snacks. On extremely rare occasions they are amusing enough to keep as pets or even partners but eventually they die or become boring."





Speech Color:




#990099





Thought Color:




#CC77CC




---



Height:


5'7||Can change upon a whim.



Weight:


135 lbs||Can change upon a whim.



Hair Color:


Pitch Black



Eye Color:


Green||Occasionally Brown or Gold



Appearance:


Current Human Form (In the village) - Pics At Top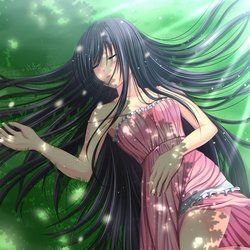 A young woman with long black hair that reaches to mid-thigh which she wears in a ponytail. She has Green eyes, an angular facial structure, and an hour glass figure, usually clad in a crop top and either skinny jeans or a mini skirt. She reaches about 5'4 and weights about 115 lbs.


Current Favored Human Form(Outside the Village)


A 16 year old girl with long, black hair and pale skin. She has brown eyes and soft features that are framed by bangs that reach a little past the top of her eyes. She has a slender figure, reaching between 4'9 and 5'2, weighting between 95-110 lbs.


Her "Mother" - Image Here


A woman in her mid-twenties with long black hair, extremely pale skin, and light brown eyes. This had been her form previously but as humans started coming to their village some eventually became suspicious of her so she took on her current form get rid of the suspicions, though she would have much rather just killed the humans. There are still photos of her in this form around her house and one hanging up in the bar


True Form - Pic At Bottom


Appears to be in her early to mid twenties, reaching 5'7 and weighting about 135 lb. She has an hourglass figure, black hair that reaches down to her hips, usually worn in a half updo. She has four eyes, her main eyes (where a humans would be) are completely green, lacking a sclera and a pupil. The other two are smaller, completely black, and above her main eyes. She has 8 inch claws in place of nails, fangs replace her human canines, and she has eight spider-like legs that extend from her lower back where her 'tattoo' would be. She is almost always wearing a kimono.





Notable/Special Features:


No matter what form she's in she has a 'tattoo' in the shape of a spider on her lower back.


---



Likes:


Nature
Drinking
Entertaining People
Music
Smoking
Compliments



Dislikes:


Rude/Mean People
Bar Fights - Unless I caused them of course.
Judgmental People



Fears:


Becoming a Monster - Miyako fears one day becoming like others of her kind.
Being Completely Alone - Miyako had very few friends and keeps a lot of secrets from all of them.



---



Personality:


Living through thousands of years Miyako is very good at choosing her actions in order to control how other people view her. This along with her looks means that she can be a bit narcissistic, and extremely sensitive to what other people think of her.
During the last millennium Miyako has taken on a charismatic yet sassy persona in town. This personality shines when she's working each night. She almost constantly has a smile on her face whether it be welcoming, flirtatious, or devious. She is very easy-going and entertaining to talk to, happy to please others.
She is also definitely a smart-ass and can come off a rude if a person is sensitive to that sort of thing. Working in a bar she has a very good sense for when to shut off the sass though and tends to dance right along the line quite well.
She also greatly enjoys toying with people, playing pranks and making people tongue tied or confused being two of her favorite activities. Some of the other Youkai in the village have on occasion called her childish, especially since not many know her true age and only go by how she acts. Though this is far from the truth, Miyako being extremely intelligent.
That all being said she definitely has a bit of a bite to her personality. If someone upsets her or annoys her they can see this side really quickly. Though she's good at hiding it Miyako has an extremely aggressive side to her. This side of her is most easily described as 'evil'. She can be extremely malicious and cruel, though she isn't irrational. She is more likely to be devious and calculating, making sure that whatever she does takes care of the 'issue' for good. When it comes to bar fights these are often good traits to have and put to use but, when she is upset, can often become extremely frightening.

Her personality when out of the village is almost a polar opposite of her true self. She usually acts shy, innocent, and frightened. The vulnerability helps her draw in her prey. If she stays away from the village for longer than a day or two she usually keeps her shy and innocent front though she also acts kind and naive.



Jorōgumo:


Even in the Youkai world not much is known of Jorōgumo as they usually live secluded in the woods or are constantly moving. There also aren't that many of them due to how long they have to live to gain their magic and Youkai status. They are almost all female with a few males, the reasons to this being unknown. They originate from spiders, turning into demon after living a thousand years. They feed off of flesh, fear, and spiritual energy, with flesh being the least nourishing and spiritual energy being the most. Due to this some have been known to feed on weaker Youkai, their energy tasting better being far stronger.
All Jorōgumo have the same abilities for the most part though each one has a it's onw small tie to an element. The basic abilities of the Jorōgumo include Shape-shifting, Supernatural Condition, Seductive Magnetism, Subliminal Seduction, Web Manipulation, Musical Spell Casting, the ability to communicate with spiders, and pheromone manipulation.
Shape-shifting
They do have limitations. Their mass can never exceed that of their true, Youkai form. Meaning they can never become taller or heavier than their true form is. Their hair color always remains the same as it is the color their original spider form was. It can be changed with dye but once they shift the color is gone. They always keep the spider mark on their lower back, so they can recognize their own kind and because it is where their true form is bound. They only keep tattoos they get in their true form, and those only stay for a hundred years or so. They can summon parts of their original form when they are in a human form but anything more would break their binding and shift them to their true form.
Seductive Magnetism
This ability is only controllable to a point. It is always in use but they can choose how strong the magnetism is. Also, the older a Jorōgumo is the stronger their magnetism can be.
Subliminal Seduction
They can use their voice or touches to stimulate the brain's pleasure centers. This ability also grows stronger as a Jorōgumo grows older. By the time a Jorōgumo reached their 2nd millennia they can manipulate other Youkai, albeit relatively weak ones.
Musical Spell Casting
Each Jorōgumo has a small magical tie to one of the four elements. The most common element for a Jorōgumo to be connected to is water with 70 of every 100 having it, though there are cases where a Jorōgumo has been tied to a different element. The rarer an element the stronger the Jorōgumo is. Air is the second most common, 20 out of every 100 Jorōgumo being tied to it. Earth is next, with 8 out of every 100 and Fire is the last with only 2 out of every 100.
This tie usually consists of basic manipulation of the element as well as one specific tie. For example, a water tied Jorōgumo could move water and breath underwater, but might have a special tie to ice, giving it the ability to freeze water. Or, a fire tied Jorōgumo would be able to move fire or be resistant to heat, but might also have a special tie to light, giving it the ability to reflect the light form an area, making it dark there. While moving the element or being resistant to harm from it comes naturally, usuing their special connection requires them to 'cast' or sing. Though some have learned to play flutes or other wind instruments most stick to singing.



History: