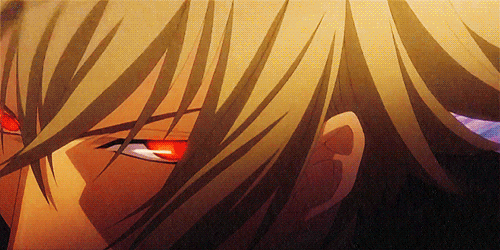 「Do be at your best—we are an oni prince.」
Faceclaim ✧ Kazama Chikage { Hakuoki }
Speech color ✧

#ebd212


Thought color ✧

#d6c969


Theme Song (instrumental) ✧ Battle of Sekigahara - Samurai Warriors 3 OST
Theme song (vocal) ✧ BadApple!!×傷林果 Remix - K'suke
---
---
╗
║
║
║
║
║
║
║
║
║
║
║
║
║
║
║
║
║
║
║
║
║
║
║
╝
「Allow us to introduce ourselves.」
Name ✧
Yoshihara Ryuunosuke
Nicknames ✧
✦ Your Majesty — He is an oni prince, so he will be addressed as such.
Gender ✧
Male
Age ✧
Thousands of years old / Physically 18
Sexuality ✧
Bisexual
Species ✧
Youkai
Oni; he is a 100% pureblooded oni demon youkai. He is a prince of his line.
Thoughts About Humans ✧
❝

They are lowly common folk. They do not mean much to us in the long run. However, we do not resent them. Sometimes, they do make decent conversation.

❞
---
---
╔
║
║
║
║
║
║
║
║
║
║
║
║
║
║
║
║
║
║
║
║
║
║
║
║
║
╚
「We take pride in our looks.」
_
_
_
Height & Weight ✧
5'11" / weight
Hair Color ✧
Dirty Blonde / White (in full Oni form)
Eye Color ✧
Red / Gold (in full Oni form)
Appearance ✧
Regular Form
Skin reflecting porcelain of the finest dolls in pale color and rose-tinted make up at the corner of his eyes, Ryuunosuke is a beautiful man. Such looks certainly befit a prince. His hair is a shiny blonde that is almost brown, and his eyes are a deep blood-red that can bore through you in the best kind of way. His stature is average in height. His clothes seem as though they are spun from pure gold in details along his yukata—and that's just his casual wear. All in all, if one should look up the definition of conventional beauty, Ryuunosuke would be there.

Oni Form
With hair white as snow and eyes as bright and gold as sunlight, Ryuunosuke is no less attractive in his Oni form. Two pairs of eggshell-colored horns peek out from his hair (one pair small, one pair large). The rest of his body is much the same, though his teeth do get a bit sharper, as if they were sharpened with a knife.
Notable / Special Features ✧
His posture and appearance practically screams of royalty.
---
---
Likes ✧
✦ Sake - He likes to drink on occasion.
✦ Parties - He also enjoys to throw parties, as well,


__

though they are not rowdy ones.
✦ Riches - Luxuries that are reserved for royalty are


__

things that he takes great joy in.
✦ Tsutsurugi - He's extremely fond of his servant.
✦ Cats - He's fond of the little fluffy creatures that like


__

to hang out around the "abandoned" town.
Strengths ✧
✦ Engaging - He is very engaging and it makes people


__

want to talk to him more.
✦ Loyal Servants - Not so much a strength on his part,


__

but it does show that he treats those who


__

work for him well.
✦ Fighting - He is very learned with the katana.
Quirks ✧
✦ "Oretachi wa..." - He speaks in reference to himself


__

with the Royal We.
✦ Eye Contact - He will always make eye contact with


__

whoever he is speaking to.
Dislikes ✧
✦ Loud Noises - Unless he is at a party, loud noises during


__

moments where he is attempting to stay tranquil annoy him.
✦ Brutish People - Those who act brutishly and


__

uncivilized are no friends of his.
✦ Fighting - Though he is good at it, he doesn't like doing


__

it himself. He would rather leave it to those sworn to


__

protect him.
Weaknesses ✧
✦ Spoiled - Since he is a prince, he is rather spoiled.
✦ Empathy For Servants - Since they are loyal to him, he


__

is very empathetic for them, thus when they get hurt he is deeply


__

worried and will often disregard his own safety for his servants'.
Fears ✧
✦ Loneliness - Though he does enjoy the quiet from time to


__

time, he does not like being alone.
✦ Dethroned - Being dethroned or losing his position as a


__

powerful Oni prince would be devastating to him, and he would


__

rather not think of something like that.
✦ Losing Tsutsurugi - The two of them have been


__

together through thick and thin. Losing Tsutsurugi would


__

be horrible.
Personality ✧
❤ Regal | Sociable | Haughty | Intriguing ❤
Ryuunosuke is a man whose presence commands the attention of all. He is a regal man, going as far as using the 'oretachi (俺たち)' personal pronoun, paralleling the 'Royal We'. As a prince, he refers to himself as a group as opposed to one person, as many royal people do. He is skilled at talking to people and is enjoyable to hold a conversation with. Despite this, he is still very full of himself and will brag about himself often. His presence usually draws people in, though, as he's very conventionally attractive and elegant.
╚═══════════════════════════════════════════════╝