---
---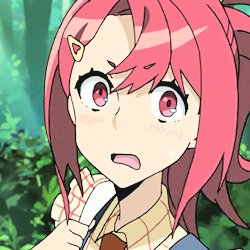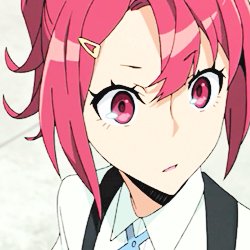 ---
---
"Sometimes, when I don't feel well, which I suppose is all the time, I like to stare out of my window and at the stars…"
---
---
Theme Song(s)
Get Out | Circa Survive
Name
Imogene Taft.
Nickname
Often called Gene.
Age
Sixteen.
Gender
Female.
Reputation
Imogene is known as the girl who is always asking to go to the nurse's office. She's almost always sick with something, so much that she's notorious for it. Many people suspect she's just faking it to get out of class.
Sexuality
Bisexual.
What will you use the Genie app for?
Often afflicted with sickness and disease, Imogene will wish to be healthy... and on top of that, sicken everyone she doesn't like so they know how it feels.
Face Claim
Chidori Takashiro.
---
---
---
---
"When I look at the stars, it's almost like all of my troubles dissolve in the sparkling night sky."
---
---
Height | Weight
Imogene is 5'0" tall and 88 pounds.
Hair Colour
A deep-ish red with a hint of purple. Depending on the lighting it looks different-- sometimes it'll look like a vibrant red and other times a more maroonish color.
Eye Colour
It's similar to her hair color-- a purplish red that looks different depending on the lighting.
Physical Description
Imogene is a skinny, fragile little girl. She stands at 5'0" and is just a tad bit underweight; her skin's a bit pale and she always seems to have the sniffles. Her hair is thin and gets tangled easily. It's a mix between purple and red-- in different lighting, it looks like either, but usually sits at a maroonish sort of color. Her eyes are the same. She almost always has her hair tied back with her favorite yellow scrunchy, and likes to wear girly things as she feels like it's one of the few things she has control over.
---
---
---
---
"I have so much time to think, and sometimes I feel like I should be thinking of something philosophical, but there's nothing to think about except how miserable I am."
---
---
Personality
Tired | Tactful | Bittersweet | Withdrawn | Finicky
Likes
Sleeping | Window Shopping | Astronomy | Classical Music | Animals | Origami
Dislikes
Sickness | Exercise | Being Inside | Cold | Watermelons | Candles
Habits
Washing her hands | Messing with her hair | Flinching when touched
Flaws
Almost
always
sick | Vengeful | Somewhat bitter
---
---
---
---
"There is nothing I can do. I'm helpless. I've tried everything and I'm still sitting here with a thermometer sticking out of my mouth."
---
---
Romantic Interest
TBD
Character Opinions
Katana Urihama:
"He seems nice. The times I've talked to him he didn't yell at me to go away, so that's nice. Sometimes he'll help me with my homework."
Nana Osaomi:
"It's terrible, that heart condition of hers. But we ended up bonding over it because we're both always sick, so... I-I guess that's a pro?"
Jun Konami:
"Oh man, Jun is awesome! I hang out with her all the time. She's so nice! S-sometimes I worry I'm too clingy, though..."
Luka Anatoly:
TBA
Ikari Hisatoka:
TBA
Kirie Okonogi:
"The times I've talked to her, she's been a jerk. It's hard to feel bad for her, especially since the thing that's got her so wound up is nothing more than a break up..."
History
From the moment she was born, Imogene has always been sick. That's all she remembers-- puking on her science fair partner in 2nd grade, having her mother make a 1 hour drive from work to pick her up from school because of a terrible fever, visiting the doctor every other week... It was always a virus or an infection or some kind of terrible disease. She can hardly remember the feeling of wellness-- the lack of headaches, nausea, sore throats and stuffy noses. It became depressing, having to swallow pills everyday to fix one thing, only to come down with another. She spent many days unable to get out of bed and the others holed up in the nurse's office, waiting for the day to end. Truancy officers were often at their door and the teachers started getting fed up with Imogene always asking to go to the bathroom, the office, or the nurse-- many thought it was a ruse. It was very frustrating for her. Everyday she would go to school with some kind of ailment and bring back more. More often than not, kids wouldn't want to be around her in fear of catching her current sickness--- on top of that,
she
feared interacting with them as she didn't want anyone else to bear the burden of the sicknesses she had. She was a very lonely kid, who quickly earned a reputation for always being sick.
At some point, buying all the medicine Imogene needed drained her parents' money, eventually to the point that they had to be very sparing with visits to the doctors'. On top of this, Imogene's school was getting awfully aggressive about her absences and she ended up having to go to school almost everyday, which of course was a nightmare for the girl. She began to envy those around her-- they weren't sick everyday of their lives; some people would even go
years
without getting sick. That was hardly fair. Interestingly enough, some people even thought she was faking it so she could get out of class and resented her for it. Every now and then people confronted her about it, and eventually it became part of her reputation. This is true, even to this day.
After spending many years around healthy, oppressive students, she's started to wish her sickness on those around her. People would pick on her, whether it be because she was always weak and withdrawn, or because they were jealous of how much she got out of class-- perhaps both.
Other
Obsessed with health habits. She washes her hands every five minutes, doesn't touch junk food, has perfectly portioned meals, doesn't let
anyone
touch her or her things unless they've washed their hands and sanitized...