Appearance:
Long, light pink hair, and pale skin. Big, purple eyes, that always have a faint smile in them. About 5"5.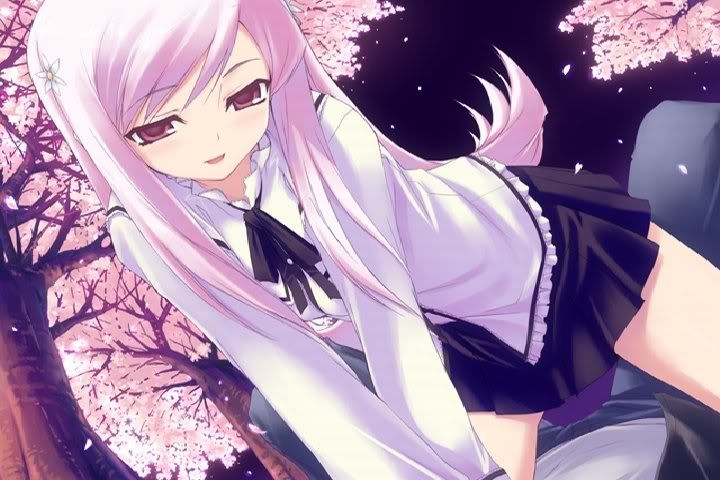 Name:
Cathleen Elizabeth Thompson "Catie"
Age:
19
Gender:
Female
Personality:
Catie is a very sweet person. She is very quick, and has a good sense of humor. She can retaliate quickly, which is one of her famous trademarks. She is very smart, and always gets a feeling of whether something is good, or bad. She can be a hopeless romantic, and she is a bit of a flirt.
Role:
Female 3
History:
Catie lived in the suburbs. All her life, she was always in the suburbs. She always had tons of friend, and she was immediately liked. She wasn't a big drinker, but she would smoke every now and then. She loved to party, and loved life. When she was 5, she went to a fortune teller. The lady had told her that she was going to have a long, and happy life. But something was off in the womans eyes. But Catie never payed attention, she was young, and she didn't honestly care what some stupid fortune teller was saying. Her boyfriend, Alex, had cried a little when he read the article about the crash. She had stood right in front of him, waved her arms, tried to touch him. But it was like he couldn't even see her there. That's when Catie knew. Alex didn't grieve for long though, because Catie caught him hooking up with her best friend. So, Catie had an ex-boyfriend. Her parents' lives were miserable. They loved her little girl dearly, because Catie was their only girl. She had a brother named Kyle, who used to look at her in weird, nasty ways. Kyle was 3 years older than Catie was, so he was already away. He cried upon hearing the news of the crash, too. All the pieces fell into place, and Catie realized the crappy truth. She wasn't alive. At least, not physically.
Other:
Catie is a virgin, she had been flying planes since she was a baby, and she has a very pure and innocent soul. It matches her small body.