General Information
Image?
Name?
Sasha Pavlichenko
Age?
15
Gender?
Female
Blood Type?
B
Why Are You Here?
Sasha was kind of already working as maid when she had to live with her Aunt. But it wasn't really something she wanted to get into. Her Aunt applied her for Masuta Academy and when she got accepted, she couldn't turn it down.
Level?
1st year
Assigned Mistress?
Asami Higashiyama
~~~
Eyes and Hair Color?
Sasha is a slim teenage girl with sparkling emerald green eyes. She has dark pink, almost maroon, hair that falls just passed her waist, to about her knees. Surprisingly, her hair color is natural. It used to be red, but as she got older it turned dark pink/maroon.
Dressing Style?
...
Weight?
115lbs
Height?
163 cm
Appearence?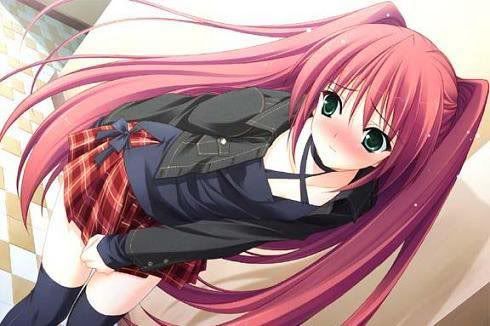 ~~~
Likes?
Sasha is an easy going girl who likes photography. She carries her camera around wherever she goes, taking pictures of whatever she sees. She likes to eat...a lot, and her favorite drink is Guaraná. She likes sweet foods and just stuff that tastes delicious!
Dislikes?
Sasha isn't too keen on spicy foods, nor does she like bitter stuff.
Habits?
Sasha's only habit is eating all the time, wherever she goes.
Personality?
Sasha often comes across as naive, clumsy, and clueless, but she has her perceptive moments on occasion. She is very curious and gets distracted easily. She is a kind, caring, sweet, and loving girl. She's friendly, a bit care-free, quiet, and shy.
~~~
History?
Not much is known about Sasha's past, as she does not like to talk about it. She was born on May 15th in Vladivostok, Russia. She has a brother, named Dmitry, who was born on September 5th in the same year as her. She lived with her younger brother and father in a small cabin. Her mother left for Italy on a business trip, since she was a photographer. But sadly she died two days after entering Italy in a car crash. When she was a kid, her father, brother, and she would always gazing into the night sky in the backyard, next to a small campfire. One night when she was 8, Dmitry noticed that there were shooting stars, and Sasha decided to make a secret wish. As the night continued, more and more stars began to fall in rapid succession. Sasha went back inside the house to get more hot coco and stuff for s'mores, but what she didn't expect to happen when she left was that one of the stars crashed into where they were sitting. The meteorite that crashed was quite large. That night, she lost two more important people. Over the next two years, Sasha lived alone; she refused to live with anyone else from her family, and would not go to an orphanage. That is, until she finally agreed to live with her Aunt Victoria. Her aunt was a maid in a wealthy household in Moscow, it was 9,007 km away from her home, and though she could never shake the pain away no matter how far from home she was. Sasha helped her aunt from time to time, but she would keep playing with the daughter of the household, who was about the same age as her. When she turned 15 she was accepted into Masuta Academy, Her aunt thought that getting out of Russia would be good for her. Maybe reconnect with the world.
Birthplace?
Vladivostok, Russia
Ethnicity?
Half Russian and Half Brazilian
~~~
Extra Info?
Sasha is a vegetarian.
She had a brother, until the incident...
Subjects?
In School - World History, Geometry, Marine Science, English, Gym, German 1
After School – Dance, Photography, Cooking