Appearance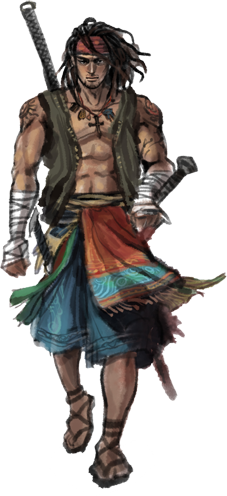 Name
Ayes Sutuk
Nickname
Thousand Bladed Eyes
Age
27
District
Magic
Height
6'7
Weight
312lbs.
Build
Muscular
Tattoos
Moonflower and Sun on each of his arms.
Likes
Pretty girls
good food
having free time
iced sweet tea
fighting
Dislikes
Complicated talk
Fighting girls
Bullies
Personality
Ayes has learned to not trust people over the years.
He keeps up a mask of friendliness that hides his dark nature.
Cheerful most of the time
Protects the weak
Cautious but sometimes forgets to be
Does not feel much loyalty to anyone but himself
Abilities
-Master swordsman proficient with any weapon
-Has genius level control of life force(mana)
-Able to divert life force to reinforce and strengthen certain body parts at a time, can extend this ability to outside objects and people. Alternatively, he can also weaken targets and block their flow of life force disabling their magic.
-Absorbs lifeforce from the starlight and surroundings. As a result magic attacks have no effect on him as he will only absorb it. He can then discharge that lifeforce as magic depending what kind of weapon he uses as a medium.
-When Moonflower petals are consumed, he turns into the Lion humanoid until nighttime, and vice versa when the transformation begins at night.
-The transformation gives him insane strength and increases his resistance to frontal physical attacks, but he has no control over it.
Equipment
Kiem Goi Kiem(Sword to Call All Swords)-A magic item given to him by his father on his deathbed, a family heirloom passed down many generations. It can change into any weapon the user encounters, and despite its name, it can become weapons other than swords, it can even turn into technological weapons. The make up of the weapon, properties and powers of the weapon it changes into is exactly the same as the original. Ayes often likes to switch weapons each time he defeats an enemy, earning him the name "Thousand Bladed Eyes"
Two large kukkuri blades that he can thrown with precise accuracy. Worn on his sides. Durable enough to chop trees.
Background
Originally from the Eternal Autumn Mountain, rumor has it that he was the last member of an ancient clan that had lived on the mountain for generations. The rumors were true, he was the last because he had killed everyone else. Ayes was the first one in ten generations that could transform into the legendary lion humanoid. One day when eating, he accidentally ate a Moonflower petal that flew into his mouth, it triggered the transformation. He lost control and the beast consumed him, going on a bloody rampage, and when the sun set that day, blood poured out of the gates. Ayes had not returned home ever since he was 18 and continues to wander the world, putting as much distance from his past as he could.