Siero Caprico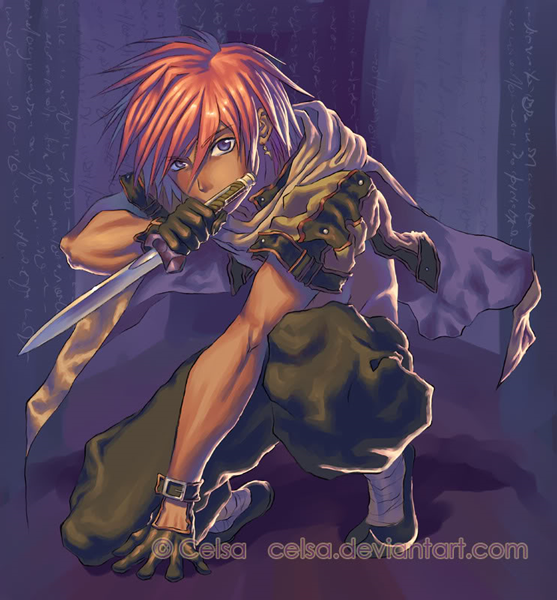 「 Nickname 」
Little bird or Sie

「 Age 」
16

「Height」
5'4

「Weight」
117 lbs

「 Role / District 」
Machine Wielder

「 Likes 」
Freedom, sweets, stealing, hiding, parkour

「Dislikes」
Law enforcers, prisons, bitter food, being scowled and/or screamed in anger at

「 Personality 」


Siero likes to have fun with people. He seems always happy, but his mood seems to switch when he is close to a law enforcer. He likes to live his life like he wants without caring if people thinks that it is wrong. He is sometimes foolish about the world around him.


「 Equipment 」
Small dagger, a small bag under his cape containing various little objects.



「 Background 」



Like most of the thieves, he had a pretty dark past. The poor kid; for some reason which he still doesn't understand, his parents disappeared. They were just, gone. It all happened in one day; he was still very young and he was allowed to play with the other kids on the street. When he came back, he parents were gone. Oblivious, he just thought they were out somewhere and just didn't say it to him. However, they never came back. If it weren't for the bandits that found their way into his deserted house, he would have starved to death, maybe. Since they found, the group that he is in decided to raise him up to become one of the best. Of course, they used his innocence to steal precious stuff, but the little bird was taught to do so. Therefore, it seems ok for Siero to do such things, and thought that people who wanted to arrest him were just the villains in his little world. Although, he got arrested one time, which leaved a scar on his spine. They had to torture the kid if they wanted to get his to learn that it was wrong. However, it never happen. The little bird kept the scar as a memory that he won't die until he stole every valuables.