Base:
Emilie Autumn
Date Of Birth:
October 18, 1991
Full Name of Character:
Christina Victoria Argeneau
Nickname:
Tina or Vicki
Where are they from:
Lawerence, Kansas
Age:
23
Gender:
Female
Orientation:
Straight
Species:
Experiemental Vamperic Human
Abilities:
Can heal only minor wounds
Persaonality:
Before everything Christina was a very open girl. She made friends with anyone and everyone. She was never so quick to judge anyone and was the girl everyone could trust with secrets and will make sure to keep theirs as well. Christina always had that rebel look about her but that was just her style and she was the best person to be around.
It was after what happened to her that she completely changed. Christina was now just a ball of nerves. She never could trust anyone again. Just every where that she saw was just horror and pain. It was hard for her to get near anyone as she wanted help but she freaked out anyone that came close.
Likes:
*Being Outside
Dislikes:
*Dark Places
*Needles
*Small Spaces
Extremely unskilled at:
Trusting people
Good characteristics:
*When not in fear an interesting person to talk with
Character flaws:
*Has trustment issue with new people
Background:
In a small house in Lawerence, Kansas Christina lived with her Father Lestat but her mother had passed when Christina was born. Victoria, where she got her middle name from, died giving birth to Christina. Her father knew that she wanted their first daughter to be named Christina but they never thought of a middle name till now.
When Christina was the age of 18 her father ended up dying in a car crash which left Christina in a mess. She left her house just wondering the roads just trying to find a way to survive. It was when Christina was on the brink of death a male came to her rescue, nursed her back to help and got her a job working for him as a secretary. After only a few months he asked her about getting a higher payroll all she had to to was help him with his work. But little did Christina know that helping him with his work was meaning BEING his work.
The male poked and prodded her injecting her with different liquids some of them being abnormal colors but always came back to one deep red color and was thick. She didn't know why this male was doing this to her but he was enjoying it. When Christina turned 23 she had come up with a plan of escape and kill the male. It all went the way that she wanted except for one thing. As she wondered the streets looking for a place to go she could feel her body changing twisting hurting as if something was wanting out. It was not long till she saw the sign for Gallows Grove and she just thought that someone could help her to be normal again or at least that is what she hoped for.
Appearance: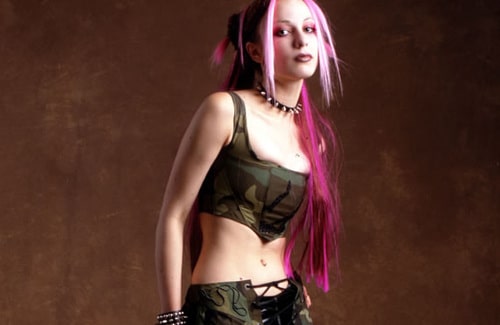 PLOT:
How about Sam and Dean (you play them) are on the hunt for Vampire and come across MC. She is different then all the other vampires that you have faced Sam tries to befriend her as Dean would be trying to kill her but slowly Sam and Dean get on the same page with MC and figure that she can help them find more vampires and kill them. Then later on MC starts to get feelings for Sam.