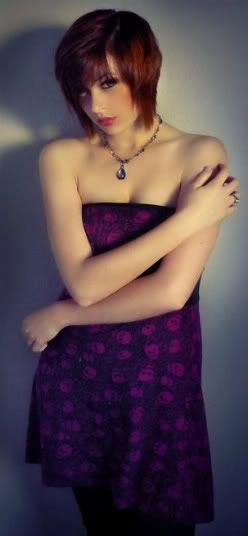 It was just a typical hunting night for Michaela. It was probably about nine o'clock, as it usually was when she went out, and there were still people out and about. Not nearly as many as there were during daylight hours though, that was for sure. Which just made everything a whole lot easier for her.

Not that hunting wasn't easy already. It was almost too easy in Mikey's opinion. But that's because no one ever expected an innocent little eighteen year old girl to hurt them. (Of course she only appeared to be eighteen still. In reality, she was really about a hundred or so). And she only needed to eat maybe three times a week, and someone disappearing every few days wasn't really that big of a deal apparently. And even though she lived in the city and there was no forested place close enough to drag the bodies to, it was okay, because there were quite a few alleyways to hide both herself and her victims in. And when the bodies were found dead in an alley...you'd think people had never heard of vampires before. Because they were always sooo surprised when they discovered the people's blood drained. Or maybe it was just that they never thought of there being vampires living in their little city. But they would be very wrong. Because Mikey knew of quite a few other vampires that lived in the city too...

The brunette stepped lightly across the familiar sidewalks, acting as if she was just any other person out right now. She even offered smile and sweet little "Hello"s to anyone who gave her one first..it was kind of weird how friendly some people were to random strangers around here. Mikey was pretty sure that in any other city this size, people who didn't know each other would never exchange so much as a glance. She scanned the area as she walked, almost desperately searching for a victim, and growing thirstier by the minute.

And then finally, Mikey practically stopped dead in her tracks...she'd finally found who she wanted to eat tonight. He looked to be around her age. Or at least the age she looked to be. It was slightly out of the ordinary for her to kill someone so young. The brunette usually went for people a bit older...people that might not be as missed or looked for. But there was just something about this boy that Mikey liked. Even from a distance.

Mikey wasted no time then, and strode up to him with quite a bit of confidence. She offered the boy a deceivingly sweet smile and a somewhat quiet "Hello", before pushing her bangs over loosely to the side more and glancing up at the sky. "It's nice out tonight..isn't it?" Mikey asked finally, looking back at the boy again.