This is the auto-generated OOC topic for the roleplay "
Vita Nova
"
Vita Nova means 'New Life' in Latin. This is exactly what it gave the human race - new life. Vita Nova is the name of the planet humans now live on. It's the year 3000 and things have changed drastically. In the year 2050, things started to go downhill drastically with Planet Earth. Natural disasters soared. A major Earthquake hit San Francisco in 2052 devastating the area and only a few years later another one hit Haiti, then Japan and then Chile. Scientists spoke of Global Warming affecting the natural balance of things, but again not many people listened.
Not only was nature being affected - a third world war was on the brink of happening. Oil was almost gone by the year 2071. Countries were fighting over the last reserves and even though more efficient energy resources had been found, most were too expensive and it was a case of too little, too late.
The poverty and disease in Africa had increased ten fold by 2089 and the ozone layer had new holes and was depleting faster by 2091. It was the year 2097 that the governments over the world decided to start looking into alternative living arrangements on other planets. The USA was the first to send up a rocket in 2099 with Russia shortly following. The UK, Ireland, Australia, Africa. Canada and most of Europe allied with the USA to help find a new planet. Russia allied with the Middle East, China and South America as well as a few other places and sent a rocket up at the beginning of 2100.
And the race was on.
It was the USA and the allied lands that found a planet sustainable for life first. They named it Vita Nova and space shuttles soon followed it to start a new life there for the human race. Water was found on the planet - which had a similar atmosphere to Earth - and so humans quickly got to work on adapting the area to human life. Instead of houses, pods were made. The atmosphere - though livable was still toxic. First thing was to build massive domes that contained oxygen to breath.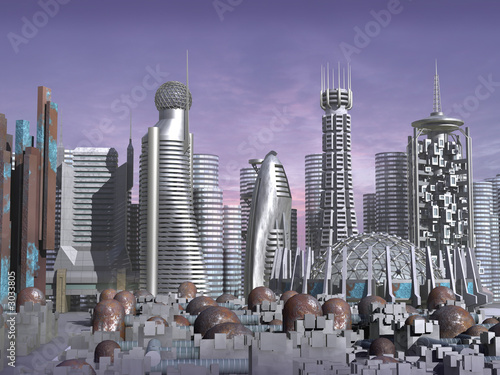 Within these domes thousands of homes were built inside - schools, libraries, shops, gardens, zoos, everything was put inside these domes that stretched for miles. The tall sky scrapers are apartment blocks, the smaller circular domes are everything from schools, to labs, to shops etc. The sky is black outside the dome, full of stars, five moons, and several other planets. This can be seen of a night when the glass of the dome turns transparent. During the day it's coloured blue to mimic day and lights from electricity generated to create heat and power. It seemed that humans had succeeded in finding a new place to live.
In 2500, the planet was officially named VITA NOVA, and plans to transport people were underway. By this time the Russians and their allies had also founded Vita Nova and built their own living area that could sustain humans, exactly the same as the Americans.
By this time, radiation had seeped into the planet's atmosphere and had started to affect humans. Cancer soared for starters, and then - in later generations - genetic mutations appeared. People were born without limbs, with extra limbs, disfigured etc, etc. At this point, it still wasn't clear how to transport masses of people into outer space to Nova Vita. Humans were worried about these genetic mutations and so a law was passed that only ' normal' humans could be taken.
By 2530, tests were in place to essentially find the fittest humans to take. Genetic, mental, physical, health, sexual tests and any other that doctors and scientists could think up were enforced upon humans. Only the fittest were given certificates - and in effect - tickets to live on Vita Nova. They wanted to eliminate any kind of disease, disability or problem that had being around on Earth. Family trees were made and genetic problems traced for the likelihood of them appearing in the family later on. Genes had been found years previous so that humans could be named and screened for problems.
Anyone with a gene for a certain disease or disability was labeled abnormal and was destined to remain on Earth. It didn't matter if it was a man, woman or child. If you had a disability, you were given a death sentence on Earth. If you didn't you were given a new life on Earth. It was that simple.
Very few people cleared this system. After all, somewhere in most family histories there are some genetic problems.
By 2600, humans had started to get transported to the new planet. By 2610, planet Earth was gone and any remaining life had died with it.
Now it's the year 3000 and problems have popped up in the human race all over again. It seemed that the radiation from Earth has shone through the generations. What started off as a healthy race seemed to deteriorate over the years. Disabilities and defects started to show. Blindness and deafness increased. Even paralysis at birth due to spine defects came through.
And that wasn't the most worrying part. It seemed that the human DNA had mutated and evolved over the centuries of living on Earth and over the generations on Earth and Vita Nova. Humans with extra strength, sight and hearing started to crop up. People with immense physical attributes that couldn't be explained appeared. IQ's soared. And then came the first person with abilities. X. He was called X because he was a telepath like Professor X from X-men. He was discovered in 2876oe (On Earth) and year 276vn (on Vita Nova). After that, more popped up.
Most people showed no abilities. Only a select few did. Genetic tests showed that DNA had mutated in humans and they no more Homosapiens. They were a new species. Everyone carried the gene that was discovered to have these abilities but it was either on or off. If it was on then you had abilities. If it was off then you were normal. It didn't matter who your parents were and if they had abilities or not - there was no pattern. It just randomly flicked on.
And in the year 3000 they still have no idea how to flick the gene on or off, or what causes the gene to be on in some and off in others. Everyone has monthly tests though to see if the gene is on or off from birth until death. Scientists want to work this out as they are unsure what the Russians and their allies are up to in the other domes that were built. It has been made aware that they too have beings that have powers through spies but neither pod knows how to manipulate these genes.
Pod One - the Americans and allies - currently have six humans with powers labeled A-F. These humans are currently monitored for changes as well as 'experimented on' to see if the answer to the questions can be found. They go to special schools, have special training, and a number of other things to ensure that they are ready to protect their domes if the Russians - Pod Two - attacks. They are each assigned a guardian to help them make decisions.
These humans can be from the age of 0 to 80. There is no limit. The only thing is - that to have a power, you must have a physical disability i.e. blindness, deafness, paralysis etc. It seems that with this gene of power ability also alters the DNA or is attached to a gene to stop some physical aspect of the body from working correctly. Again, scientists are trying to figure this out.
It has been made aware that spies are in Pod One - among them. It is possible that one of the 'powered' humans could be a spy. They will have been living in the Pod for generations. Immigration from one pod to another does happen but under the strictest of security checks. It could also have been that they came into Pod One generations ago when the migration from Earth to Vita Nova happened and being a spy has been taught over the generations. Everything is being done though to try and find these spies.
So, you can be a spy or you can be good. And what happens up in this world is between Pod One and Pod Two. It has being made clear that only one pod can survive on Vita Nova. With the human population growing in both pods, extensions taking space and time - it has been noted that they should join forces. Pod Two refuses to accept that and it seems that a war is inevitable.
But who will succeed?
Character Rules
Each human is allowed

ONLY

3 powers.
Each human has to have a disability - blindness, paralysis, deaf, loss of limbs etc...
Each human has to have a sufficient weakness.
Each human must have their name relating to one of the six letters of the alphabet [A to F]. (So my character is Ace so A is taken leaving B-F). If more people show interest I'll change the number. No more than one person per letter.
Each human has a guardian of sorts that watches out for them. Like a parent figure that helps them make the right choices. You will also play your guardian. They don't have power ability. Mention them though in your character sheet as you will be playing them when needed. (So just give them a name/mention in Bio section).
Not every human is good. I'm planning for fights to start - good vs evil - the first war on Vita Nova could start and threaten the human race once more. Old mistakes have not being learned. Can things change and return to peace? You will have your own reasons for being good or bad.
General RP Rules
No God Modding
No Mary Sues
Detail, proper spelling, grammar etc is a plus. At least use a spell check. :)
No one liners. At least a couple of paragraphs. Give other writers something to work with.
Keep within RPG's rules
Respect other characters and writers
Cussing, romance and violence are allowed but keep it realistic and within your character as well as to the RPG rules.
Let me know if you're leaving/dropping out/going away etc so I can work things out.
OOC stays in the OOC. Discuss things with other writers, too, relating to plots and characters.
Have fun! And any questions ask away in the OOC. Use other characters for inspiration and if you see other characters that have been accepted, then look to see how you can fit in with them and what powers they've got.
Character Sheet
Name:
Letter: [B-F]
Guardian's Name:
Appearance: [Pic and Description]
Powers: [One Main - Attack; Two Minor - Defence]
Weaknesses: [Level off against your powers]
Disability: [Deaf, blind, etc - try to link with your power]
Personality: [A paragraph or two on what your character's personality is like.]
Spy: [Are you a spy in Pod One]
Bio: [A little bit of history about your family with the pod over the generations from Earth to now.]
Extras
Links useful for the RP:
Abilities