Model number:
XXXG-0DSX
Code name:
Gundam Deathscythe X
Unit type:
mobile suit
Manufacturer:
La Grange Colony L5 R&D
Operator:
Codename: The Southern Wind
Accommodation:
pilot only, in standard cockpit in torso
Dimensions:
head height 16.3 meters
Weight:
empty 7.4 metric tons; max gross weight unknown
Construction:
gundanium alloy
Powerplant:
5000KW Lithium Ion Cell
Thrusters:
2 x Verniers at back; 2 x Variable Thrusters at calves;
Equipment and design features:
sensors, range unknown; active cloak beam deflection barrier and stealth system; 2 x hyper jammer ECM suite on backpack; self-destruct system
Fixed armaments:
1x dual twin beam scythe, equipped with rocket engine for additional swinging force, stored in recharge rack on rear waist armor, hand-carried in use; 2 x buster guns, mounted in wrists. shell in each, two extra shells stored on each hip.
Final pics and pics of specs.
Buster Gun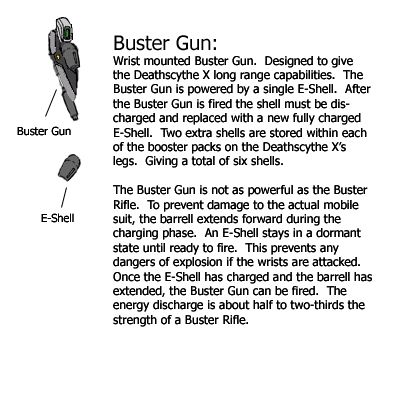 Final work of DSX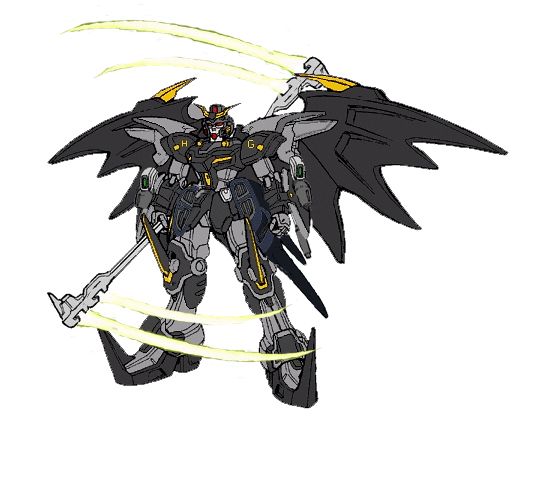 Yes yes, stupid me. I completely forgot to mention that FutureKiyoshi came up with all the weapons, but I had the idea for the scythe....which I love. The guy's great, with pics and jus' as a person. No tellin' how many late nights we sat up reviewin' this damn suit but without him nor Madan, it wouldn't have been made. I can't tell ya' both how much I thank ya'.
I tell ya' what, you two can half the first born, he's over in Louisiana somewhere.