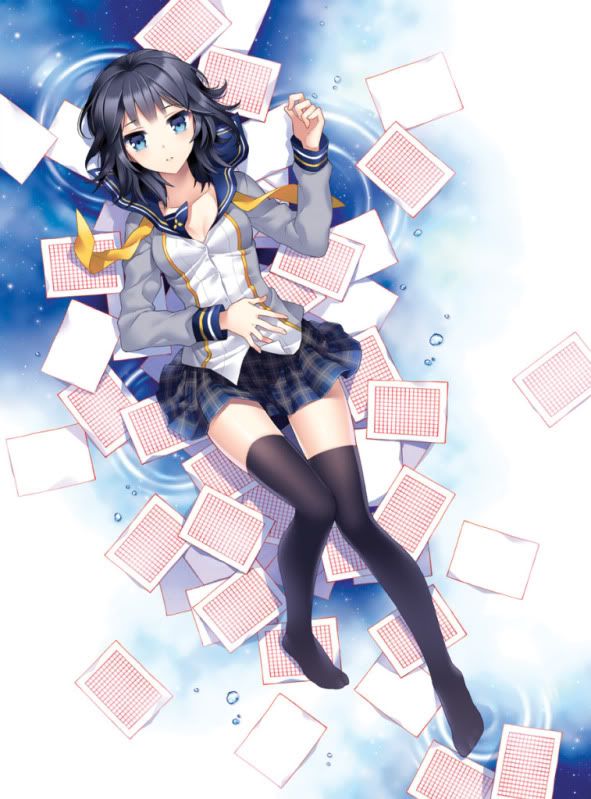 Name:
Destiny Hail
Nickname:
Whatever you call her, she'll answer to.
Age:
16
Gender:
Female
Appearance:
Destiny has this look to her that is so
clean
, as if she has recently been dipped in sterilizer. She is very beautiful with soft black hair cut into feathery layers. Her bangs stop just above her perfectly plucked eyebrows. Her blue eyes are like a blue mountain spring, framed by thick, dark eyelashes. Her skin is pale and refuses to either tan or burn at the same time. She could sit out in direct sunlight and not get even the slightest bit darker, nor will she turn even a hint of pink or red. She has a slender, curvy, developed body that she always keeps clean and flawless. Since her death, she's worn the same clean, pressed outfit (the one in the picture), and is often found without shoes, though she usually avoided wearing shoes when she was alive as well. Even after death, she has a delicious aroma to her, that of a shampoo she once used. It's scent is buttery and smooth like caramel with a hind of vanilla, it's very distinct, and you can tell when she's in the room, because you can smell it.
Personality:
Destiny likes to be heard, but she is not obnoxiously loud about it. She's a very fun person, often laughing and talking to others, and she's rather easy to get along with, being incredibly kindhearted and honest. She's hard to anger, but if you do manage to push her over the edge, she'll tell you off without hesitation, and she won't be nice about it. Destiny is also a very tough girl, she doesn't act macho and pushy, but not one of her friends nor her family ever saw her cry. Not that she's emotionless, she is just good at concealing how she feels. She's very protective of her friends and their feelings, but even so, she is very blunt, even with her friends. She's not one to butter things up with pretty little lies, she'll tell you how it is, and you can always trust her to tell you every bit of truth, she literally never lies.
She absolutely loved being outside and in nature. She was fond of gardens and used to spend hours outside, barefoot, planting around the dorm, and her room was full of exotic plants. She also has a soft spot for animals.
Destiny is OCD. She loves it when things are clean, this mostly comes from her childhood. She tries to keep others very clean, and can often be found tidying things up, because she's very good at spotting mistakes with cleaning jobs. This isn't to say that she spends all of her time cleaning, because she doesn't, but if she sees something dirty, she'll be sure to clean it up.
She's a very loving girl, and she loves the idea of love, but, sadly, she's come to the realization that no one would love a ghost.
(I'll finish tomorrow)
Likes:
Music
The idea of love
Fun people
Animals
Rainbows
Flowers
Clean things
Having fun
Dislikes:
Obnoxiously loud people
Quiet people
Boring people
Being ignored
Perfection
Being dead
Fear:
That she'll never find love.
That she'll be forgotten forever.
History:
Her family was a family of perfect people. Not perfect as in, they were a great family, perfect as in, they were all super smart, super beautiful, super perfectionist, super
perfect
. Destiny was the imperfect child. It started when she was born, so far, there were 2 girls and 2 boys, all spaced evenly apart by two years. Destiny was born three years later and was child number 5. She was a mistake, but her parents decided to give her a chance, anyway.
She struggled through school, and never got higher than a C on anything in school. She was so angry at herself for not being as smart as her family, and tried her hardest, but never got any better. Destiny felt ashamed at her grades and never brought anything home from school.
One day, when she was 10, she had gotten am A- on a test, excited and proud, she brought it to her parents, who were so enraged with the imperfect child with the imperfect test score that the family shunned her for months.
After Destiny's death, she learned how to focus energy to her hands and other parts of her body, so that she could tidy up when they re built the dorms.
Other:
Pendant TBA
Who do you share a room with?:
Sora Isobe
Simple and Clean:
When you walk away
You don't hear me say please
Oh baby, don't go
Simple and clean is the way that you're making me feel tonight
It's hard to let it go
You're giving me too many things
Lately you're all I need
You smiled at me and said,
Don't get me wrong I love you
But does that mean I have to meet your father?
When we are older you'll understand
What I meant when I said "No,
I don't think life is quite that simple"
When you walk away
You don't hear me say please
Oh baby, don't go
Simple and clean is the way that you're making me feel tonight
It's hard to let it go
The daily things
that keep us all busy
all confusing me thats when u came to me and said,
Wish i could prove i love you
but does that mean i have to walk on water?
When we are older you'll understand
It's enough when i say so,
And maybe somethings are that simple
When you walk away
You don't hear me say please
Oh baby, don't go
Simple and clean is the way that you're making me feel tonight
It's hard to let it go
Hold me
Whatever lies beyond this morning
Is a little later on
Regardless of warnings the future doesn't scare me at all
Nothing's like before
When you walk away
You don't hear me say please
Oh baby, don't go
Simple and clean is the way that you're making me feel tonight
It's hard to let it go
Hold me
Whatever lies beyond this morning
Is a little later on
Regardless of warnings the future doesn't scare me at all
Nothing's like before
Hold me
Whatever lies beyond this morning
Is a little later on
Regardless of warnings the future doesn't scare me at all
Nothing's like before