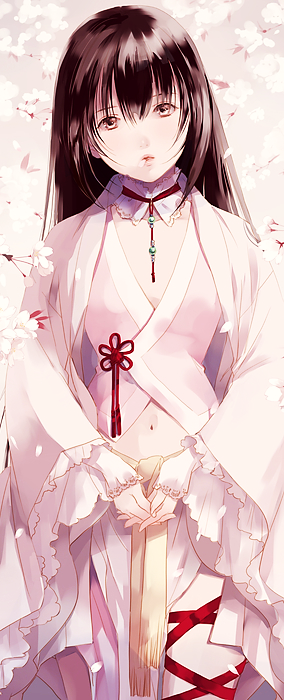 Presenting Her Imperial Highness,

BIRTH
[insert]
Fuyuki Hakuryu was born on May 12 at 11:59 PM in the Imperial Household Agency Hospital at Tokyo Imperial Palace. She is the youngest and only daughter of Kyoshiro Hakuryu and Mitsuru Hakuryu. As she hailed from House Hakuryu, a branch family of the Imperial line, she became the first female direct descendant born since her Imperial Aunt, Princess Atsuko, which spanned 3 generations. Due to this special circumstance, she had been conferred with the title of Naishinnō elevating her to Imperial Princess status.
NAME
[insert]
As per tradition, being recognized as an Imperial Princess, she was named by the Emperor. Her name was inspired by the Winter Cherry Blossoms which is a favorite of the Emperor. Fuyuki, it is written with the kanji characters for winter "冬" and princess "姫" which is said to mean, the "long-awaited princess".
FAMILY
[insert]
Fuyuki is the youngest scion of Hakuryu. It is a lineage created as the Branch House of the Imperial Family upon granting the Prince Hakuryu permission to start his own clan separate from the Crown Prince during the Meiji era. It is currently led by

Kyoshiro Hakuryu

, her father who served as a trusted confidant of the reigning Emperor who by blood is his cousin. The real strength of the Hakuryu, however, stems from its bountiful connections in various sectors or placing themselves in positions of great influence and authority. Although not granted Royal Titles with her excluded, this became an advantage for their clan. It allowed them to be part of the current government such as

Mitsuru Hakuryu

, her mother, being the Speaker of the House for the House of Representatives.

Eisuke Hakuryu

, her first brother, is not only the Heir of the family but serves as Minister of State even groomed to be the next Prime Minister. Then, there is also

Setsuna Hakuryu

, her second brother. He is a Colonel of the Air Force belonging to Japan's Self Defense Force. Such connections, truly made this clan even more influential than the Imperial House.
ROLE
[insert]
As for Fuyuki, she had been granted a Royal Title in preparation for her to succeed her Imperial Aunt as the next Saishu or Supreme Priestess who shall be responsible for watching over the Ise Grand Shrine and all of its religious traditions and artifacts. In a sense, she shall be the guardian of Japan's first and foremost traditional religion, Shinto which connects present Japan to the ancient past.
☬
I don't have much to say there's nothing in this name,
☬


☬
Nobody pines for the listener a thrill I've failed to deliver
☬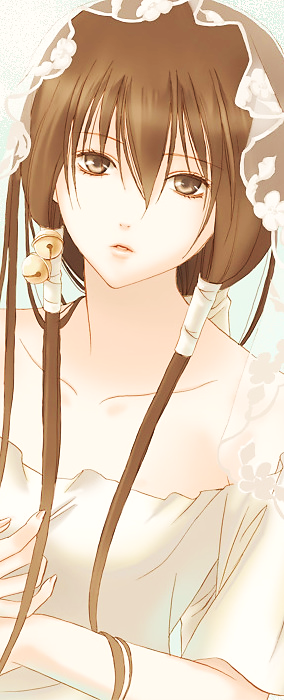 APPEARANCE
[insert]
Contrary to the namesake of Winter, Fuyuki's beauty is akin to earth's warmth. She inherited her father's brown locks similar to the shade of chocolates that had been the envy of most. The strands are pleasantly smooth and silky to the touch. They also make noise through the small bells constantly attached. It gave her the affectionate moniker of Suzu. At the same time, it seemed to have the remarkable trait to never get tangled especially with its length that reaches the soles of her feet. It said that she had never once cut it permeating a mystery. This earned her the nickname of Rapunzel. Yet, it is a trend not shared by the honey brown eyes received from her mother. Her doe-like eyes effectively convey the spectrum of her emotions.



[insert]

Then following the racial stock of ancestry, Fuyuki was born with a slender build which enhanced an elegant silhouette. From that, it is understandable as to why she does not have large bumpers which boys tend to favor the most. She is not completely flat but she would like those basketball size ones. It is actually one of her complexes and often speaks about it. Another one would be her height of 5'5". It is actually the average height for being an Asian descent and is not considered short. However, she is stunningly short compared to her foreign contemporaries. It makes things hard to reach and she envies taller people who do not need heels or ladders. There is also her milky white complexion which she compares to a ghost. It is unattractive to her and prefers darker ones like choco. That is probably why she has a fascination for foreigners with their racial traits uncommon to her being a Japanese.



[insert]

Despite the flaws Fuyuki sees, she is considered beautiful by her people and even foreigners. She is told to have the perfect body for her heritage and her features are delicate and refined which reminds one of a lovingly crafted doll, making her the pride of the Imperial Family as their Princess.
PERSONALITY
[insert]
Fuyuki admits that she is a whimsical person with an insatiable itch called curiosity. That is why raising her is said to be a hard endeavor. It also does not help that she is doted by her family and even the Emperor. That is why she gets almost scot-free when breaking house rules like escaping her guards or even causing problems due to her tendency to be where the trouble is. Then again, this reckless and brazen behavior must be influenced by her male brothers and male cousins. She is literally the only rose among the thorns which made her tomboyish. But, it is unfitting for the future Supreme Priestess and Imperial Princess to act wildly like a boy. So, she was eventually taken in by her Imperial Aunt Atsuko where strict education was bestowed.



[insert]

Like a child, Fuyuki resisted at first but eventually folded. It also became the platform to develop her natural intuition further as she is exposed to certain factors of her role. At the same time, it showcased the charm that attracts people to her. She became a fitting successor and Princess. But, it is wrong to say that she completely changed. She only donned a mask when required but would unabashedly remove it when she likes it. Everyone has a role to play, she does as needed but not as wanted. It is contradictory since she acts in a manner of whatever she likes. But, that is something she is actually stubborn about. It is her pride to do what is need. But, that is why she had mentioned a few times that other people's life is more interesting.



[insert]

Due to that, Fuyuki is immensely sociable and even a constant interloper. But, she would not like it any other way.
☬
You can skyrocket away from me and never come back,
☬


☬
if you find another galaxy far from here with room to fly
☬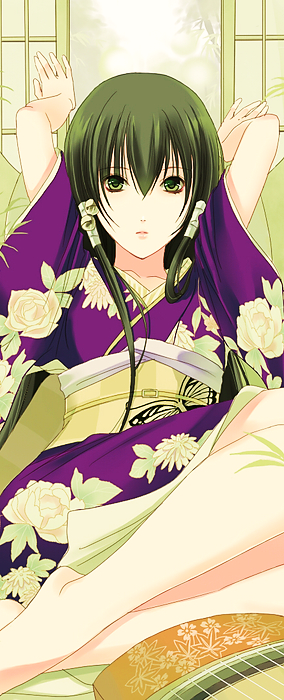 STRENGTHS
Kabuki

- Fuyuki had been trained in various traditional arts and this is one of them in which she shone brightly which even led her to debut in theater for a brief period of time.

Kagura

- The traditional God-Entertainment dance performed by Shrine Maidens. Fuyuki is naturally well-versed in it but people including her Imperial Aunt had stated that her ritual dances are superb and more fantastique than anyone else.

Kadō

- Flowers fascinated Fuyuki even as child. She even said once that it speaks to her so this everyday lesson became a hobby of hers especially when she is contemplating something quite seriously.

Chadō

- One of the three traditional refinement arts, Fuyuki naturally studies it. But, it has gone beyond that as she took passion in it more than as a mere student. It is said that if one visits the Hakuryu, it is usually for her tea.

Kōdō

- In Japan, the way the scents are burned is an art like none other. It started as mundane but Fuyuki eventually got interested when she suffered one sleepless night and the knowledge helped her considerably.

Calligraphy

- Writing frequently is not something Fuyuki likes but having people interpret the meaning in each of her brush strokes is interesting to warrant her passion in the art.

Koto/Shamisen

- Traditional music is also one Fuyuki's forte specifically the strumming of the Koto and the Shamisen. It is often asked of her to play in parties and gatherings especially when hosted by the Imperial Family or Hakuryu.

O-mikuji

- As the next Supreme Priestess, she is taught of fortune telling and making charms. But, she is rather exceedingly talented that it scares those closest to her. So, it has been restricted for her to use it unless there is a fee.

Poker

- It is indeed not traditional, but her brothers had taught her that being good in this game will do her well in the future and she had eventually even bested her brothers in the process.
WEAKNESSES
Thunder/Lightning

- Whenever it lights the sky and echoes through the air, Fuyuki cannot help but fear it. This is a scar that always hurts every time the weather flashes and rumbles.

Ghosts

- As the next Supreme Priestess, talks about spirits, ghosts, and evil souls should make Fuyuki resistant to its horrors and nature. But, it makes her skin crawl and it will always be something she does not like.

Cats

- This is a biological condition Fuyuki has no control over. She likes the feline species but their hair does not mesh with her, triggering her allergy. It makes her sneeze consistently unless she distances herself from the source.

Chocolate

- It is no allergy or trauma. Instead, she is a glutton for the dark brown sweet which makes her rather hard or easy to control depending on the situation.
SECRETS
Promised

- It is natural that the rich and powerful keep their powers limited around their circle or extend it upwards. So, it is expected that Hakuryu would want to have greater influence and daughters like her are always perfect for such a union. So, she is engaged to a prominent family heir.

Information Broker

- Due to Fuyuki's status, lineage,and position, she is in good spot to gather various information. It allows her also to be privy in matters that should not be known. Some of it she shares to her family. Some, she keeps for herself. Some, she sells for a price. But, there is no doubt in anyone's mind that she certainly knows more than meets the eye.
☬
There's method in madness, there's no logic in your sadness,
☬


☬
you don't gain a single thing from misery, take it from me
☬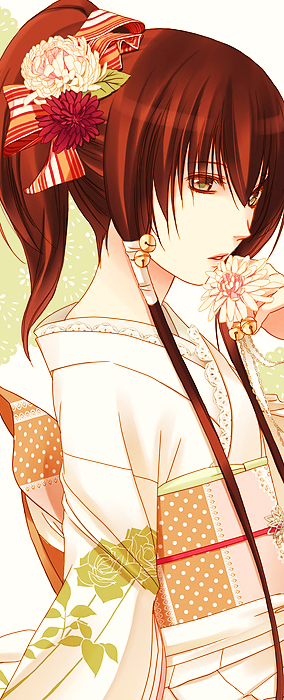 PERSONAL LIFE
[insert]
Born to an opportune moment, Fuyuki is granted a privileged life as a Hakuryu and the future Supreme Priestess or Saishu of the Ise Grand Shrine connected to the Divine Goddess Amaterasu. This shrine is entrusted to the Imperial Royal Family and only females born from the Imperial Family Clan can be its Priestess. However, there were no daughters born to the Main Family for 3 generations until her. Even if she belongs to just a branch family of the Imperial Clan, she still holds the Imperial Blood and was considered as the next Supreme Priestess and eventually she was conferred with a royal status for good measure.



[insert]

As to be expected of the only daughter, Fuyuki has been doted by her family and Imperial relatives. That is why she had grown rather spoiled and not minding the consequences of her actions. She is also heavily influenced by the boys around her and grew up to be quite the tomboy having the penchant for brazen and mischievous deeds. It could be said that her wild antics eventually led to the incident that made her fear the flash of lightning and the roar of thunder ever since. This also prompted the decision for her to be taken in by her Imperial Aunt Atsuko to be properly raised as the next Supreme Priestess and Imperial Princess of her generation.



[insert]

Now during Fuyuki's stay with her Imperial Aunt, she still was up to her old antics but not as frequent as before. It was one of these events that she met Kazuki Miyamoto. Her Imperial Aunt was a client of her mother who came for a personal matter in which he was taken along. Eventually, that one meeting became frequent and they developed a good relationship. This eventually soured when his parents die. His situation worsened and she did not reach out like a good friend should do. She remained distant and slowly became a memory for him and herself.



[insert]

Time moves on without waiting. Then, Fuyuki was soon enough paired with the son of a prominent family. They were even arranged to meet but what was to be expected between two children. Yet, it did make an impression on her. That she does look forward to becoming his wife in the future. But of course, this is purely a logical move and none of the romance. To note though, they never met again after that. But, it could be a blessing as she is granted a fateful encounter in the form of a girl with the same age as hers. This also gave her another impression which slowly made the cogs turned.



[insert]

Years passed and Fuyuki is now a Senior High School student at a Private All-Girl's School. Then, she was informed that she would be transferred to Airdalen Academy. The reason was never cleared to her or would they give her enough sense to make of the situation why her sudden transfer. Because of the question mark, she decided to complain about it. She actually liked her school and did not want to leave it for no good reason. That is when she was presented by her brothers a piece of information that the prospected husband for her is there. It seems that to ensure that the engagement proceeds smoothly is for them to bond over before the formal announcement.



[insert]

Fuyuki was indeed curious about that boy she met once and what he has become. So, she proceeded with the transfer. It was then she also found out about certain individuals that created fissures inside of her. It would appear that the transfer idea was quite a good one. The fascination, the curiosity, and the cogs were now turning at full speed. She cannot help but think that her last days as a High School student has certainly become fun. It seems that High School life is indeed the best of one's youth.
☬
I don't plan on looking back on my own life, I don't ever plan
☬


☬
to feel I own you, even if by chance everything should go wrong
☬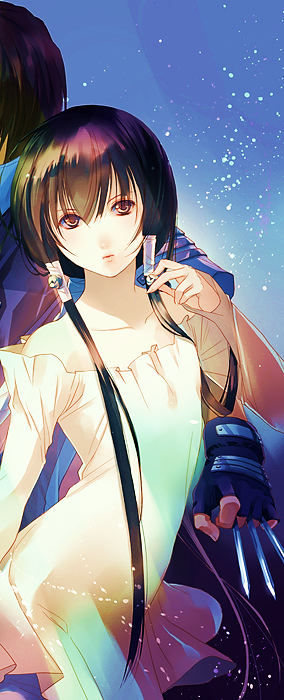 STATS
[INSERT]

ATHLETICISM

-

[INSE.T]

3

[INSERT]

ATHLETICISM

-

[INS..T]

9


[INSERT]

CHARM

-

[INSERTTTTT]

3

[INSERT]

CHARM

-

[INSER.......T]

26


[INSERT]

POPULARITY

-

[INSERT]

2

[INSERT]

POPULARITY

-

[NSER|.]

24


[INSERT]

NOTORIETY

-

[INS..RT.]

2

[INSERT]

NOTORIETY

-

[INS..RT.]

9


[INSERT]

INTELLECT

-

[INSERT..]

0

[INSERT]

INTELLECT

-

[INS..RT||]

13



[INSERT]

DESIRABLE STAT ||

ATHLETICISM




[INSERT]

IMPORTANT STAT ||

CHARM




[INSERT]

VOICE SAMPLE ||

I have no regrets. None at all.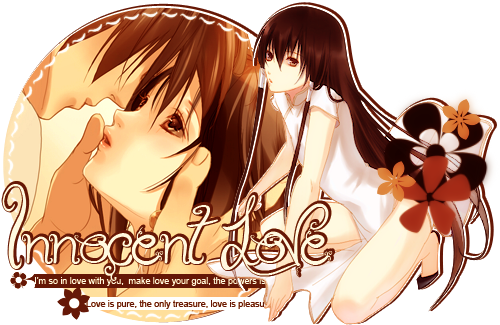 These will be lifelong stories, the light from your eyes made it feel like we were dancing in the

moonlight

.
Take your time, you'll find it, I see your

monsters

, I see your pain.
I will see you in parts of me in who I was back then, if I don't have you, at least

I'll still have me

.
I'm scared to drink the water, Baby, I think you drank the water, I'm

hallucinating

.
Like ghosts they want me to make 'em all, they won't let go

ex's and oh's


So keep on playing that song that I don't like, I just wanna feel

normal

for the night
☬
I could say it, but you won't believe me, you say you do,
☬


☬
but you don't deceive me, it's hard to know you're still there
☬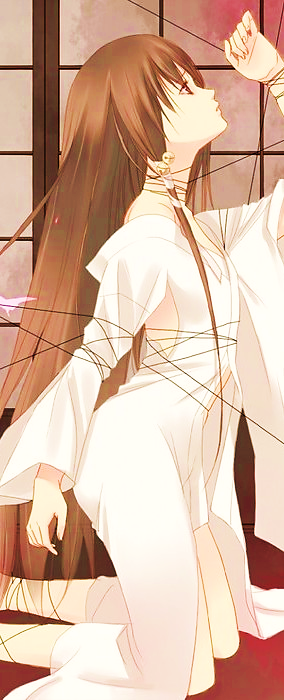 WEB OF RELATIONS

☬
I've talked to myself in circles all night long and sleep through the morning,
☬


☬
is it my fault, if I can't calm myself down, is it really?
☬