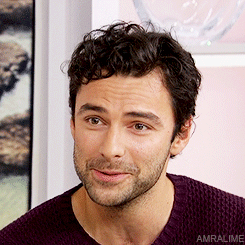 Niko von Lunkhofen - FC: Aidan Turner -
Hex Code = #BF0000
---
Los Angeles - 8:05 PM - Tinsely Villa
Niko wasn't as hungry as the rest of the party, or thirsty rather he watched as the rest of the party scuffed down their meals and wine. His gaze wandered to Celeste as she invited him for a more private conversation. As the rest of the party faded from the dining room, Niko followed he'd lost sight of Greg and Elena I the crowd of people but he wasn't too worried for them his mind was far too entranced with his bride. He hadn't even noticed the familiar voice singing
"La Vie En Rose"
in the parlor. If he'd noticed that voice he might have fled, left that house the city, never to be seen from again. Only to really be hunted down by Garamond and slaughtered at a later date. So maybe it was a good thing he hadn't noticed
"La Vie En Rose"
and his own little princess singing her heart out in the parlor. Perhaps it was best that he wasn't heading for the parlor either, but the Foyer.
Seeing her sit there so calmly, so seductively made Niko's heart flicker for a second her pure radiance, made him truly want to know how those nasty rumors could spread of such an angelic soul. Was any of it true? Was she really as ill-tempered and swish as they said? from what he'd seen with his eyes it didn't seem so, but maybe this was all an act for the peanut gallery.
"Aham"
Niko cleared his throat, before sitting beside her.
"So, my future wife what do you want to talk about?"
. His heart beat a little faster, in anticipation for tomorrow he was starting to enjoy the idea more and more every moment.