Cameron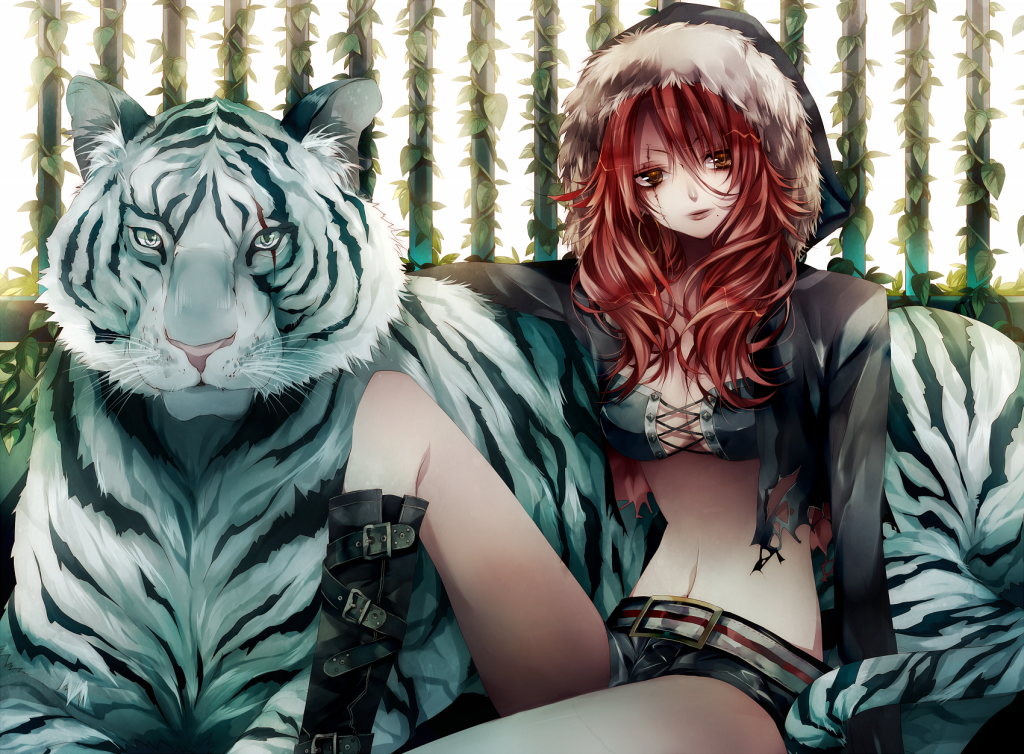 Her name is: Cameron. She has no last name.

But she is known as: She has been given nicknames like "A-1046" by scientists.

She is this many: 16. Possibly.

Role: Tiger

Animal Facts:
* The Siberian Tiger is the largest of the tiger species.
* There are 6 species of tigers left in the world. 3 more are known to be extinct.
* Tigers first appeared 2 million years ago.
* Tigers are great swimmers.
* Tigers can leap forward up to 33 feat at a time.
* Tigers have retractable claws.

She is known to be a bit like this:
"The Survivor."
Cameron is tough. She is strongly compassionate about those whom care for her, and is a very down-to-earth person. She has to qualms about what she is and accepts herself. She is blunt and won't lie or sugar-coat things. You can always count on her to tell the truth. She's a leader, basically. She can see the good, but mainly the bad in others. She feels closer to the other experiments because they've gone through the same as her.

She hates putting others before herself but will for survival. She was nicknamed "The Survivor" by a few admiring scientists whom were soon silenced, because on a raid once she was attacked by a rabid wolf in the woods. She managed to fight it off, also fully transforming into a white tigress form as she did. The scientists hadn't know that she could transform fully before and had considered her a failed experiment. They hadn't tried anything so wild and of such magnitude as a tiger's DNA grafted to a human's before.

She is rather wild and unpredictable- untamable. You often find her keeping watch or climbing trees, she sees the big picture of everything and fails to stare too closely. She is very intutive. She can usually tell if things are right or wrong and does her best to follow the right. She can get a perspective easier than most others. She angers easily, though, at almost anything. She'll forgive, but she won't forget. Her mind is quick; she may seem random at times.

Fears:
Being alone and/or helpless.
Letting others take advantage of her.
The scientists.



Physical Skills:
She can move around silently, come and go like a ghost within the shadows. She can transform her fingers into claws. Will find out more in RP. She's still not entirely sure, herself.
Weaknesses:
Cameron is rather impatient. She won't back down from a fight and almost always she's the one who provokes them. She's clever; but it often gets her into trouble. She has a hard time following orders and listening to authority. It hasn't been done, but she's not quite sure of what her breaking point is.
If you were to describe her to a blind man:
'Red eyes a cold sea, smile as warm as a summer's day.'
Cameron stands at 5'7", with long red hair that usually falls in a braid to her waist. She has red eyes, an aftereffect of the experiments. She's too skinny for her age, due to the small amount the scientists fed her. Her skin is incredibly pale, her face smooth and without blemishes. She has a long scar over her left eye.
History:
TBA.
She was born to the scientists. She didn't even think about escape, that's how brainwashed she'd become. She was abused for all her life, physically and mentally.
Other:
She has a scar over her right eye.
She is straight.