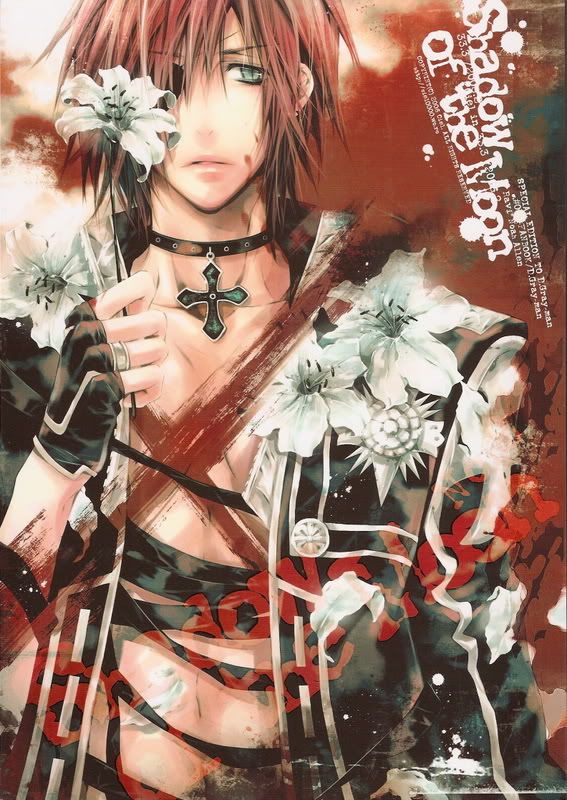 Name::
"It is but a humble name and yet in your presence it feels like my key to your heart. . ."
Jericho Van Heigen
Nickname::
"If I tell you then will you promise not to leave me?. . ."
"The Shadow of the Moon" or simply Jerry but he doesn't like that one so much
Age::
"Age is of no importance, it is the soul that defines your years. . ."
Twenty Four
Gender::
"You can check if you'd like, but I suggest we go upstairs. . ."
Male
Sexual Orientation::
"Forever will I be aiming at you with my arrows of seduction. . ."
Heterosexual
Trade::
"It's just. . . full time. . ."
Part-time bouncer and full time flirter (he really does make a living out of it)
Personality::
"I am who I am, and I'm sorry but not even your lovely self can change that. . ."
Jericho is a flirting man who can be a kind, soft and charismatic guy one second and the next he can be a monstrous killing machine with no sense of power limitation. Jericho is a kind man who is honest but who doesn't like to show it because his kindness betrayed him once and costed him his faith in people. If anything you can rely on Jericho for anything, you can trust him with your life and you can be sure that he will never lie to you (he might hold back the truth though). The only problem is that Jericho is a broken man who can never trust anyone but himself, he acts like a social man with jokes that flow out of him mouth and a lot of humor who loves women and is very pretentious, but he's actually very lonely and broken inside.
Likes::
"My preferences are of no importance, now let's talk about you. . ."
✔ Flirting
✔ Women
✔ Cold Temperatures
✔ Clear nights (which are rare)
✔ Apples
✔ Drinking
✔ Traveling alone
Dislikes::
"I don't usually like to repeat myself so remember well. . ."
✘ Bullies
✘ Being pushed around
✘ Being underestimated
✘ People who speak badly of him and others
✘ Tea
✘ Spices
✘ When it's too hot out
Fears::
". . ."
~ Himself
~ Being cheated again (by a friend, a girl. . .)
~ Snakes
Crush::
"I will never again fall into that abyss of lies and treachery. . ."
TBA. . . or not
Advantages::
"I've got some tricks up my sleeve. . ."
Jericho has monster strength, it's mostly because of his anger issues but he has been working on controlling it by taking classes. He's also a very quick thinker and can work with anything to get out of a difficult situation.
Disadvantages::
"Alright, alright! Fine. . ."
If Jericho get too angry, his mind goes blank and he goes berserk, he will destroy and kill anyone in his way and when he wakes up he doesn't remember anything of what happened. He also is unable to say no to a crying child or woman mostly when they're crying on him.
A Brief History::
"There really isn't much to tell. . ."
Jericho was born with no parents, he was abandoned as a baby in the streets and an old man took him in and raised him for ten years before passing away. After that, Jericho found some small jobs to do and one day when he was waiting table he saw a girl being pushed around by a group of guys and that when it first happened, he went berserk and woke up in an alley remembering nothing of what had happened, but when he had gone back to the last scene he remembered the group of guys were dead as well as the girl. No one suspected him so he walked away. He then met a travelling man who taught him the basics of control and after a few month Jericho had learned everything he needed so that man left the city.
At seventeen, Jericho met a girl and fell in love, he thought it would last forever but after they slept together the girl told him that she only used him to sleep with him. Since then, Jericho has been doing the same with the other women, seducing them complimenting them with no true feelings and then sleeping with them. His nickname "Shadow of the Moon" comes partially from that, the fact that he acts kind and caring like the soothing presence of the moon but actually has no feelings behind it just like a shadow.
Appearance::
"There is no resisting this, just like I cannot resist you. . ."
Jericho has blood red hair reaching the bottom of his chin and sometimes he put a green headband in his hair to hold his messily cut hair back from his smooth face. His eye is a lovely but not exceptional green and his other is covered with an eye patch because it was lashed and wounded with a knife an opponent once took out during his fight with him. His ears are pierced with small metal hoops. His body is covered in scars, new ones old ones and some that reveal themselves better when he is angered, like the scar on his left cheek which was his first scar ever. He has been cut by swords all the way to the bone and shot in the back and limbs but has always made it through. Some bullet scars still have the bullet in them. . .
Clothing Style::
"If you like it then I will always wear it for you. . ."
He wears a casual black or white T-shirt with black pants or baggy jeans and then has a black and white vest with a turtle neck or a black trench-coat. He wear big black boots and always has the same head band and black gloves with the fingers cut. Sometimes, when its colder out, he wears a tan cloth that he uses kind of like a poncho, but other than that his clothing style is pretty basic.
Height::
"When I hold you I want you to feel protected. . ."
Stands at 187 cm or 6'1"
Build::
"The law says you cannot touch, but I think your a very pretty law breaker. . ."
Jericho has a ripped body, he's not skinny but he doesn't have any at either. He had the perfect shapes of his muscles, six pack abs, arms, V shape back, pecks. They are good sizes and they're not puffed up like balloons.
Distinguishing Features::
"We can fight, but remember that the audience never looks at the loser. . ."
~ His blood red, messy hair
~ His right patched eye
~ The scars all over his hands and fingers
Other Information::
"I'm telling you this because you're really special. . ."
The other meaning of his nickname "Shadow of the Moon" is because of his con file. He's been in and out of jail several times, almost a year and a half for having almost half killed a group of men, five month for having destroyed a house (luckily no one was in it at the time) and he went to incarceration for having punched a woman on the face (she was being very persistent about wanting to sleep with him and he didn't want to). When you pronounce his nickname, it's usually what people will tell you first about him, and they only know about those times but Jericho has done much more than that it's only that he hasn't been caught every time.