---
Of nimble fingers in velvet-lined pockets.
---
---
╔
╗
╚
╝
---
---
░░
★
░░
★
░░
★
░░
★
░░
★
░░
★
░░
★
░░
★
FULL NAME
NICKNAME
GENDER
AGE
SEXUALITY
---
---
In a world of thieves, the only final sin is stupidity.
---
---
░░
★
░░
★
░░
★
░░
★
░░
★
░░
★
░░
★
░░
★
░░
★
░░
★
░░
★
░░
★
░░
HEIGHT
WEIGHT
HAIR COLOR
EYE COLOR
SKIN TONE
GENERAL APPEARANCE
Even Leon's appearance tells a tale of a carefree young man. With unruly blonde locks and eyes of a mesmerizing blend of a baby blue and lilac color that are constantly alight with humor, one can tell he spends much of his time grinning. True to this, he has prominent laugh lines that the edges of his mouth, and his lips can always be found quirked into some kind of smile, whether it be a sly smirk or cocky grin.

He is tall, but lean, an aspect of his body that has certainly helped with his profession in his past. His limbs are almost gangly, but not quite, as he has managed somehow to build muscle mass. Even his fingers have managed to be long, in a rather elegant fashion. Perhaps if he had been born into a different life, he may have had a promising career as a concert pianist.

He wears inconspicuous clothing, nothing too noticeable, too tight, or too baggy. Everything just right. He tends to wear a monochromatic color scheme to help blend, be more invisible to the general eye. Even with his height and striking hair, he has miraculously managed to succeed in being mostly unseen, and it's something he attributes to his excellent camouflage skills.
---
---
Thieves respect property. They merely wish the property to become their property that they may more perfectly respect it.
---
---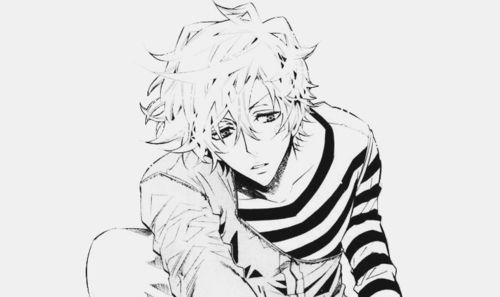 ░░
★
░░
★
░░
★
░░
★
░░
★
░░
★
░░
★
░░
★
░░
★
░░
★
░░
★
░░
★
░░
★
░░
★
░░
★
░░
★
░░
★
░░
★
░░
★
░░
★
░░
★
░░
★
░░
★
░░
★
░░
PERSONALITY
For a man condemned to certain death, he has an unnervingly carefree and joyful persona. Certainly not optimistic, as he can often be heard making cynical quips in the most joyous of tones, but with a lighthearted air that many find strange.

He carries with him a certain charisma, a sort of charm, that's annoying at times and magnetic at others. He speaks when others do not dare, often with a wisecrack, sometimes in inappropriate situations. He thinks himself clever, this much is clear, often makes it his mission to lighten a tense mood. More often than not, he does not succeed.

He is not one to hold his tongue, does not balk in the face of authority. He's found many dogs' barks to be stronger than their bites, and he has lived his whole life in running from persecution at the hands of the law. Laws themselves are not unbreakable to him, merely suggestions to follow for a society to not fall into chaos. But he cannot help but find fault in these laws. They protect people from people of his kind, the thieves and other nasty sorts, when the people they are protecting did nothing to stop him from falling into a life of thievery. Is he truly to blame for being born into a situation he was never to be able to escape from?

Beneath a cheery facade of bitter smiles hide sharp eyes and tense muscles. He is the master of the flight response, always ready to flee from any given situation. He trusts no one, is always prepared to be led into an ambush. For this reason, one can find his eyes darting between objects, perhaps searching for clues of some kind of ploy, perhaps mapping out his escape, perhaps analyzing his companion, perhaps all of these. If one were to place a hand on his shoulder, they would feel the result of his harsh life in the form of stiffened tissue, an obvious eagerness to remove himself from proximity.
LIKES
Pocket watches || They're generally the first thing he looks for when pick-pocketing a person. Golden ones fetch a good price, but that's not why he's so interested in them. It's an inexplicable and unbreakable habit, and sometimes, against his better judgement, he'll keep a particularly nice one rather than selling it.
Sweets || As a child, he was never able to indulge any sweet tooth, so as an adult, he's grown to jump at the chance to consume any candies or pastries.
Night || For the obvious reasons of providing a good cover, but also there's something about the darkness and glittering stars above that provide him with a sort of comfort.
DISLIKES
Close Contact || Unless he's the one initiating it to slip his fingers in someone's pocket, Leo isn't a fan of people getting too close. Maybe it's his trust issues, maybe it's plain old discomfort, who knows.
Bitter Foods || He's got a sweet tooth, so this is a bit self explanatory. Anything bittersweet is touch and go.
Enclosed Spaces || Escape routes are very important to him. He needs to have eyes on at least three different ways out at all times.
TALENTS
Sneaky || In order to make it as a thief, one has to have a touch of subtlety and quiet. If he doesn't want someone to see him, chances are they won't.
Lying || A silver tongue with no comparison. Lies slide from his lips with ease, sometimes even without him realizing it. As a result of his practice, he's mastered the art of telling lies as truth.
Agility and Gymnastics || Parkour, some might call it. Regardless, he's very able when it comes to maneuvering through various obstacles.
FLAWS
Combat || Thieves are not built for battle, and he certainly prefers to stay out of the fray when it comes to blows.
Trust || Leo has difficulty trusting people, especially since he wouldn't even trust himself.
Compulsive Liar || While he's certainly good at it, it becomes a bit of a problem when he can't quite control it. Lies pour from his mouth impulsively, sometimes for things that do not require a lie, and sometimes without his notice. Occasionally, he'll tell a lie, pause, say "no, that was a lie", and proceed to tell the truth if it's what was needed.
FEARS
Pain || He has a rather low threshold for pain, and certainly doesn't handle it well.
Starvation || He's been hungry before, weeks on end, enough to know he'd rather kill himself than starve.
---
---
We hang the petty thieves and appoint the great ones to public office.
---
---
░░
★
░░
★
░░
★
░░
★
░░
★
░░
★
░░
★
░░
★
░░
★
░░
★
░░
★
░░
★
░░
FAMILY
BIO
His first memory is of begging. Pale grimy hands, trembling, held outward to the world, a silent plea for mercy. And he received none. His second is of praying. To what deity, he knows not, for now he cannot think of any deity he could have ever believed in, but pray he did. Those same bony, skeletal hands, cast upward to the heavens, quiet whispers, begging for salvation. He did not receive.
He does not know where he was born, nor to whom, but he exists, and he finds that is a shame. He learns to resent his mother, whoever she may be, detest his father, though he knows him not.
A poor orphan on the streets with no home to call his own, he learns to survive. When his tearful eyes cease to bring in pennies enough to eat, he resorts to stealing. And he finds it exhilarating. But one does not become a thief alone, not on the streets he was raised. The older urchins, they take him in, and somehow, it is the first real family he has ever had. But the small congregation of petty thieves is far from a family, and he sees this firsthand in the betrayals that come to pass every day. Strangely, he is not surprised, nor does he feel hurt. In a harsh world of cobblestone and stealing, one can only survive by caring for their hide and their hide only.
But he finds a friend in another young boy his age, a similar story to his. They share trinkets sometimes. He gives Leo a dingy pocket watch that would not be worth much, Leo returns the favor with a silver necklace that is far too tarnished to even buy a meal. He does not betray him, but perhaps it is only because he is caught before he can. Leo attends the execution, raises a hand to his cheek, but it comes away dry. He knows it is only a matter of time before this is his fate also. He throws the pocket watch into the gutter.
It happens because of a pocket watch. It is golden, dingy, but he swears he can see brown locks and brown eyes reflected in its surface. It looks exactly like the one he threw away, the one he's spent months trying to replace. He immediately reaches for it. But his eagerness gets a hold of him, makes his fingers tremble, and suddenly there is a crushing grip encircling his wrist, vicious eyes glaring hard into his. Leo can only smile. He was right. It was only a matter of time.
OTHER
---
---
ⒸⓄⓅⓎⓇⒾⒼⒽⓉ ⓌⒶⓇⓃⒾⓃⒼ
Character Sheet by
© Masquerade (Skye)