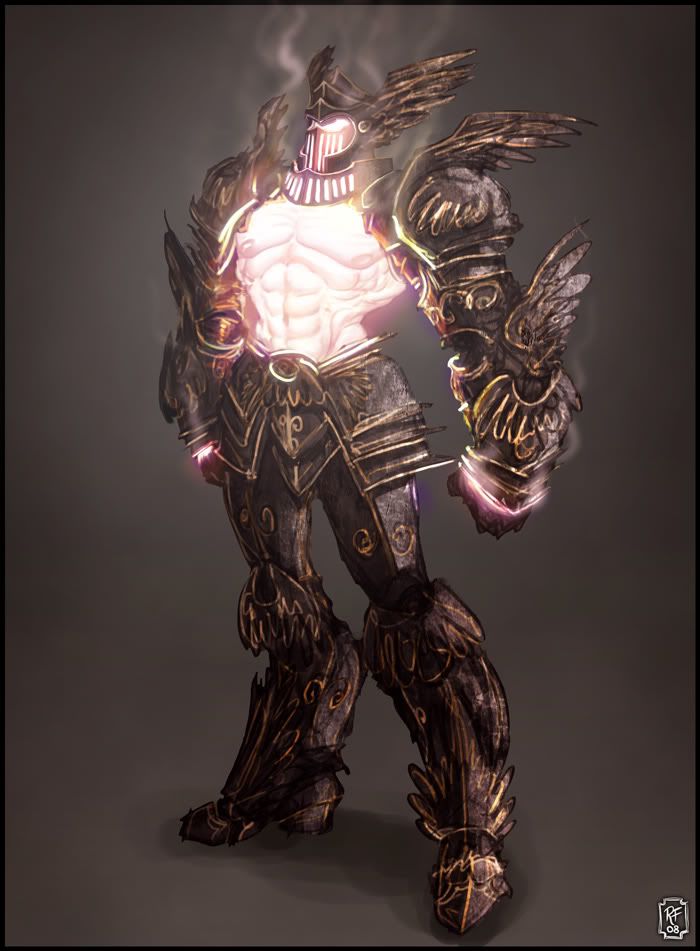 Name: Troaw Aeor
Age: Troaw doesn't remember how old he is, but by the rust on his armor he is quite old
Gender: Male
Race: Steam Golem
Racial Weaknesses: Ice in large amounts would be enough to freeze him, thus stopping the steam from giving him power. If that would happen he would need a powerful spellcaster to bring him back to life. Logic is another problem, since he has little brain from being made by a man he does not have the gift of common sense but he does take orders very easily. Then there's small spaces, his large and bulky size would prevent him from going into cramped pathways.
Racial Strengths/Abilities: Unbelievable strength, enough to crush a human's femur with a small twitch of the pinkie. Power over steam and unaffected by water, and actually gains strength from it. Really, really hot. It's like touching a piece of metal that sat in a fire for some hours.
Description: He is covered in rust from his long life of not being polished and standing out in harsh weather. Other than that, the heat of the steam and metal are able to keep dust from gathering and dirt from hardening. From being in prison so long though with little moisture in the air has made him less 'steamy.'
Tattoo: Troaw woke up with what he thinks is a wolf symbol on his left pectoral, the wolf looks like it's running at you.
Personality: Since Troaw has low brain function he cannot start up a conversation unless it's a warning, and even then he just turns toward whatever it is. He can give replies if he knows what he's talking about and for confirmation or agreement. He follows just about any order you would give, not orders like, 'Go jump off that cliff,' or, 'Steal this for me.' He will sometimes enact kill orders, but only if you give him a reason. He is like a robot, programmed with an ethics code so someone won't just exploit him. He is able to be corrupted if he hangs around the wrong person a lot.
History: Troaw came about from a wizard who wanted some protection around his tower. After sending out for the best armor in the land, he developed a spell that would create an unstoppable, completely loyal, ethical creature. Sometime later he finished the spell and gave birth to the monstrous steam golem he is. Then he served several, perhaps even dozens of years with this wizard just standing outside and killing any who try to get in or have trespassed. He did not argue, nor do anything else. That was what his life was for, and he didn't even know of any other life.
Then the fateful day came, apparently his 'father' had made some bad ties with a school of magic. They came in midday, a huge gathering of low to middle classed mages, and they easily froze Troaw with all of their combined powers, which gave them an easy path to the old wizard who had lived there. They took the golem and threw him in the nearby dungeon where he was given his life power back, but told him to never move and not to break out. He has followed that order for however long he's been in there, because his ethics are to follow the most powerful thing nearby.