---
Gwenyth Cousland
"Yes, I am a woman, but that does not mean I cannot lift a sword!"
---
:: "Just a Girl" by No Doubt :: :: "Figure 0.9" by Linkin Park:: :: "Bye Bye Beautiful" by Nightwish :: :: "Pins and Needles" by Opshop ::
---
Nicknames:
"I'm not usually thrilled with being called something else, nonetheless,
I may be lenient when it is something appropriate."

- Gwen - the most common and always used
- Cousland Girl - people who don't know her name
- "My Girl" - by Teyrn Bryce and Teyrna Eleanor
- "Adopted Baby Sister" - a mockery from Fergus Cousland due to her blond hair
- "Stubborn woman" - Ser Gilmore
- "The daughter that wouldn't stay put, pick a decent man and pop out babies like she's
supposed to" - Arl Rendon Howe
Gender:
"Does my chest and bottom not reveal it?"
Female
Age:
"I am the Youngest Cousland."
Twenty-One Years Old
Sexuality:
Heterosexual
Race:
"A soft skinned, weakling race that gets ridiculed by others."
Human
Role:
A daughter of Teyrn Bryce and Teyrna Eleanor who survived the massacre,
has set out for revenge, but not before experiencing the thrill of killing darkspawn.
Status:
"I wield a Sword and a Shield"
Warrior
Hair
"I've had long hair for most of my life, I've decided to make a change."
Her hair is of a dirty blonde color. She had recently cut her hair to just above her shoulders,
layered short from the front and longer towards the back, and has a side fringe that started
from the right side and down to the left. The split is on the right side and combed over.
Her hair is naturally straight.
Eye
Her eyes are slightly bigger than an average person. The color of her eyes are
of a golden brown, which would be lighter than anyone in her Family.
Skin Tone:
"I'm not as light as any other person, but I am not as dark as any other person either."
She has a lighter tan skin tone, and has the tendency to darken if she stayed out too long.
Height:
"My Mother is two inches shorter than I am."
Five-foot-Six-inches tall, and the second-shortest in the Cousland household.
Weight:
One-Hundred and Twenty-Nine Pounds // Fifty-Eight Kilograms
Overall Appearance:
"I have a womanly figure, but don't let it fool you."
Gwenyth's figure is measured at 35-24-34 (87cm-60cm-86cm). Arl Rendon Howe used to make an
inappropriate comment about how she was made to be a child-bearer, and she found it insulting to her
as she wanted to be something more. Gwenyth is rather toned, but she has feminine shoulders, average
breast size and not so slim. Her eyes are warm and welcoming, her nose slender and pointed, her lips pouted,
teeth straight, and her cheeks higher up and her teeth are straight. Her face is of a rounder shape, and
her ears not so big.

"The scar is a reminder of my mischievous childhood."
Located along the top of her rightshoulder to midway of her upper arm, with a jagged figure like a lightning
bolt. She received it during an attempted escape from her room, she wasn't able to cling onto the edge of her
window properly after her Nanny walked in on her, and she fell off. She landed near a rock, which already
made her arm bleed and broke the same arm in the process.

"I had it placed on there to remind me of who I am and why I'm doing this."
The Seal of Highever was tattooed on the palm of her left hand, which was the hand she used to
wield her sword and attack. Although it was often covered by a pair of gloves, she would occasionally
reveal it when she was doubtful of what she was really doing with herself.

"I am no longer a noble, I am a commoner."
When she is within a safe location, her clothing consist of the commoner clothing worn by Fereldans,
which are constructed of sturdy fabric and are trimmed with only the simplest of embellishments. In other words,
a pair of brown leather pants that have a few patches on them and a creme colored shirts, matched with brown
boots. However, her armor of choice would be made from medium material for more mobility and slightly stronger
protection, and she would refuse to wear a helmet.
Personality:
"I'm a Cousland, born and bred."
To describe the youngest and only daughter of Teyrn Bryce and Tyrena Eleanor Cousland, she was a very
demanding person to both herself and those around her. She cared about her appearance, dress, and the society
in which she resided. A very proud, confident, beautiful woman with nice manners. She had a sense of self-dignity,
and she can't be easily confused. A woman who does not like criticism, but she could just pretend that she does not
pay attention to the quip until a good opportunity comes for her to take revenge on her offender. She is also an
optimistic person, failures and blunders would never knock the bottom out of her feet, she always stood firm on her
feet. Under mistakes, Gwenyth could concentrate and collect energy to accomplish the same thing, but with
tremendous success, because she was said to be a real fighter and a winner.

She was also very independent and fully capable of being greatly successful on their own, but she would prefer not
be alone. And she might be too caught up in herself and be very self-centered, but she's never too self-absorbed to help
anyone who needs it. She pampered her friends and treated them well. She also appreciated loyal friends and are
very generous to them, but she has only a few real friends - not everyone could stand her difficult
character. She is respectful and understanding of people's differences, although she wouldn't usually hold a grudge
towards anyone of fault, she would sway to a vengeful path if the person had crossed and snipped on the thin
thread before she snapped.

Her strong points would be the confidence she has, her ambitious drive, generosity, loyalty, encouraging
voice towards those who need it most, courageous, positive, strong willed, self-confident and independent. Although
her weak points would be her protentious, domineering, melodramatic, stubborn and vain traits.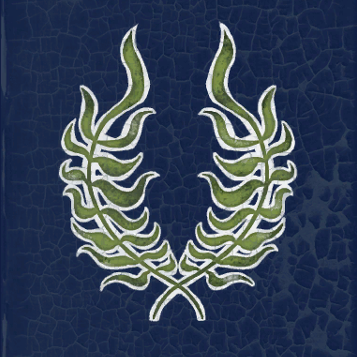 History:
"I came from a loving home with two Parents and an Older Brother, who is married to an Antivian,
Oriana, and a son, Oren. We all reside in Highever. But I should have merely mentioned that we were the Couslands,
maybe then I would not have to explain all that to you."

Born in the warm bed in the Castle in Highever, Gwenyth was the second child and only daughter of Teyrn Bryce and
Teyrna Eleanor Cousland. She had an older Brother, Fergus, whom was the rightful heir to the teyrnir of
Highever. Gwenyth was a simple child, she grew up like any other noble they knew, and she was raised to be a prim
and proper daughter, although she wouldn't stay put and always escaped to follow in the training sessions that
Fergus and her Father had - much to her Mother's dismay.

Throughout her childhood, Teyrna Eleanor had made sure to keep her daughter away from weapons and armors so
that she would not be influenced to follow in the footsteps to war, even though she had been referred to as a 'Battle
Maiden'. Gwenyth didn't obey, at time when she would pretend that she had been studying, she would crawl out of
her window and make way to watch her Father practice and train the guards of Highever. Teyrn Bryce had been accepting
with the idea of his daughter training with swords and shields, and with persuasion, had allowed her to be taught the
proper form of swordsmanship when she was a little older. She trained with Fergus, but also with a knight, Ser Gilmore,
whom she grew a certain bond with, although they had kept it in secret because her Mother much preferred her to
marry a noble and become a wife and raise children, which tied her to an arrange marriage to one of Arl Rendon Howe's
sons that was set to happen on her twenty-first birthday.

However, since the start of the Fifth Blight, everything had began to change. Her Father and Brother announced that
they would call upon the forces of Highever and Amaranthine, along with Arl Howe, in support of King Cailan in his battle
against darkspawn at Ostagar. Gwenyth forced her way into the battle, pleading that she would much rather fight the
darkspawn instead of staying behind with her Mother and go through with the arranged marriage with one of Arl Howe's
sons, and she made a risky confession to delay any wedding plans by telling them that for years, she and Ser Gilmore had
been in a secret relationship behind her Parents's back, which had made Teyrna Eleanor want to go through with the
arranged marriage even more. Her relationship with Ser Gilmore was forced to end and they were no longer allowed to
see each other unless there was a guard present and supervise their actions, and speaking was only limited. Hurt by the
actions of her Mother, she decided that she would run away from the walls of the Castle and explore on her own and
live a life of no rules, and packed her belongings along with the Family Sword and a Shield that her Father gave her
on her birthday.

Gwenyth managed to escape.

Three days since her departure, she felt guilty from her unexplained escape and returned to Highever with a guilty
conscience. She prepared to apologize to her Family for her rude manners and would accept to go on with the arranged
marriage to please them, but when she arrived, everything was in ruins. There were smoke, corpses tossed over each
other, blood stained the stoned floors and walls, there was a strong stench and cold chills of death that flowed about the
Castle. The guards were all stripped off their armor, some had arrows and swords pierced through their torso. A head
hung at the top of the Castle doors and there were no signs of survival anywhere. The first place she had ventured into
were the bedrooms, but they were scavenged, the female slaves were naked and looked abused while the male slaves were
practiced on with multiple blades. Gwenyth entered Fergus's room and found Oriana and Oren dangling. She collapsed to her
knees with tears down her eyes at the sight of her Sister-in-Law and Nephew's lifeless, naked bodies with a tight rope
around their necks. She rushed towards her Parents's room and found her Mother and Father at the exact same position.

Five days since the massacre at Highever, when Gwenyth arrived at the inn in Denerim, that she heard of Arl Howe's
betrayal. The man whom her Father had trusted so much had betrayed the Couslands, using the chaos of the Fifth Blight
as his route to power. She realized that throughout the whole time she had disappeared out of a rebellious spur against her
Parents, Arl Howe had arrived to Highever. The men and women at the inn had explained to her that Arl Howe told Teyrn
Cousland that the Amaranthine forces would be delayed for a few of days. And her Father, who did not want to keep the King
waiting, sent the bulk of Highever's forces ahead to Ostagar under the command of Fergus while he stayed behind as he had
intended to leave with Howe's Amaranthine men once they arrived. After Fergus left the castle, Arl Howe's forces took
advantage of the weakened defense and attacked during the night, killing the teyrn, his wife, and Fergus' wife and son, as
well as most of the other inhabitants of the castle. Although Fergus was left as the rightful heir to the Teyrnir of Highever, Arl
Howe then declared himself the new teyrn straight afterwards and sent out assassins to find and murder the
remaining Cousland children, who were not present at the time of the massacre.

Despising the new teyrn and the wish for revenge, Gwenyth had set out to find her Brother and get revenge on the
death of her Family. Still living with the guilt of running away when she could have helped stop the massacre from
ever happening, and her Family would have been alive that very day.
Weapon:
"I am constantly reminded why I am on this path."
A grey iron long sword that was first wielded in the service of King Calenhad, the Silver Knight, who united all of Ferelden
almost four centuries ago, and handed down to Gwenyth from her Father, although Fergus was supposed to be the rightful
owner, she took it off him through persuasion. The Family Sword was paired with an oval shaped shield, which has the
seal of Highever painted on the front. The wood was hewn from the forests surrounding the keep.
Mount:
"None... If you must know, I prefer walking and enjoying the scenery...
Okay, I lied, I can no longer afford a damn horse.
Why are they so expensive nowadays? And they are not as fast as I hoped they would."
Potential Interest:
"No one at the moment, but there used to be someone."