Name: Raiyn Illander
Age: 25
Appearance: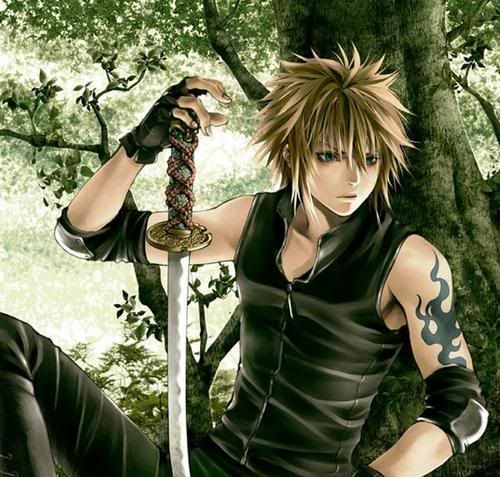 Jewel: Angelic Jewel
Jewel Power: Green in color, the jewel controls the earth elements.
Abilities: He is a very strong sword master. His style is unique and hard to fight against. He is fast as well as calculating. Possibly his greatest feat, however, is the ability to control his emotions very well. In battle it is near impossible to get any reaction out of him to trip up his fighting style. Raiyn has a peculiar ability that could be considered magic. He can nullify any Demon Jewel, essentially rendering it dormant until he chooses to turn it back on.
Personality: Cold, pure and simple. He wasn't always cold, though. Past experiences have made him the way he is now. He won't allow himself to get close to anyone, not because he doesn't trust them, but because he doesn't trust himself. Deep down, he does care, but he won't show it. His actions sometimes can be confusing because they are different than his words and attitude. His personality will be expanded more through RP
History: To keep this short, his reasons for being cold are because of the cruel past he's gone through. He had two girlfriends in his life. The first one he fell in love with when he was very young, about fourteen or so. However, she was killed by the Shades right in front of him and he couldn't do anything because he had no power at the time. Several years later, when he was about nineteen, almost twenty, he met another girl. Though he was cold to her at first, she warmed up to him and he to her. He fell in love a second time, only to lose her to the Shades as well. He had fought with everything he had, yet it hadn't been enough and he still lost her. Afterwards, he was devastated, never to be the same again. He's lock everything in a dark corner and hasn't let anyone get close to him for a long time. With the loss of both women, he'd heard one name and remembered that name to this day. Kreon. Raiyn now scours the land in search of Demon Jewel's and in the hopes that some day that he'll find Kreon. When he does, he's determined to kill the leader of the Shades.