Alex "Leo" Rose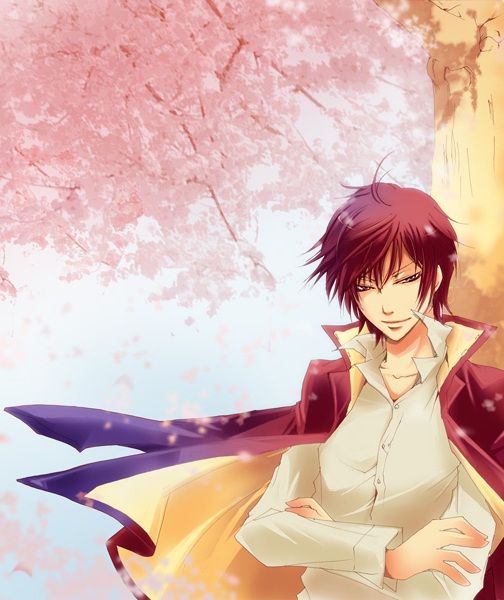 Nickname
"Shouldn't you already know this?" Alex's nickname is "Leo".
Age
"...Are you serious?" Alex is Eighteen years old.
Role
"Isn't there a list or something for this?" Male Idol 1
Voice Comparison
"Comparison? ...You think that I sound like someone else? Blasphemy." Jon Foreman - Switchfoot
Crush
"Heh... Like I would tell you." Alex has no current love life, and doesn't plan to have one any time soon.
Likes
Music: Alex loves music, especially writing and playing his own songs. His favorite music genres are; Rock, Metal, Grunge, Punk, Blue Grass, and Reggae.
Animals: Alex loves animals, especially small animals. He has a pet bird which he had named Rose.
Spicy Food: Alex likes eating spicy food, believing that the spicier it is the more life there is in the food. When he comes across food he finds too spicy he is very delighted.
Mixed Martial Arts: Since childhood Alex has been interested in martial arts and has spent much of his childhood learning different martial arts. Because he can not risk breaking his fingers anymore Alex has resorted to using weapons, such as Tonfa. Being well trained Alex has no need for a personal bodyguard.
Females: Despite not having had a romantic relationship Alex is incredibly attracted to most females, but will often hide this and deny it. Although he is attracted to women he doesn't really like interacting with them.
Dislikes
Cowards: Alex believes that everyone should use their own strength and talents to achieve their goals and hates anyone who manipulates or uses underhanded strategies. He will openly call anyone he believes to be a coward a coward and will often look down on them.
Sweet Food: Alex hates sweet food, and will often glare at any that he is given. Although he doesn't like sweet food he will eat it if it was given to him by someone he likes or admires.
Vampires: Alex doesn't understand people's fascination with those beings. He has however dressed as such for his fans on several occasions, against his will.
PDA: Alex believes in romance and love but dislikes people who openly show their affection in public, believing it to be tacky.
Public Transport: Having had bad experiences in the past Alex rather not use public transport.
Fears
"... That's something I rather not say." Like most people Alex has several fears, he doesn't like talking about it though. He has a fear of dogs but instead of becoming fearful he will become aggressive/violent to a point where he might actually attack the dog, and has on several occasions. He also fears ghosts and being unable to attack a ghost Alex will run away as fast as he can from what he believes is a ghost, he will attempt to attack one however. Alex's greatest fear is that after all the fame and glory that he will become ultimately alone in this world, a fear which he pushes to the back of his mind whenever it resurfaces.
Skills
"What am I not good at?" Alex is a talented vocalist and musician, he plays the guitar but prefers to play bass. Alex is also a highly trained martial artist, having no need for a bodyguard. Uncommon knowledge is that Alex is actually very skilled in cooking, although he only cooks spicy food.
Personality
"What is this? ...Is this like an interview or something?" Being an Idol Alex is in the eyes of the public and as such has to, in his mind anyway, "play the role". But he will never play a role he will only be himself. Alex is an Idol bad boy, choosing rather than trying to try an act like an innocent boy he shows a more "real" side, opting to show his temper and bad side. A move which has given him some notoriety but has also given him a him a wide range of audience and fans, being one of the male idols both loved/liked by females and males alike. Alex's temper can sometimes get the better of him as he has sometimes even physically hit other male idols, if he believes them to be fake. He is laid back and likes to relax, sometimes not sticking to his schedule, he however will never miss any events which involve fans. Alex loves his fans and will spend as much time as he can with them, even throwing out his entire schedule just to spend an entire day with a group of fans. Reckless, Aggressive, Devoted, Loving, Alex has an explosive personality which is he wears on his sleeve every day. He won't become fake and he will never change, not for anyone.
History
"Not much to tell really... What do you want to know?" Growing up in the city Alex had a pretty average life living with his mother and younger sister. Having only one parent made his Mother really busy, making Alex the primary parental figure for his younger sister. He took care of his sister everyday and would protect her with his entire being. Because he studied, practiced martial arts, and took care of his sister Alex had very little time for himself and a love life. As such Alex never really had a romantic relationship in his childhood. One day in high school Alex was asked by his friends to join their band, not being especially talented in music however Alex shrugged it off telling his friends that he isn't musically inclined. Not taking no for an answer though he was forced to join his friends band, becoming their bassist. After a few years singing and playing with his friends band they had finally gained some fame, becoming their high school's greatest band. This had opened doors for them, preforming gigs whenever they could, they had eventually gained the interest of a few people. During an audition for the cities "Battle of the Bands" the groups lead vocals had become sick and was unable to sing. Not wanting to disappoint the band Alex stood up and lead the band as its lead vocals for the audition. Alex had gained the favor of the judges and their band had been accepted into the Battle of the Bands. However the bands lead vocals had become jealous of Alex, making the band choose between him and his songs, or Alex. It was a hard decision for the band but Alex was dropped from the band. Pissed off and furious Alex had left his band, believing he was betrayed for trying to save the band. Word had gotten around that Alex had been dropped from the his band an Alex was approached by a manager one day, the judge at the Battle of the Bands audition, asking him if he still wanted to be a musician, promising that he would make him an Idol. In spite of his old band mates Alex agreed and has since become an idol, an unorthodox one but still an idol. His new acquired fame has not changed him in any way though, he still takes care of his sister, still practices martial arts, and is still a high school student. "Fame will not change me... Nothing will change me... I forever will be me."
Only Hope - Switchfoot
There's a song that's inside of my soul
It's the one that I've tried to write over and over again
I'm awake in the infinite cold
But you sing to me over and over and over again

So I lay my head back down
And I lift my hands and pray
To be only yours I pray to be only yours
I know You're my only hope

You sing to me of the song of the stars
Of Your galaxy dancing and laughing and laughing again
When it feels like my dreams are so far
You sing to me of the plans that you have for me over again

And I lay my head back down
And I lift my hands and pray
To be only yours I pray to be only yours
I know You're my only hope

I give you my empathy
I'm giving you all of me
I want your symphony singing in all that I am
At the top of my lungs I'm giving it back

And I lay my head back down
And I lift my hands and pray
To be only yours I pray to be only yours
I pray to be only yours
I know You're my only hope