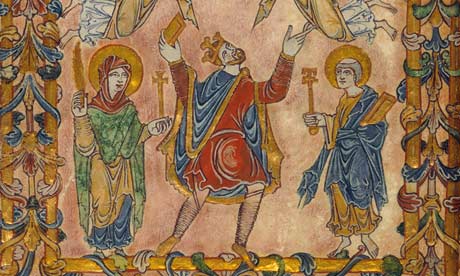 The year is 813. The great emperor of West Frankia, Charles the Great, lies dead in Aachen Cathedral, his lands divided between his sons. In an uncertain time of civil war and a scramble for imperial power, the lands lie open to attack. Famine and plague are rife. Earls and kings fight each other for control whilst the ordinary people bear the brunt of almost constant warfare. Europe runs red with blood.
From the windswept lands of the north, the bows of dragon-headed longships scythe through the waters of the North Sea, falling upon all unsuspecting lands before them. Since the infamous raid on Lindisfarne in A.D. 793 these 'northmen' have burned their way through villages and towns across the known world. Stories of brutal murders and terrifying beasts spread round lands as yet untouched, the names of the northmen's dark gods spoken with fear by those desperate for their God to save them.
------------------------------------------------
This year came dreadful fore-warnings over the land of the Northumbrians, terrifying the people most woefully: these were immense sheets of light rushing through the air, and whirlwinds, and fiery dragons flying across the firmament. These tremendous tokens were soon followed by a great famine: and not long after, on the sixth day before the ides of January in the same year, the harrowing inroads of heathen men made lamentable havoc in the church of God in Holy-island, by rapine and slaughter.
The Anglo-Saxon Chronicle
Who are you stranger? Are you a feared viking warrior from the shores of Svithjod? Or are you a noble of the kingdom of Northymbre? Whoever you are, your place in this world is far from stable. Men rise and fall like winter wheat. Will you rise to everlasting glory in the eyes of the gods? Will you safeguard the worshipers of Christ? Or will you seek to simply survive? The choices are yours.
As always, the ways of the pagan gods are fickle, and they relish interfering in the lives of men. The creatures of the gods lurk in the shadows, and are drawn to the suffering of warriors and farmers alike. Due to this, a number of mythical norse creatures will be allowed into this story, e.g. valkyries, ice giants, or dwarves. However, in an attempt to keep things to Midgard, only a couple will be permitted.
Our setting will mainly be the Saxon kingdoms of England and the Norse lands in Scandinavia. However, raiding took the vikings to places as far flung as North America in the west and Iran in the East, so other places may be included.
This story will begin in two places, Uppsala and Winchester, seats of power for both the Northmen and the Anglo-Saxons. Whatever your path may be, God, or gods, be with you.
The rules for this one are quite basic.

1) Characters must be true to the context. Basically their names, clothes, outlooks/beliefs etc must be easily identified with those of the times.

2) Occasionally the GM will include interference by the gods. This could consist of anything from magical weapons, to potions, or fortuitous findings. Players must not self-award these things.

3) Player characters may be mythical creatures, but these must be kept to a minimum (you brave warriors will fight the ice giants, not be them).

4) Please try to be original with your characters. I know it's hard with great shows like 'The Vikings' kicking about, but do try.

5) Travel takes time in this period. Voyages take days, and the chances of disaster are very high. Therefore, no teleporting about the place. Take into consideration the realities.
Arcs are bundles of posts that you can organize on your own. They're useful for telling a story that might span long periods of time or space.
There are no arcs in this roleplay.
There are no quests in this roleplay.
Here's the current leaderboard.
There are no groups in this roleplay!
Welcome home, Promethean. Here, you can manage your universe.
Arcs are bundles of posts from any location, allowing you to easily capture sub-plots which might be spread out across multiple locations.
You can create Quests with various rewards, encouraging your players to engage with specific plot lines.
Settings are the backdrop for the characters in your universe, giving meaning and context to their existence. By creating a number of well-written locations, you can organize your universe into areas and regions.
Navigation
While not required, locations can be organized onto a map. More information soon!
There are no groups in this roleplay!
By creating Collectibles, you can reward your players with unique items that accentuate their character sheets.
Once an Item has been created, it can be spawned in the IC using /spawn Item Name (case-sensitive, as usual) — this can be followed with /take Item Name to retrieve the item into the current character's inventory.
Give your Universe life by adding a Mob, which are auto-replenishing NPCs your players can interact with. Useful for some quick hack-and-slash fun!
Mobs can be automated spawns, like rats and bats, or full-on NPCs complete with conversation menus. Use them to enhance your player experience!
Current Mobs
No mobs have been created yet.
Locations where Mobs and Items might appear.
You can schedule events for your players to create notifications and schedule times for everyone to plan around.
Add and remove other people from your Universe.
The Forge
Use your INK to craft new artifacts in On Icy Shores. Once created, Items cannot be changed, but they can be bought and sold in the marketplace.
Notable Items
No items have been created yet!
The Market
Buy, sell, and even craft your own items in this universe.
Market Data

Market conditions are unknown. Use caution when trading.

Quick Buy (Items Most Recently Listed for Sale)
A Norse city in the nominal kingdom of Svitjod.
None
The capital of the Kingdom of Wessex in Saxon England.
Discussions
Topics

Replies
Views

Last post
Most recent OOC posts in On Icy Shores
There have been no posts in the OOC topic for this roleplay!