Name: Celithilil Barieth, Celi for short
Age: Young looking, but actually 68
Race: Elf
Type: Rogue
Description: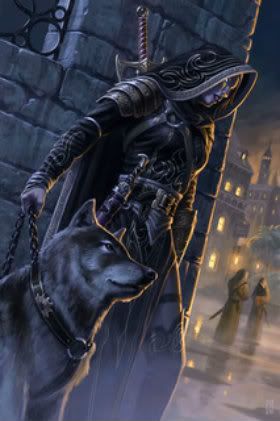 Celithil is around 5'8" with dark brown hair cut down from neck to ear length. Her eyes are light blue with a line of gold around her pupils, but at night they turn completely blue.
Strengths/Abilities: Her elf tattoo is two lines coming down from the bottom of her eyes down to the top of her collar bone. Her ability is to see forward in time, it took training to get up to 5 minutes but as she grows she can increase the amount of time to unknown amounts. Thanks to this training, she was also able to control the tempo of time in her mind. She can make time fly by or have it slow down and she is caught in the time flow, but her mind is left alone.
Weakness: Celi has a phobia of barns and sheds, she freezes and hyperventilates when she even sees one. Always before she does anything she scouts out the area to be sure one isn't around, if she doesn't have the chance she is paranoid of seeing one.
Personality: Celi is very unique in the way she talks. Her words carry the feeling of love and hatred in them, and whatever she says she ends with a backhanded after-comment. It adds to her views that she is better than most, and the few who are better she hates. That is why she talks in such a specific way, she knows she's better than you in some ways but worse in others.
Orientation: Heterosexual
Equipment: Her black leather clothing, a small dagger for assassinations and silent take downs and a bastard sword for the other occasions.
History: Celi has a dark past, one she tries to forget and not call to remembrance. She did nothing wrong, in a sense, but she still has the memories that haunt her. Every night she awakens with a loud scream, followed by gasps of air and sweat pouring down her.