[img]Name%20plate[/img]



❦



┌
Swear 'I don't believe in god' to god.
」



❦



【ɗιαƖσgυє cσƖσя:#89CFF0 ♙ тнσυgнт cσƖσя: #6F00FF】



❦



Theme Song Flight Instinct||Last Note
---
---
Full Name


Yukio Kawasaki



Nickname(s)


Yu. That's it.



Age


Seventeen



Sexuality


Heterosexual



Nationality


Japanese. Probably.



Role


Rogue



Face Claim


Assassination Classroom||Nagisa Shiota


---
---




Power


Kinetic Energy Manipulation||The ability to manipulate the applications of kinetic energy, an integrated part of everyday society. In the hands of a seasoned expert, this power can be applied in a multitude of ways, allowing the user access to a myriad of abilities. That would be the case, if Yukio wasn't such a sorry human bei- novice. Chronologically speaking, Yu hasn't had his power awakened for a long time, and on top of that doesn't exercise or brandish it a whole lot. The most he does, or at least seeks to do, on a daily basis is slightly change the course of the basketball when he's playing with some of the neighborhood's grade schoolers. At the moment, he only knows how to channel energy and augment the speed of objects. Both of these facets come together when he utilizes what he refers to as a railgun, of course he tries to stray away from using such a thing, as the effects on himself and others is currently in the grey.
Cross-dressing||

"No. No. I'll say it again, no. Put the damn dress down. Burn that pantie. Throw out that makeup. Back the fuck away."





Height & Weight


173 cm||49 kg.



Hair Color


It's natural. Probably. Yukio's cyanic hair is usually arranged in twin pigtails, since he doesn't really cut his hair, he found it less distracting and kept it bunched up like how it is now. When he actually decides to take off the hairbands, his hair easily reaches his shoulders.



Eye Color


A darker azure than his hair, the only really captivating thing about them is how quickly innocence and contempt can be interchanged.



Skin Color


Pale. Whiter than a baby's bot-

"Who the hell thought up that analogy?"





General Appearance


Standing at a below average height, Yukio isn't exactly the most intimidating person. With a thin yet surprisingly defined physique, he has an adrogynous appearance and constantly straddles the line defining gender, but he firmly states that he is male. Although he eminnates an innocent vibe, the lone wolf can change gears and go onto the offensive with his enemy's guard down. The only striking quality of his aesthetics is the hue of his hair and eyes, both of cyanic shades that captivates others. His eyes are slightly darker, but that's nothing really important. When his hair is let down, it gently grazes his shoulders. Yukio constantly has a lazy composure. On top of a scruffy demeanor, his face is always arranged in a scowl and only rarely transitions into a different expression. For the most part he sports a black hoodie, jeans, and a ski hat regardless of the season. From time to time he resiliently throws on a vest, tie, and other formal attire.

---
---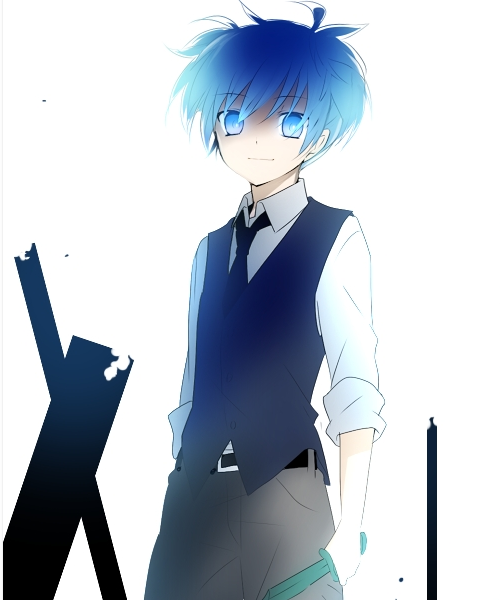 Personality


Cynic

❦

Bitter

❦

Shrewd

❦

Tsundere
Born a natural pessimist and an outrageous cynic, Yukio lacks a verbal filter and says whatever is on his mind without any discretion. He is, for all intensive purposes, a jackass. Maybe just an ass, even. The boy is skeptic of any notion that doesn't sound anywhere near realistic, and even if a rational statement is made, he might just delve into a debate with the proponent just for kicks. Just know that if anybody ever does some idiotic stuff, Yukio will always be there to call them out on it. For those who manage to whittle down his wall coated in a standoffish aura, he's unconditionally protective of the few living beings.

It is because of his other qualities that his acquaintances have dubbed him a tsundere. No matter how much he may gripe, mope, complain, and bitch, he will still lend a helping hand and act all shy when the task is accomplished. One guy said he should bleach his hair. That man was never heard from ever again. When it comes to protecting others or downright beating the crap out of people, albeit he has quite sheepish appearance, morals and ethics go right out the window. If a guy isn't guarding his lower half, well, may his future spawn rest in peace. The boy shows an almost sadistic side of him whenever an adversary pushes his buttons, but he isn't fond of drawing out fights and cuts to the chase.

When it comes to his power, Yukio uses it decisively. Since he's still a novice, there's too much of a grey zone to do anything daring. The boy has a limit as well, as surprising as it may seem. He can't even hazard to guess what a body would look like after being blasted by his 'Railgun'.
(WIP)


---
---
Likes



Coffee|

"Teach a man to buy coffee, and he's awake for a day. Teach a man to make coffee, and he can deal with everybody's shit for all eternity."



⊶⊰❣⊱⊷

Music|Yukio doesn't have a decisive taste, but he mostly finds himself jamming out to numbers in the vocaloid genre. Kinda like this.

⊶⊰❣⊱⊷

Knives|

"Swish, swish, stab. It's not rocket science people."



---
---
Dislikes



Cross-dressing|

"No. Nope. Nah. Negative."



⊶⊰❣⊱⊷

Quixotic Thinking|Yukio simply finds airy people to be annoying. It's not the fact that they don't give a damn about the cruelty of real life, neither does Yu. It's just the aimless sense of nonchalance that flippancy they always flaunt about. He despises how they always say "Everybody has a heart, a soul, a free train of thou- blah...blah...blah."

⊶⊰❣⊱⊷

His Power|

"When you think about it, I have the ability to kill somebody, right at my fingertips. Well, technically, anybody does, it's just a helluva lot easier for me. In all honesty, I don't feel like a gift has been bestowed upon me. It's more like a curse with benefits. That sounds contradictory in itself, but that's the only way I can describe this. This feeling isn't omnipotence; It's subordination"



---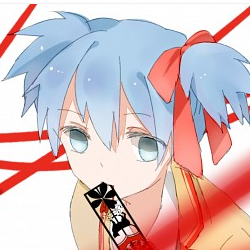 Fears



Masochism|"I don't fear it because I'm scared of it. I fear it because I'm susceptible to it."

⊶⊰❣⊱⊷

Puppies|

"HAVE YOU SEEN THEIR EYES?! THEY HAVE NO SOUL!!!"



⊶⊰❣⊱⊷

Complete Darkness|Yukio always makes sure to have his phone charged. He's got an abnormal fear of pitch blackness, one of the few things that forces him to drop his harsh demeanor and act like a helpless wimp.

---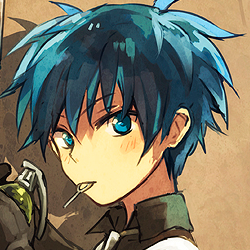 Quirks



Tapping|

"Dat as-... Kidding. Usually the surface I'm resting my arms on, or the wall."



⊶⊰❣⊱⊷

Subtle Perversion|

"I guess you can say, I read books for the PLOT. HUE HUE HUE."



⊶⊰❣⊱⊷

Yawning|Regardless of how rested Yukio is, he will yawn just out of habit. Or maybe he just finds it entertaining how it infects those around him.

---
---
Strengths



No Fucks Given|

"Seriously. None at all."



⊶⊰❣⊱⊷

Blunt|

"Although some would disagree, I consider this one of my -many- strengths. Sometimes people just need to be told the truth. And then you rub salt into the wound and make them repent for every crime to humanity they've committed."



⊶⊰❣⊱⊷

Agile|

"I got them moves like Jäger, I got them moves like Jäger, I got them moooOOOve- TITAAAAAAAAAAAN!!!"



---
---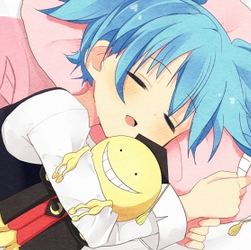 Weaknesses



Pain|

"OH NO SHIT SHERLOCK. WHO'S THE IDIOT THAT'S WRITING ALL OF THIS ANYWAYS?"



⊶⊰❣⊱⊷

Quicker than he is Strong|In essence, he's extremely maneuverable, but after a few punches he's basically on the ground. Yu prefers a mixture of close-to-mid range combat, mixing together the art of bladeplay and his power into a cohesive style.

⊶⊰❣⊱⊷

Cursing|

"What are you talking about? This is a strength."



---
---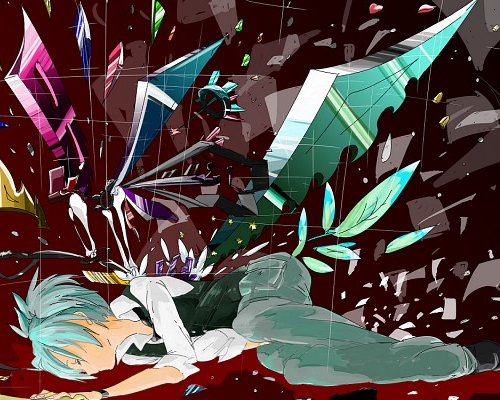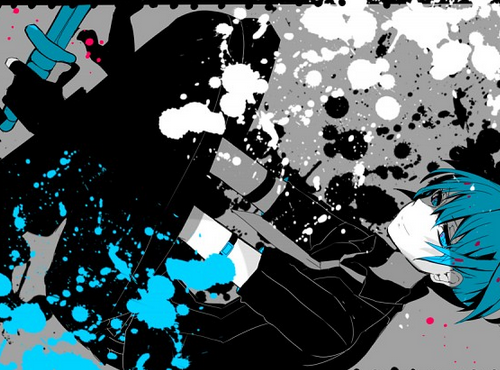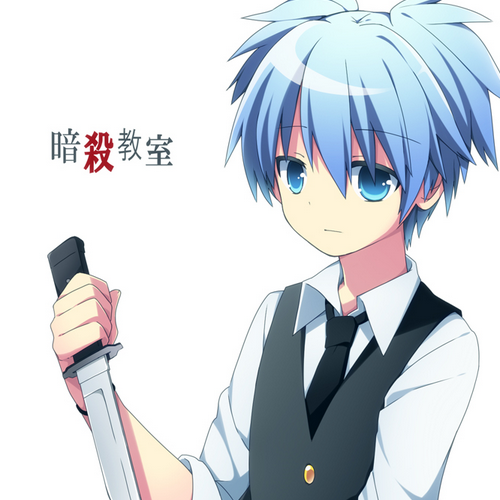 Family


Father|N/A
Mother|N/A
Old Man|Died at 73 - Cardiac arrest



History


Not everybody gets a happy ending. On the other hand, neither does everybody get a happy beginning. Some people don't even get the proper decency to receive a prologue, and are just cast aside into whatever piss-poor life the deity or deities upstairs decided for them. Yukio felt this powerlessness from the get-go, although he wasn't tossed away by hands emanating a godly aura but by who he presumed to be his parents. Or maybe the stork tasked with ferrying infants mistook a back alleyway for his home. "Seriously? Gonna reference that tale? That's just something parents tell their kids to postpone giving them the whole Birds and Bees' spiel." Wow. Interjecting right in the middle of your own history? Well, for argument's sake, it's not like you ever got that spiel from your parents, did you?

"Oh nooooooo, that was such a low blow. My heart can't take such a critical hit. Quickly, somebody carry me back through the broken fourth wall..."

Do I seriously have to recount the background of this schmuck? I better get a raise for this.

"Sorry. Japan's going through a recession. Tax hike to your knee."

...Hey guys, be right back. Gonna grab some other unpaid intern to read this all off. Hopefully he can deal with this incessant nonsense.

Alright, where'd we leave off? Ah, I see. Hey, Yu, can it for a bit, I actually have to make do with this abysmal backstory. Hell, there isn't even much to it. Got picked by an orphanage volunteer, stayed there until he was approximately eight until somebody who obviously didn't have 20/20 vision picked him up and gave him a new surname. There isn't really a whole lot to read off of, most of it is either too hazy to draw any conclusions from or has been blatantly redacted. Well, the old man, and I say old because he was definitely far into the latter half of his life, was a former boss of a company that soon after went belly-up. At least he got out of there with enough money saved up to support himself, and the boy he spontaneously decided to adopt. I can't seem to find his name anywhere... so I guess pronouns such as guy and old man will have to make do.

To cut to the chase, once the old man finally keeled over, poor little Yukio was all alone yet again. Granted, he was the lone recipient of anything listed in his adoptive father's, which entailed his house, butler, mighty fine ride, and a whole lot of coinage, he was still on his own in the end. Today, the boy is currently working as a waiter in a local restaurant, and is a third year at high school. See? Like I said, not a whole lot to this kid. Oh, wait, I forgot how he discovered his powers. Well, one really idiotic upperclassman was trying to throw around his prowess and attempted to strike Yukio's innocent face. It was entirely unconscious, but one moment the arm was flying in one direction, and then it went back in the next. The boy has been continuing to hone his ability.

---
---



Other Info


ANSWER



Roleplayed by


Jedly

---



Credit


Alliqua_Dark
{I worked very hard on this and made it from scratch so please, even though it's simple, ask me before using it thank you!}