Full Name: Michael B. Hassell
Aliases (if any): Trigga Mike, Money Mike, Hassell, Paco, Obama and there maybe others that I can't remember at the moment
Title (military rank, Dr., clergy, etc.): Student
Preferred name: Any of the nicknames above or just Mike.
Age/DOB: 18 Nov. 22 1991
Gender: Male
Orientation: Heterosexual
Race/Ethnicity: African American and Puerto Rican
Skin Tone: Dark... not too dark though.
Height: 6'2"
Weight: Apprx. 185
Build (slim, linebacker, etc.): Slim Athletic
Eyes: Brown
Hair: Dark Brown
Clothes: Anything classy with buttons and a collar is nice, blue jeans or shorts, and sneakers.
Appearance:
Religion: Leans toward Christian, but finds it hard to be committed
Political Affiliation: He doesn't give a shit about politics.
Education: Currently in College
Languages spoken: English, understands a bit of Spanish
Weapons: A steel rod can be untwisted in order to reveal a blade
Citizenship: American
Nationality: African American
Born: New York
Now lives: Tampa
Lives with: No one, his roommate dropped out.
Relationship Status: Single
Occupation: Marketer for a home renovation company
Special Abilities/Skills: Natural athlete in endurance exercises. Running, Swimming, Rowing, etc.
Hobbies: Rowing, Partying. Pretty much anything that keeps him moving
Interests: Anything outdoors, even if he tends to be on his laptop:
Favorite Types of Music: Hip Hop, Rock, R&B, and anything else he can relate to
Favorite Types of Reading Material: He likes anything inspiring
Serious Problems: He can be selfish at times and often keeps things to himself.
Personality: Michael is a nice and friendly guy from a distance, but once you get to know him, you realize that he's actually sarcastic and lets a lot of things go with the flow. He's committed to whatever he does, and strives to always be the best at what he does. He can be immature at times, but it's only because he doesn't enjoy life being so serious. If he could stay a kid forever, he probably would. He's willing to accept the views of others, but he will not let his views be shot down by another unless they truly prove that they are right.
Fiction: Captain Planet
Full Name: Captain Planet
Age/DOB: N/A
Gender: Male
Orientation: Asexual
Race/Ethnicity: N/A
Skin Tone: Light Blue
Height: 6 foot
Weight: Varies
Build: Muscular, no fat.
Eyes: Black
Hair: Green
Clothes: He only wears his superhero outfit
Appearance:
Religion: Atheist
Political Affiliation: Green Party
Education: None
Languages spoken: He can speak any language.
Weapons: His powers
Now lives: He lives within the five Planeteer rings.
Relationship Status: Single
Occupation: Superhero against pollution and other crimes against people, animals and the environment.
Special Abilities/Skills: Weather/Climate Manipulation, Pyrokinesis, Geokinesis, Aerokinesis, Hydrokinesis, Near Invincibility, Telepathy, Flight, Super Strength, and Super Speed. He can also shapeshift and alter his structure to take on the properties of any element or material as well as transmuting other objects in a similar fashion.
Interests: The World
Favorite Types of Music: He likes his theme song ONLY.
Serious Problems: Captain Planet is weakened when he is in contact with pollutants, radiation, smog, etc. Like Gaia, he is bound to the physical realm of Earth. Although he is capable of flying into space, his powers and form begin to fade when he travels away from the planet.
Personality: Captain Planet displays a wry sense of humor and often uses puns while taunting his foes. Other than that, he's mostly benevolent and tries to do whatever he can to help protect the environment. Being a superhero, he's not too dimensional with his character.
Other:
Fiction: Rubber (the movie)
Full Name: Robert
Title: Tire
Preferred name: Robert
Gender: Male
Orientation: Straight
Skin Tone: Black
Height: 30 inches
Weight: 25 lbs
Build: Doughnut shaped
Appearance:
Relationship Status: Single
Occupation: None
Special Abilities/Skills: Has powerful telepathic powers
Hobbies: Watching television, rolling in the desert, and swimming.
Serious Problems: Homicidal tire
Personality: Robert just kills whoever gets in his way or who bothers him.
Fiction: Yu Yu Hakusho
Full Name: Yusuke Urameshi
Aliases (if any): Mozoku, Spirit Detective
Title (military rank, Dr., clergy, etc.): Mozoku, Spirit Detective
Preferred name: Yusuke
Age/DOB:
Gender: Male
Orientation: Heterosexual
Race/Ethnicity: Japanese
Skin Tone: tanned
Height:
Weight:
Build: lean muscle
Eyes:
Hair: Black
Clothes:
Appearance: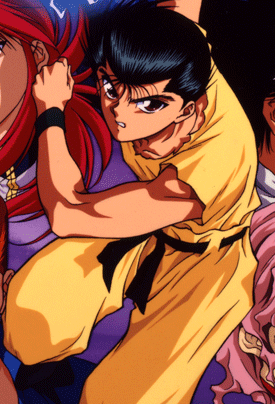 Religion: None
Political Affiliation: None
Education: Middle School
Languages spoken: Japanese and English
Weapons: Spirit Detective gadgets
Citizenship: Japanese
Nationality: Japanese
Born: Japan
Now lives: Japan
Lives with:
Relationship Status: In a relationship
Occupation: Spirit Detective, Ramen shopkeeper
Special Abilities/Skills: Can use his spiritual energy and demonic to do a number of things. He can shoot blasts of energy, has increased endurance, strength, and speed. His senses are greater as well.
Hobbies:
Interests: fighting and video games
Serious Problems: Yusuke has a bad temper
Personality: Yusuke is very hotheaded and often doesn't think too far into strategy. Even though he is a protagonist in his fiction, Yusuke can be a major dick. He believes the ends justify the means if the ends are good enough. He has a big mouth, and doesn't let anyone talk down to him.
Other: